There Are No Shortcuts: Cooperation Jackson's Kali Akuno on Solidarity, Economic Democracy, and Organizing for the Long Term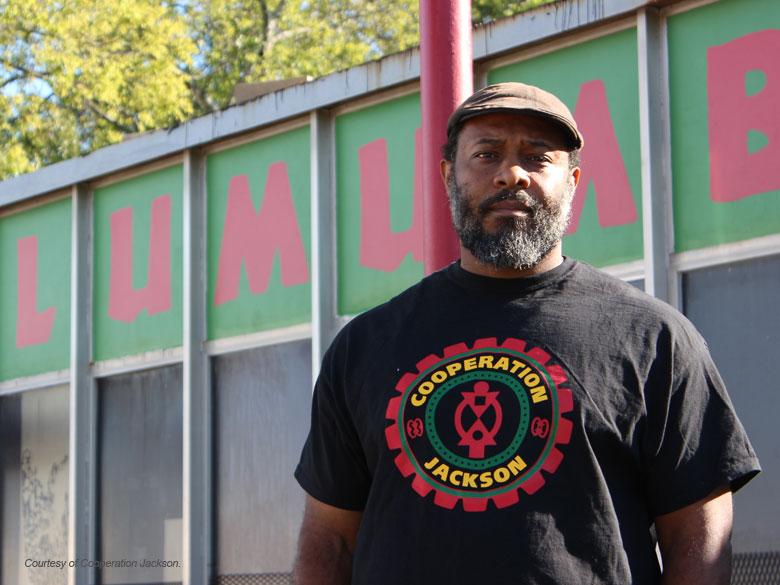 By Alexis Stephens
As grassroots groups and community advocates across the country brace for increasingly anti-democratic and authoritarian opposition, organizers in the South bring a wealth of wisdom and experience dealing with such challenges.
America's Tomorrow spoke to Kali Akuno, co-director of Cooperation Jackson, founded in 2013 to promote economic democracy and worker-owned cooperatives in Jackson, Mississippi. Akuno talked about the organization's work and how it has dealt with a series of setbacks and trials, including the passing of Jackson's mayor — longtime activist and organizer Chokwe Lumumba — in 2014, ongoing state threats to local control of land and infrastructure, and the uncertainty of the new presidential administration. He also shared his analysis of the local context in Jackson and offered some advice to grassroots organizations around the country about how to both survive short-term threats and lay the foundation of long-term sustainability.
In the wake of Mayor Chokwe Lumumba's passing and his legacy of Black organizing, what has the landscape looked like for Cooperation Jackson?
The first six months of the [Yarber] administration were somewhat difficult for us. Cooperation Jackson had been tied to and identified with the legacy of Mayor Lumumba and the Malcolm X Grassroots Movement, and I think Mayor Yarber was initially very wary about any engagement with us. But over time we found some ways to collaborate on things that we all saw as mutually beneficial for us and the city.
There have been a number of issues this year where there has been a high level of agreement between our organization and the mayoral administration — primarily the threats that have been coming down from the Republican supermajority at the state level and some very targeted threats against the City of Jackson. One example is the state legislation that is allowing a governor-appointed regional board to take over operational control of the airports in Jackson. A broad, united front came together [to fight that], which included the Coalition of Economic Justice, city council, and our county legislative delegation. I would say the overall legacy of the plans that brought Lumumba into office is very much alive.
In which programs and initiatives are you seeing the most success?
We're seeing success in the development of our three co-ops: Freedom Farms Urban Farming Cooperative, Nubia's Place Café and Catering Cooperative, and Mississippi Waste Alternative, a recycling and composting cooperative. The core membership of each is under the age of 25. There's a youthful willingness to try something new and a healthy optimistic attitude when they encounter people or dynamics that tell them that they can't do something. Our own analysis of why these co-ops are moving faster than others has revealed that youth leadership is a factor. To outside observers, the most concrete measure of success is the actual operation of a co-op — if the farm is able to increase its productive yield, for example. And that's grown each quarter. But young people are also acquiring skills and certifications, and putting in hours. Those are all things we're looking at objectively as measures of our success: how many people we're able to train, recruit, and bring into the process.
Cooperation Jackson is still very much a baby as an organization. In a short period of time, we've been able to build several functioning and emerging cooperatives and to acquire a community center and 20 parcels of land in West Jackson. We have three houses that are the core basis of our housing co-op and emerging eco-village. When Chokwe passed away so suddenly, many of us were in doubt in the first couple of months about where we were going and what might be possible. From that dark place to where we are now, I would argue that we've done fairly well.
What advice would you give to other grassroots economic development organizations that might be facing preemption at the state level over the next two to five years?
Your basic organizing principles don't fundamentally change. In fact, they become even more important than ever before. The first thing is you have to build your own base; and, if you are trying to build a transformative business like the co-ops that we're trying to build, you have to work to communicate your own values to your network very clearly. Outside of building your own base, you have to make connections and links and build allies with other folks who share similar interests. I don't think everything has to be in complete alignment, but I think there's a critical synergy where you have to agree on some things. But don't compromise your mission or settle for short-term, expedient gains. That's a critical piece.
Sometimes we become too fixated on immediate victories and results, and this doesn't really lead us to building strategic allies and strategic relationships in the way that is most helpful. There are not really any shortcuts. A lot of people are counting on — or have built a lot of their strategies and programming around — new technology, particularly social media as a way of reaching people. That's good for mobilizing people, but it's not a tool for organizing people. We have to make that distinction. In order to organize people, you have to build relationships. You have to make sure that you're creating the context and bringing people into situations where they can see each other face to face, to engage in dialogue and exchange about their issues, about their concerns, about their aspirations.
We have to be very intent on rebuilding social solidarity. I think a lot of the angst that is there now — particularly in light of Trump's victory — is based upon a deepening sense of social isolation. Folks feeling that they're more alone, and more exposed, now and more siloed than ever before. But our counter is not to retreat further into small and local. I think our counter is to go deeper, build more connections, reach out more. I think we're over-emphasizing and stressing too much about what's going to happen this first year. That could lead us into a number of traps, as opposed to us digging deep and building the relationships that are necessary, coming up through that process of organizing people, and then developing a program and a vision that will enable us to build, to push back, and to create a whole different set of policies to complement our vision down the road.
Could you say more about your vision for deepening relationships?
At present, our state politics break down fairly consistently along racial lines. But we know that we can make some inroads, particularly with younger, college-educated White folks — and there are about 250,000 to 500,000 of them in the state. We feel that we can and must do a good job recruiting, organizing, and reorienting them in a more left and progressive direction. And if we can just move the bottom end of that number, we change the politics of this state profoundly and we can end the Republican domination of the state. This is something that's practically doable, but you have to be willing to stand back a little bit, look at the long-term view, assess what's really needed, and then develop the strategy to go out and reach those communities and build a relationship with them. And not see everything as lost or totally out of our reach, when it's really not.
Can Austin and San Francisco Foster Growth Without Displacement?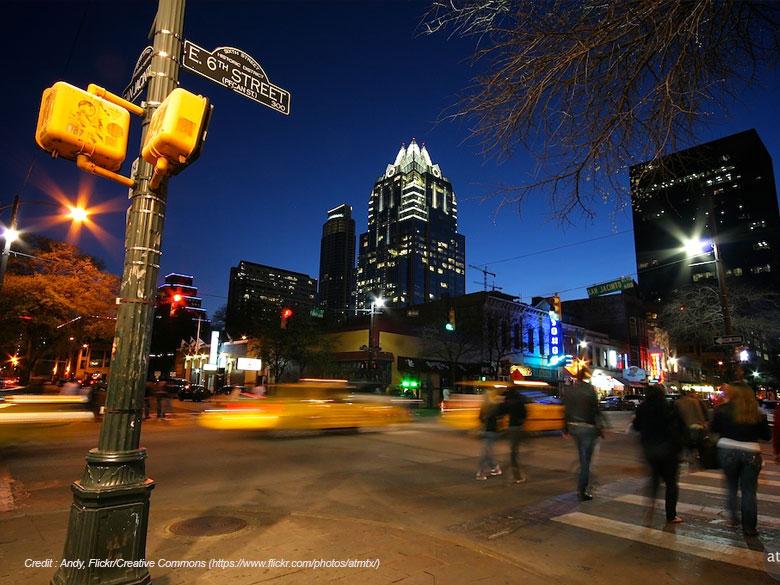 By Courtney Hutchison
Across the country, cities large and small are enjoying a comeback, becoming hubs for new businesses and new residents. As their populations grow and housing demand soars, however, many cities are struggling with widespread displacement of low-income residents and residents of color who are being priced out of neighborhoods they've called home for generations.
In rapidly growing cities, these trends aren't just reshaping neighborhoods, they are (re)segregating entire regions. Despite skyrocketing population growth, both Austin, Texas, and the San Francisco Bay Area have seen net losses of African American residents and the outmigration of communities of color as their urban centers become not only wealthier but also less diverse.
Twice segregated: the displacement of Black residents in East Austin
A rising tech-hub and university town, Austin, Texas, is one of the fastest growing major cities in the country. While its overall population has boomed, rising 20.4 percent between 2000 and 2010, Austin has seen a steep decline in African American residents, especially from the historically Black neighborhood of East Austin.
"Austin is a statistical outlier," said Eric Tang, co-author of a recent report released by the University of Texas Institute for Policy Research and Analysis,Those Who Left: Austin's Declining African American Population. "Compared to other high-growth cities, Austin is the only one to see an absolute decrease in the number of African American residents."
How did Austin lose so many Black residents so quickly? According to Tang, the convergence of historic segregation and modern-day gentrification forced Black residents into the surrounding suburbs in droves.
Austin's Black residents have historically been concentrated in East Austin due to state-sanctioned segregation policies. Starting in 1928, the city implemented a master plan to segregate Austin, cutting off water lines to existing Black neighborhoods and relocating the only public services that served Black residents to the new "Negro District" of East Austin. Decades later, this neighborhood has become a prime locale for gentrification because it is located so close to downtown Austin and the University of Texas campus.
"The take home is that when you have concentrated segregation followed by concentrated gentrification, you'll see a dramatic displacement of minorities," Tang said.
Though cost of living is a key factor in this trend — especially considering that median home prices in the East Austin zip code of 78702 tripled between 2011 and 2014 — Tang and his colleagues interviewed 100 Black residents who had moved out of Austin and into the surrounding area since 1999 to better understand the dynamics of racial displacement in the city.  As expected, more than half of those surveyed reported that affordability was the main reason they moved out of the city and into the suburbs. The second-biggest reason, cited by a quarter of respondents, was dissatisfaction with the highly segregated and underfunded school system in East Austin.
For those who could afford to move to the better established suburbs to the north of Austin, this displacement was equated with a loss of community, but some gains in access to better schools and resources.  For the majority of displaced residents, however, being pushed to the suburbs was not an act of social mobility, but one of economic desperation.
"What we're seeing in the suburbs to the east of the city is that people who are on the border of poverty are forced into new subdivisions that are remote, isolated from public transit, in food deserts," Tang said. "These new African American communities are experiencing a much lower quality of life. It's not moving up, it's moving out."
For the very poor, and the elderly, who may not have the means to move at all, they have to make increasingly larger economic sacrifices to stay in East Austin, and are being pushed deeper into poverty. 
San Francisco Bay Area's rising inequality and segregation
As in Austin, rising housing demand and the skyrocketing costs that accompany it have become a central force for displacement in the San Francisco Bay Area. Between 2010 and 2040, over one million jobs and two million new residents are projected to be added to the Bay Area — a booming growth rate that has pushed longtime residents of color and low-income communities further and further to the fringe of the region.
To capture the broadening displacement in the region, Urban Habitat, an Oakland-based nonprofit that focuses on equity issues, recently released an analysis of economic and housing trends, Race, Inequality and the Resegregation of the Bay Area. This reportextends beyond the traditional nine-county Bay Area region into San Joaquin and Stanislaus counties to highlight how rapid economic growth is reshaping — and resegregating — the Bay region by race and class.
Urban Habitat found clear patterns of Black and Latino populations moving from the inner region to the outer region, as well as rising poverty within Black and Latino communities — especially those in peripheral areas. Overall, urban cores became both whiter and wealthier, as low-income populations and communities of color were displaced to increasingly far-flung parts of the Bay Area.
"If you look at the Bay's booming economy, we are producing a small but significant number of high-paying jobs, each of which creates additional service jobs staffed by low-income people," said Tony Roshan Samara, author of the report and program director of land use and housing at Urban Habitat. "These lower-income workers, who are much more likely to be people of color, have to live somewhere, but the incredible pressure of the housing market is pushing them to the outer edges of the region, where social services, education, and public transportation are across the board inadequate," he said.
For lower-wage workers who attempt to stay closer to the region's core, high housing costs squeeze household budgets, exacerbate poverty, and leave few resources for education, emergencies, healthy food, or long-term investments.
"The racialized labor market in the Bay isn't just structuring who lives where, but who has access to which resources," said Samara, "and driving inequality in the process."
Toward a more inclusive model of urban development
In Austin and the Bay Area, displacement and segregation have critical ramifications for the future of these regions, their economies, and their residents.
"The decline in Austin's African American population has social, political, economic, and health implications for the residents who left," said Tang. "Those who moved east are further marginalized because of their diminished access to necessary services, which can lead to poor health outcomes and a higher mortality rate. They also experience a lower quality of life having been forced out of the city they historically have called home," he added.
Tang also sees the residents of East Austin as a bellwether for the increasing segregation, displacement, and poverty that could continue if the city does not step in. Citing the work of Stanford economist Raj Chetty, who has found that economic and racial segregation stifles economic mobility, Tang sees in these demographic shifts a growing crisis of reduced opportunity for Austin's residents. 
"Austin is the most economically segregated city in the U.S., and when cities are that segregated, it lowers economic mobility for everyone," he said.  "It's simply not sustainable. Tax dollars are going to a public university system that will educate young people who have no chance of affording to live here once they graduate. Instead, the city is functioning as an amenity for those who already have the means."
Similarly, in the Bay Area, the rising inequality and deepening poverty that have accompanied the booming market growth threaten not only the health and well-being of many residents but also the sustainability of the region's economy as a whole.
Increasing the supply of affordable housing is a crucial, though challenging, response to (re)segregation and displacement, but more comprehensive interventions are needed, Tang and Samara explained.
"We need to require that new jobs coming on board, especially those for the city, are livable wage jobs," Tang said. "We cannot rely on the tech industry alone to account for growth in the job sector."
Building resident power is also crucial, Samara said, especially within newly formed communities on the outskirts of the Bay Area.
"Whereas places like Oakland and San Francisco have a long tradition of community organizing, these neighborhoods have new populations, of different racial and ethnic groups, and mobilizing political will can be a challenge," he noted.
Though building affordable housing is important, it is a long-term goal disconnected from the urgent needs of these residents, such as protections from evictions and rapid rent increases, and increased access to social services. As Samara explained, "If you want to build the longer-term campaigns to create affordable housing, or advocate for community-owned land trusts — an emerging strategy for us — you need to address what residents are feeling right now, and rally people around changes that we can make now and in the coming years."