Reclaiming Recovery: Ensuring the New New Orleans Benefits All Residents through Equitable Growth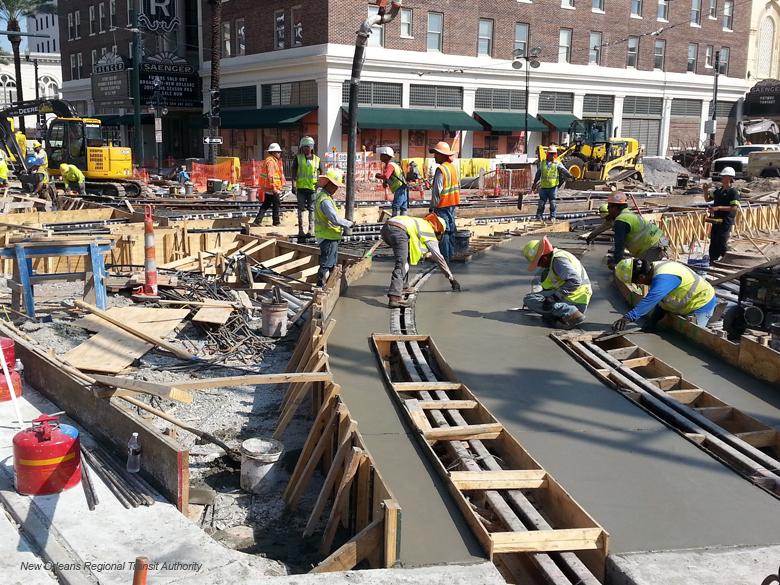 By Kalima Rose
Hurricane Katrina and its aftermath made it impossible for the world to ignore the entrenched racial disparities within New Orleans. Now 10 years and $71 billion in federal recovery resources later, it is incumbent on us to ask: have the recovery efforts made New Orleans a more equitable city?
Unfortunately, the answer is: not enough. New Orleans and the nation missed a vital opportunity to use the influx of federal investments post-Katrina to address the city's long-standing racial inequities, resulting in an uneven recovery that has disproportionately left Black residents across the income spectrum behind. In a recent survey, 78 percent of White residents say that New Orleans has mostly recovered, but almost 60 percent of Black residents feel the opposite. Similarly, 61 percent of Whites feel that the local economy is better now than before Katrina, but only 10 percent of Blacks do. This is not surprising when you consider that 52 percent of working-age Black men are jobless, 51 percent of Black children are living in poverty, and the gap between the median income of Black and White residents has grown by 18 percent since the storm, according to recent data from the National Urban League. About 100,000 fewer African Americans are now living in the city.
Why did recovery investments help some residents and not others? While there were concerted efforts from philanthropy, public sector leadership, Black communities, and equity advocates to ensure that Black residents could recover, contracting practices determining how the majority of federal recovery dollars were spent colluded against this. The majority of recovery dollars went to large-scale, out-of-state contractors, not to local contractors who would have spurred job growth and provided recovery-related career paths for local residents. In the year following the storm, even fewer public contracts went to businesses owned by women and people of color than usual, in part due to a decision by the Department of Labor to suspend federal affirmative action regulations. The result was that only 1.5 percent of the major federal contracts in that first year went to such firms, instead of the 5 percent customary in previous years. Overall that year, small businesses received just 13 percent of contract dollars granted by FEMA, with local businesses (those headquartered in the three states worst-hit by Katrina) only received 16.6 percent of FEMA dollars, while 30 percent went to businesses in Virginia.
By 2010, New Orleans's leaders started to push back against these practices, implementing city-level efforts to connect local firms to recovery project investments, and finally turning attention to businesses owned by people of color. Where these commitments to equitable contracting were made, the results have been transformative. For example, the Board of Commissioners of the Regional Transit Authority (RTA) of New Orleans opened their books in 2010 to an evaluation of their contracting practices in hopes of installing more equitable policies. As a result of this evaluation, RTA nearly tripled the percentage of their contracts that went to businesses owned by women and people of color — an influential move at a time when the city was working to rebuild streetcar lines and reestablish transit service throughout the city. Next, the RTA focused on ensuring that the transit needs of low- to moderate-income workers in the city were addressed. They found that the bus routes failed to provide adequate service for shift workers in two of the largest sectors — health care and hospitality — prompting an investment of $5.9 million in additional bus services, allocated this year, to fill the gaps in service. Other equity-based efforts by RTA have included workforce development programs for unemployed and underemployed youth and a Riders Advisory Committee that gives transit-dependent residents a voice in transportation decisions.
In addition to RTA's work, the city — under the guidance of Mayor Mitchell Landrieu — launched an effort to increase the number of Disadvantaged Business Enterprises (DBEs), a demarcation that includes businesses owned by women and people of color, that could compete for and win public contracts. From 2010 through 2014, DBE firms were awarded more than $400 million in business opportunities with the City of New Orleans, New Orleans Aviation Board, Sewerage and Water Board, and the Regional Transit Authority. The number of certified DBEs doubled from about 300 to more than 600 local businesses, and participation by DBEs in public contracts rose from 16 percent to 34 percent by 2014. These changes are part of larger efforts to embed equity into economic development within the city through the Mayor's ProsperityNOLA five-year development plan.
City-led efforts such as these are a critical step in the right direction, but come too late for delivering the kind of impact that was possible had all of the federal recovery dollars been targeted to support equitable growth from Day One. It is essential that other cities heed the lessons learned from New Orleans's first 10 years of recovery. If efforts to rebuild are not initiated, targeted, and implemented with the intention of equitable development, "recovery" may only deepen existing inequities. With inclusive growth, however, cities can chart a course toward more resilient local economies that not only weather the trials of recessions and disasters, but provide the scaffolding around which strong, healthy, thriving communities can grow. May New Orleans see more of this kind of development in its second decade of recovery, and may the African American community be its first architects and beneficiaries.
Kalima Rose is the Senior Director of the PolicyLink Center for Infrastructure Equity. From 2005 until 2010, Kalima led the organization's Gulf Coast recovery work to shape a more equitable post-Katrina rebuilding of New Orleans and Louisiana.
Summit Speaker Series: Nick Tilsen and the Revitalization of the Pine Ridge Reservation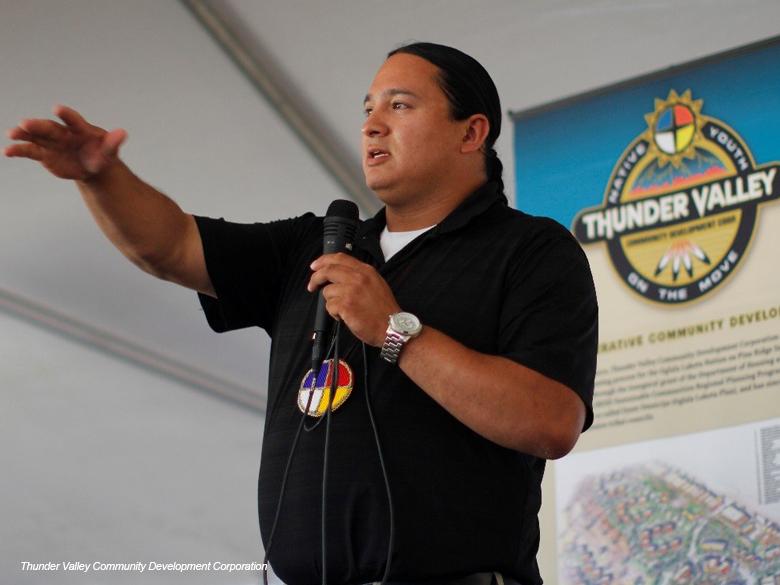 As Equity Summit 2015 approaches, America's Tomorrow will showcase the work of a few of the 100-plus speakers, presenters, and performers featured at the Summit — inspiring equity leaders who are using innovative approaches to build an inclusive, thriving economy within their regions.
This summer, Thunder Valley Community Development Corporation (CDC) in Pine Ridge, South Dakota, broke ground on transformative housing development — the first phase of a project that hopes to be a model for Native and rural communities in building sustainable communities that deliver a triple bottom line: people, prosperity, and the planet. America's Tomorrow interviewed Nick Tilsen, executive director of the Thunder Valley CDC, about how he is working to cultivate a new generation of Native American leaders to reverse decades of disinvestment and failed government policies and build culturally and economically thriving tribal communities.
What spurred the creation of the Thunder Valley Community Development Corporation?
The Thunder Valley CDC was born out of a movement of young people here in Pine Ridge reconnecting to our culture, our spirituality, and our identity as Lakota people. This reconnection created a sense of empowerment, and a sense of responsibility. Here we are in a place that is rich in culture and spirituality, but it is also one of the poorest communities in America, with 48 percent of our residents living below the federal poverty line and an unemployment rate of 89 percent. We also have high suicide rates and poor health outcomes that are negatively impacting our community. We felt that it was our responsibility to organize ourselves to uplift our communities, to change our reservation from within.
What role did economic development play in your vision for revitalizing Pine Ridge?
When we started, at the beginning, we wanted to address the root causes of creating perpetual poverty in our communities — it boiled down to the lack of financial, political, and governance structures that create the physical infrastructure and investments that ultimately create jobs. If we don't have roads, sewer, electricity, then no wonder there's no development being done here or jobs being created. Thunder Valley CDC decided that to become a catalyst in the region, we had to set out a bold…new plan of development on the reservation. So our organization has purchased 34 acres of property and did a huge amount of community engagement to create a vision for what kind of communities we as Lakota want to live in in the 21st century. How can we live in the past, present, and future, and do everything through the cultural lens of who we are?
What specific strategies are you pursuing for creating a more sustainable, prosperous economy?
As part of the funding for the CDC, we received a Sustainable Communities Regional Planning grant from the department of Housing and Urban Development that really challenged us to assess the economic picture of the reservation. We conducted an Equity and Opportunity Assessment, partnering with PolicyLink and the Kirwan Institute, that helped us understand what was perpetuating poverty on the reservation. For example, we realized that 51 percent of our existing workforce is not living on the reservation, and there isn't one house for sale or for rent to allow them to move here. So all of a sudden, that became our niche: we needed to make sure our earners, the people who will rebuild our economy, can live here. Because otherwise, because we are so rural, they are commuting 50–120 miles each day, just working so they can put enough gas in their car to get to work again, getting stuck in perpetual poverty just because the community they can find a house in isn't the one they work in. That's why creating housing and home ownership for the existing workforce became one of our priorities.
Second, we are focusing on creating job opportunities on the reservation and workforce development. We are ensuring the jobs created by the [construction of the community housing] development, which is a 10-year $60 million development, stay within the community. In that process, you create community wealth that ultimately alleviates poverty. People in our community are more interested in the idea of communal ownership and building community wealth instead of just individual wealth, so we are looking to social enterprise, nonprofit models to create a worker-owned construction company, and perhaps property management and technology-related companies [down the road].
What role do you see the youth population playing in this vision?
The very history of our organization is based in this very strong belief in youth entrepreneurship and youth employment — 25 of the 71 CDC employees right now are high school age youth and under. You have to empower young people to come up with creative solutions themselves. Through guidance, mentorship, structure...our youth are becoming changemakers, creating opportunities for connection and engagement for other youth in the reservation, building community gardens, running sports events, and other activities.
What do you hope to gain from speaking at and attending the Summit?
We're in one of the most isolated places in America, and a lot of times we feel like we're completely forgotten. The Summit is a place where people are defining what it means to build an equitable America, and Native American people have to be part of those conversations. Also, we'll get to meet and learn from all these different people from different backgrounds, grassroots people rolling up their sleeves to achieve equity in their communities — being around that reminds us that we are all connected, we are all part of this movement.
To learn more, visit the Thunder Valley Community Development Corporation website and watch this short video about their work.