UC Berkeley's Underground Scholars: Building a Prison-to-School Pipeline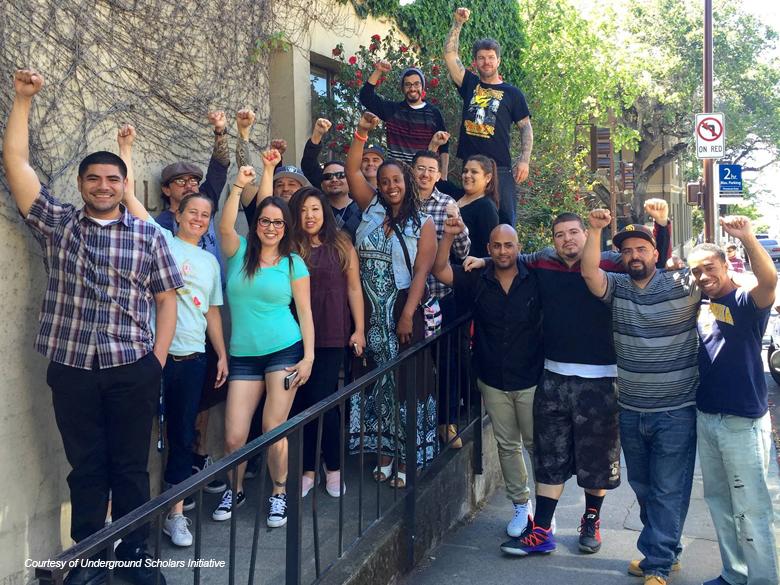 By Courtney Hutchison
When Steven Czifra became a student at UC Berkeley in 2012, he struggled with feeling like an imposter. As a kid he started skipping school in fourth grade; at 12 he was incarcerated for the first time, and was serving a 10-year sentence by the age of 14. He remained behind bars for the next 15 years, eight of them spent in solitary confinement, and emerged at 29 with no high school diploma and very few skills for living. Although he went on to excel at community college and was admitted to all four University of California (UC) schools he applied to, he said "as soon as I stepped foot on the Berkeley campus, I was persona non grata in my own mind."
Czifra felt alone as he struggled with the culture shock, stigma, and logistical hurdles he faced as a formerly incarcerated student — until he stumbled upon a reading group examining the prison industrial complex, which, for him, changed everything.
"I met another student who had also been incarcerated in the same prison I had — Pelican Bay State Prison Security Housing Unit. Unlike me, he was open about his incarceration history, and was [comfortable] with the school environment [and] in his own skin. It gave me permission to be myself, and not allow my background to make me feel 'less than,'" Czifra said. He graduated with a degree in English in 2015 and is now applying to doctoral programs.
This reading group, started by ethnic studies professors Patricia Hilden and Victoria Robinson, would become the launching pad for the Underground Scholars Initiative (USI), an on-campus organization created to support current and prospective Berkeley students affected by mass incarceration.
Though Czifra said he was lucky to find his way to Berkeley (the right counselors at the right time encouraged him to apply to UC schools), USI is helping to take luck out of the equation, providing deliberate and strategic support for formerly incarcerated students to prepare for, apply to, and thrive at UC Berkeley. Recently established as an official center within Berkeley's Centers for Equity and Inclusion, USI has the potential to become both a test case and a catalyst for building pathways from prison to college within the broader University of California educational system.
Overcoming discriminatory policies in education and the economy
Quality jobs in the U.S. economy require ever-higher levels of skill and education, but many Americans are being systematically left behind by an education system that too often reinforces and reproduces racial and economic inequities. According to the National Equity Atlas, 43 percent of jobs in 2020 will require at least an associate's degree, but only 27 percent of Blacks and 20 percent of Latinos are projected to attain this level of education, compared with 43 percent of Whites.
These gaps are only further exacerbated for the millions of people in the United States with criminal records, who are disproportionately from low-income communities and communities of color. Many reenter society with little-to-no work experience, only to encounter a host of other roadblocks — such as legal restrictions on student financial aid, discriminatory hiring policies, and widespread social stigma — that cut them off from opportunity and make it nearly impossible for them to reach their full potential.
It is illegal for schools to apply blanket bans on admitting formerly incarcerated students, though in practice many colleges treat a criminal record like a scarlet letter. Depending on the school, formerly incarcerated students may be subject to special screening processes, excluded from campus housing, have restricted access to campus, or be under special surveillance and tracking during their attendance.
These discriminatory practices — combined with the fact that many individuals returning from prison lack the resources, experience, and social capital necessary to navigate life at a university — can effectively make higher education unattainable.
"Many of us come from communities where people aren't geared up for college," Czifra said, "problems with housing, transportation, finances, mental health — we have to do everything everyone else does just to get our foot in the door, and then deal with the legal consequences of being formerly incarcerated, and the social stigma (from others and within ourselves) that make us feel that we're not good enough to be at these institutions."
With all of these pressures, it's no wonder that many formerly incarcerated students struggle to succeed in college, even after they've overcome the barriers to admission.
Considering 70 million U.S. adults have criminal records, the experiences of students like those in the USI are not a fringe issue. These challenges confront millions of Americans seeking to reach their full potential, whether in the classroom or the workplace. Without access to education, many formerly incarcerated individuals are relegated to the outskirts of the job market, struggling to gain an economic foothold for the rest of their lives.
Bringing lived experience to criminal justice advocacy
What started in 2012 as a small reading group exploring the effects of mass incarceration soon blossomed into a student-led movement to increase the visibility of formerly incarcerated students on campus and to advocate for the rights of formerly incarcerated individuals in the community. By 2013, the Underground Scholars Initiative had received university funding to become an on-campus student group, and began developing outreach, advocacy, and retention services.
"When we set out our mission, it wasn't only to reduce recidivism through education, it was to provide a supportive and politicized community that would be instrumental in helping formerly incarcerated students reach their potential," said David Maldonado, who, along with Czifra, is one of the founding members of USI, as well as its first member to pursue a PhD.
USI's outreach program leverages ambassadors throughout California who help formerly incarcerated students apply to UC schools. Members of USI also write to people currently in prison, advising them on how to get on the UC track while still incarcerated. As transfer coordinator for USI, Maldonado arranges for community college students to take some courses at Berkeley and "demystifies" the process of applying or transferring into UC schools.
The group also advocates to remove systemic barriers facing formerly incarcerated individuals. For example, the group was instrumental in getting UC Berkeley to "ban the box" on campus job applications that forced applicants to disclose a criminal history before even being interviewed. As of this spring, job applicants will not have to discuss criminal background until they've interviewed in person or are a finalist for a position. Now, the group is working to ban the box for job applications across the UC system.
Support for and retention of formerly incarcerated students has been the bedrock of USI since its founding, connecting students to research and scholarship opportunities, to the broader project of building community, as well as raising consciousness on campus.
"I can't underscore enough how crucial it is to have a supportive community of formerly incarcerated students, who know where you're coming from," Maldonado said. "And then for us to be visible on campus, to share our lived experience, and add our voices to conversations that are happening on campus around the criminal justice system — it's a huge difference from the way it used to be, when students felt like they had to hide their past for fear of being judged, excluded, or discriminated against."
To date, the retention model has been a unanimous success: every USI member has gone on to graduate (some 20 this May alone); two, including Czifra and another founding member, Danny Murillo, are Soros Justice Fellows; and several others have gone on to graduate from programs in law, education, and public policy.
Underground Scholars recently hired its first full-time director, Violeta Alvarez, a 2016 UC Berkeley graduate and USI member, who will help establish USI within the school's Centers for Equity and Excellence. The USI student group will remain a separate entity in order to preserve its ability to conduct activism and policy advocacy.
"Some people say our group is an anomaly, and in certain respects we are unique," said Alvarez. "But it's not because we're all so special, or that we've pulled ourselves up by our bootstraps. It's because we had teachers, family, friends, counselors, strangers, all along the way who helped us get where we are. It's because of all the people who gave us the opportunity to thrive, the opportunity to imagine that we could be more, that we have been able to be such a success."
Fairfax County Reaffirms Equity with a Resolution for "One Fairfax"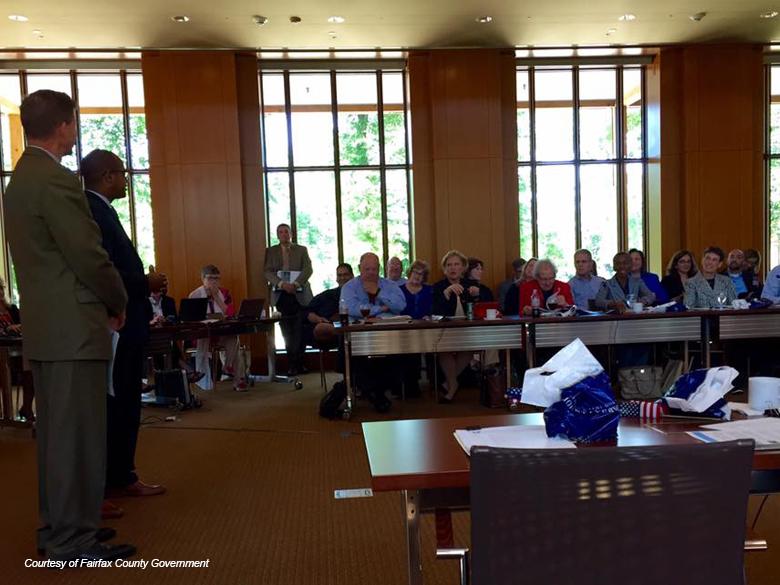 Caption: 2016 Fairfax County Joint Board of Supervisors and School Board Retreat
By Alexis Stephens
For many years, officials, advocates, and agency staff in Fairfax County, Virginia, have been concerned with the inequities affecting low-income residents and people of color in the county — and in its 2015 Strategic Plan to Facilitate Economic Success the County Board of Supervisors acknowledged the central importance of equity as a driver of regional economic growth and vitality. But they needed deeper, cross-sectoral data to help underscore their day-to-day experiences and to point the way toward actionable policy solutions.
With just over a million residents, Fairfax County has seen a surge of growth, primarily driven by people of color. Between 2000 and 2010, the population of the county grew 11 percent, while there was a 42 percent increase of people of color in the county.
"Fairfax is generally a suburban community known typically to be affluent so these issues are sometimes masked in our general data," said Karla Bruce, deputy director of the Fairfax County Department of Neighborhood and Community Services.
In 2015, county officials and local community leaders partnered with PolicyLink and the University of Southern California's Program for Environmental and Regional Equity (PERE) to release an Equitable Growth Profile for Fairfax County, Virginia. The disaggregated data reported in the profile brought Fairfax County's racial inequities into clear focus, and catalyzed a local coalition into action. By supporting the development of the profile, Fairfax leadership demonstrated its commitment to equity and a vision of "One Fairfax" — a community in which all can participate and prosper.
As the profile pointed out, Fairfax County ranks second nationally in terms of household income, with a median of $110,292. At the same time, the middle class is shrinking: workers in the bottom 20 percent saw their wages stagnate between 1979 and 2012, while workers in the highest 20 percent have seen above-national-average wage increases. More than 10 percent of Latinos and Blacks lived in poverty in 2012 compared to less than 3 percent of Whites.
"I think the Equitable Growth Profile affirmed some things that many folks had been talking about anecdotally in terms of demographic shifts, population needs, and concerns that a number of people were having," said Patricia Mathews, president and CEO of the Northern Virginia Health Foundation. "I think it wasn't so much a new statement, but rather it allowed people to say, 'Now we have data. Now we can think about this a lot more strategically.'" Community leaders like Mathews were engaged in the process of producing the profile and in discussions about its findings. The county has been guided by a collective impact framework to advance equity, characterized by its "respect for and integration of the wisdom, voice, experience, and leadership of community residents."
"We need to understand and improve our work"
This summer, Fairfax County rededicated itself to equity by passing the One Fairfax Resolution, a formal declaration of commitment to racial and social equity passed by both the County Board of Supervisors and the Fairfax County School Board. The resolution will direct the development of a One Fairfax policy, which the boards hope to adopt as early as next summer.
The resolution formalizes the county's definition of racial and social equity and acknowledges the importance of equity to fostering greater opportunities and inclusive growth: "to truly create opportunity, we need to understand and improve our work through a racial and social equity lens from the very core of the organization outward, focusing intentionally and deliberately towards sustainable structural changes."
Over the last several years, Fairfax County has undertaken several initiatives to address racial and social disparities in a variety of areas, including juvenile justice, education, employment, health, and child welfare. Prior to the publication of the Equitable Growth profile, a 2012 study from the Center for the Study of Social Policy encouraged government leaders to scrutinize the pathways and institutions — including the police and school systems — that caused Black and Latino youth to be disproportionately represented in the juvenile justice system. They created an interagency team to go through the analysis and drill into what could be done to address disparities. They also joined the Government Alliance on Race and Equity (GARE).
Karen Shaban, strategic project manager of Fairfax County government, said that all of these efforts helped officials to realize that sustainable change goes beyond human services and moved them to look at other parts of their system, such as zoning policies, transportation, and land use. "All of these efforts set the stage for us to formally say there needs to be more intentionality to make sure that Fairfax County's institutions and systems are not contributing to the disparities that exist."
Currently, the County is using the equity concepts of the new One Fairfax resolution to guide planning related to a number of strategic initiatives in the areas of early childhood education, community development, and recreation. "These are ripe opportunities to bring an equity lens to the work," said Shaban. The lens can help guide future redevelopment projects like the planning for a 10-acre campus of a former high school.
Experimenting with "equity-in-practice" — particularly expanding community engagement beyond common public meetings — will give county staff an opportunity to try out some tools and processes to see what works best as they continue to develop the equity policy mandated by the One Fairfax resolution.
"I think we have a really progressive government in Fairfax County," said Karen Cleveland, president and CEO of Leadership Fairfax, a community leadership development organization. "But when you work for the government, you can very easily get drawn into policy development and policy implementation. What this One Fairfax resolution does is lift the work above that. It says, 'This is going to be our umbrella.'"
Leadership Fairfax, the Northern Virginia Health Foundation, and other organizations are working as thought partners with county staff to make sure that community needs are consistently prioritized — and not just from a government services perspective.
"It's helped us to not only have a common agenda but also to really commit to outcomes," added Bruce, "so that we can shift the possibility for progress and share in the responsibility for change. We haven't reached our destination, but there is definitely power in the networks that we are creating. I am hopeful that we will be able to realize this vision of One Fairfax."