Building Worker Power with Uber and Lyft Drivers in Seattle: An Interview with Dawn Gearhart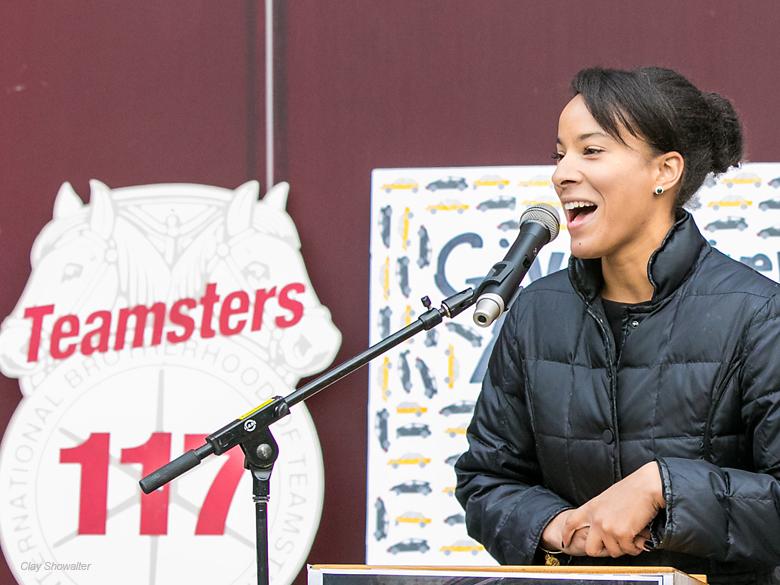 By Courtney Hutchison
America's Tomorrow is launching Equity Speaks, an interview series that will feature the work of leaders from the realms of activism, academia, and policy — inspiring advocates who are leading the charge in building all-in cities and an inclusive, thriving U.S. economy.
This week, Seattle became the first city in the nation to pass a law allowing drivers who work for app-based companies like Uber and Lyft to unionize, despite their status as independent contractors — a distinction that excludes them from the National Labor Relations Act. The result of months of advocacy, this ordinance is part of a larger campaign to build the power of workers in the growing "gig economy." As a business representative for Teamsters Local 117, Dawn Gearhart has led the organizing of drivers in Seattle and spearheaded the creation of the first-ever App-Based Drivers' Association, which was instrumental in getting this policy passed.
Gearhart spoke with America's Tomorrow about her journey into activism and how unions have the potential to change the game for workers in the new economy.
What drew you to your current work on labor rights and unions?
My parents met at 16 while they were both employees of the United States Postal Service, and my dad just retired this year. I have eight siblings and my family was always able to make it, even when times were tough, because my dad had a good job, with job security, and we all had health insurance. We had those things because my dad had a union and people who came before him had fought for good conditions — so from an early age, I saw how important unions can be. When I went to Cornell, I got my degree in industrial and labor relations, and had the opportunity to do research on how North American workers were responding to the global economic crisis at the International Labour Organization in Geneva. The projections this research were making about the state of the workforce were pretty bad, so I decided I could have more impact if I were working on the ground. I was working for Service Employees International Union (SEIU) as an organizer when I got connected to the driver-based work in Seattle three years ago. Local organizers were just starting to talk about organizing taxi cab operators, which was a revolutionary project, because these are contract employees who don't normally have access to unions. Our success organizing taxi drivers then grew into two other associations: the Flat-Rate Drivers' Association and the App-Based Drivers' Association.
The App-Based Drivers' Association is the first of its kind, providing those working for Uber, Lyft, or other driver apps in the Seattle area an opportunity to organize alongside taxi drivers. Can you discuss how that came about?
In 2012, Teamsters Local 117 received a letter from two Ethiopian immigrants who were law students at Seattle University, who were working for Uber and wanted our help. These men had recently purchased a town car and started their own small driving business when Travis Kalanick, the co-founder of Uber, came to meet with them. He offered to pay $35 an hour just to have the Uber app on their phone — no commission, they got to keep the entire amount of the fare, so they agreed to do it and recruited 15 of their friends. They became the first Uber drivers in Seattle — that was when Uber was only Uber Black, and there were no other services — and they put in a lot of investment to purchase new cars and migrate their clients over to Uber's system. Not long after, however, they found out that Uber X was coming to Seattle — the new low-cost service that would be 30 percent less than a taxi, and 40 to 50 percent less than Uber Black, and would undercut their entire business. Additionally, drivers were being exploited in a number of ways: they would be deactivated from driving without just cause; they could have their rate cut without notice when Uber decides to have a promo; they were often trapped into predatory car loans because Uber would aggressively encourage them to upgrade their vehicle, and then co-sign for a loan the driver couldn't afford and garnish their wages automatically. So the App-Based Drivers' Association began with these Uber Black drivers asking us for help in understanding their right to organize, and we've had more and more Uber X and Lyft drivers join the App-Based Drivers' Association as they report that these companies are exploiting them in order to drive down the prices and boost their profits.
This week, Seattle passed the Voice for Drivers legislation, the first law of its kind in the nation to allow drivers the right to collectively bargain over pay and working conditions. What impact will this law have?
This legislation, sponsored by City Councilman Mike O'Brien, would allow drivers to have the right to collectively bargain if they choose to. Our intent behind this is to bring companies to the table to try to raise standards for drivers across the industry. We represent drivers who drive all different cars, taxis, Uber, and Lyft and the common denominator is that they're willing to work hard, they want to provide good service, they want to be safe, and they want to make a living wage. Originally, taxi and town car drivers were excited that Uber was coming to Seattle because they thought it would give them another way to be connected to more rides and supplement their income, but the reverse has been true. We've seen a 50 percent drop in the rates for Uber X in the past 12 months and we've seen that it correlates with a decrease in drivers' wages of about 50 percent. So a huge part of this legislation is getting the app-based companies to have to come to the table to discuss fair rates and other working conditions. Of course, these companies could do this right now, without the law, but they have been refusing to and there's no law compelling them to do so. Uber calls their drivers "partners," but in a partnership there should be a conversation when there's going to be a big financial decision, such as cutting rates. Instead, these app-based companies do everything one-sided. They may not feel compelled to adhere to the law, considering a fundamental principle of their business model is to flout local regulation, but we're hoping this legislation paves the way for the kind of framework for worker power and representation that can help address the inequities endemic to the gig economy.
Unions are often criticized as being a hindrance to free market forces and detrimental to the overall economy. How do you challenge that criticism when working with employers?
Even when we have victories, we're usually not changing the global perspective of the company necessarily. I can't say that an employer has ever said, "You know this is a really great idea and I definitely wish I had to share some of the decision-making power with my employees and I would love to spend more of my profit that I would give to shareholders on benefits for them." But over time, we're establishing good working relationships that allow us to show the gains that come from workers having representation. In most cases, employers will see higher productivity and lower turnover, which affects their bottom lines, but the work of quantifying that so we can have empirical data on it takes time. In other countries, where worker representation is more embedded within corporate structure, you can see the benefits not only to individual companies, but to the entire economy. I did some research in Germany because they took a very different approach to the economic crisis than the U.S. did, in large part because companies are required by law to have half of their board members be employees. So whereas our approach was to fire a bunch of people and hold our breath to see if the economy stays afloat despite skyrocketing unemployment rates, in Germany, they cut back on everyone's hours, so they would remain employed and retain their benefits. This meant many Germans didn't have to worry about defaulting on their mortgage or losing health coverage or having to file bankruptcy — which was rampant in the U.S. And as a result, Germany rebounded from the recession better.
In general, if we have this growing informal economy, where people are precariously employed and have no income security — like you see with the app-based drivers — you're crippling communities in their ability to grow economically, because workers can't invest, they can't make long-term plans, they can't save or send their kids to college. They're living paycheck to paycheck and they're more likely to go into debt to make ends meet. So sure, our job numbers as a nation look better because companies like Uber are creating millions of jobs, but they're terrible jobs where drivers can work 60 hours a week and still make poverty wages. Ultimately, that's just going to hold back the economy.
Is the app-based driver model inherently problematic or could it become a means of adding good jobs to the economy?
My colleagues and I understand that this technology is here to stay and I think everybody's really excited about it. Before Uber, you would have taxis a block away from someone who needed a ride, but they wouldn't be able to find that person and both parties would lose out. The app helps connect drivers to customers, reduces drunk-driving incidents in some cities, and provides access to rides in neighborhoods where taxis didn't used to go. So the technology itself, and even the model itself, is not inherently problematic, it's just the way that it's being implemented.
We have the choice right now. Are we going to allow innovation to send us backwards in terms of how we treat workers or are we going to use this innovation and technology to take us forward and build stronger communities? That's why Teamsters Local 117 is working with Working Washington and Service Employees International Union (SEIU) around a Driving for Dignity campaign. Part of this campaign will focus on building awareness and support among customers by encouraging them to get to know their drivers and educating them on the working conditions of the drivers. A big part of how these companies get their way is by dehumanizing the drivers, so just building that sense of community between the drivers and the people they serve is huge.
For more information on this campaign, see the Driving for Dignity website.
How to Bring Healthy Food to Indian Country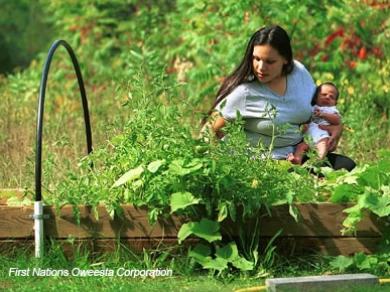 By Alexis Stephens
"Historically, Native nations had their own systems for food generation that relied upon traditional knowledge for harvesting, planting and consumption of locally harvested foods," said Chrystel Cornelius, executive director of First Nations Oweesta Corporation. These food systems once provided the backbone for trade and exchange between Native communities, she explained, but most of the processes and infrastructure have since disappeared. "In the past 200 years, federal Indian policy has [disturbed], and in some cases destroyed, these traditional practices through deliberate and calculated attempts to disrupt traditional native food systems and agricultural practices," Cornelius added.
Today, Oweesta offers financial products and development services to the 70 Native-run community development financial institutions (CDFIs), as the nation's sole Native CDFI intermediary lender. As such, the 15-year-old organization issues loans and provides technical support to the local CDFIs attempting to build and regenerate healthy food production and transform food consumption from the ground up. These institutions, in turn, lend to local farmers, ranchers, and small business owners to begin to create crucial systematic changes in food access in rural tribal communities. To date, Oweesta has deployed more than $8 million in capital and provided financial education and asset-building trainings in 19 states. But Cornelius would like to see their influence grow enough to match the tremendous need she sees on the ground.
Reservation and trust land areas comprise approximately 56 million acres, yet, according to a 2015 report on food access in Native communities, "virtually all of Indian Country resides within a food desert." In 2014, there were only 10 full-service grocery stores in the entirety of the Navajo Nation, which comprises over 27,000 square miles. The report outlines how the effects of historic federal policies that forcibly separated Native tribal groups from their land and traditional food systems continue to manifest in health disparities that affect Native populations to this day, including high rates of diabetes and obesity and a life expectancy five years lower than other groups.
Food deserts are also credit deserts, Cornelius said. While over 40 percent of Native CDFIs provide lending and training to Native farmers and ranchers, over 56 percent of those CDFIs report not having enough capital to serve the needs in their communities. "No matter what type of social problem you look at, you need resources," she said. "We are so very fortunate in being an intermediary lender to provide those resources. We have had the answers among our tribal communities for hundreds of years. We just haven't always had the resources to help facilitate that."
Oklahoma's Citizen Potawatomi Community Development Corporation (CPCDC) is utilizing a $700,000 loan from Oweesta. Cindy Logsdon, CPCDC's assistant director and chief financial officer, says that Oweesta's knowledge of tribal communities is critical, because many of the banks and other financial institutions they apply to do not understand issues such as sovereign immunity — a sovereign state's right and power to regulate its internal affairs without foreign interference. "We just weren't on that type of playing field," said Logsdon. "We need someone who understands the Native CDFI, the people we serve, and who understands and has a voice right at the table with us as well."
The loan from Oweesta has helped CPCDC to fund a local farmer's market, restaurants, and a grocery store outside of Shawnee, Oklahoma. Logsdon says the grocery store has had the biggest impact on their community and allows them access to healthy foods without having to travel to the Walmart across town. Since their inception in 2003, the money CPCDC has lent out locally has helped to create or retain more than 1,300 jobs. "I can't say which portion of that has been attributed to the loan from Oweesta," she says, "but without their leveraging and without their funding dollar, we would not have been able to do a chunk of that job creation and retention."
Oweesta is in the process of issuing their first loans through funds from the Healthy Food Financing Initiative (HFFI), a public-private partnership to improve access to healthy foods in low-income communities and communities of color. Since 2011, over $169 million has been awarded through the federal HFFI. Oweesta is the first Native organization that has the opportunity to receive these funds. They have also entered into a partnership with The Reinvestment Fund, for mentoring in the underwriting process and assistance with participation loans.
HFFI has been "a very important piece of legislation to help facilitate extra resources going to Native communities," said Cornelius, pointing out that "less than 1 percent of philanthropic dollars go to Native communities."
She concluded, "We all have the tenacity and the inherent cultural knowledge to continue these efforts. We just need the resources to do so."
Learn more about strategies to increase access to healthy foods and grow an equitable economy at: www.healthyfoodaccess.org.