Growing Good Jobs: How Urban Gardening Can Drive Workforce Development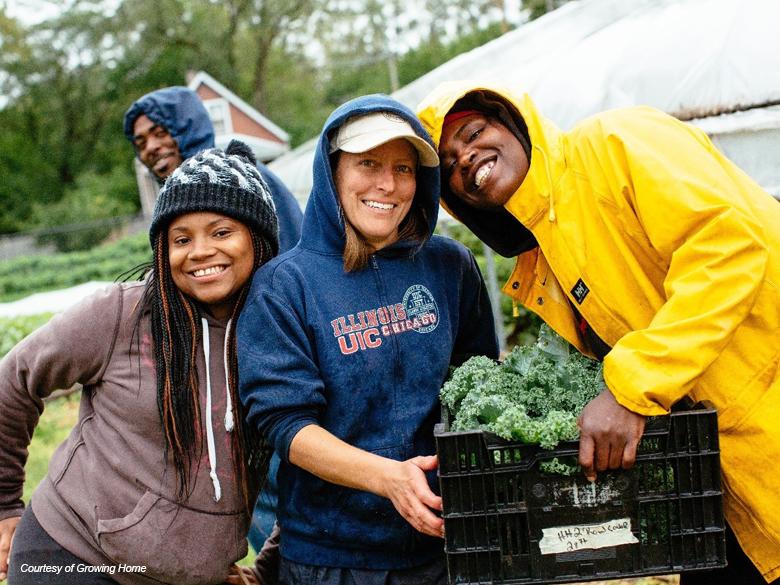 By Courtney Hutchison
With a résumé that includes seven years' experience harvesting produce, restoring national parks, and leading a team of organic gardeners, one might assume that Makalah Emanuel, 22, grew up in a rural farming community instead of downtown Denver, Colorado.
Emanuel is one of hundreds of kids who began their careers as part of Groundwork Denver's Green Team — a program that provides paid "green" job opportunities to low-income youth and youth of color in the Mile High City. Though youth learn organic farming, nature preservation, and other environmentally focused tasks, the ultimate goal isn't to train future farmers, said Wendy Hawthorne, executive director of Groundwork Denver.
"We focus on skills that will help these kids have college and career success in whatever field they choose — showing up on time, being a team player, problem-solving, taking on leadership roles," she said. By offering competitive wages — $8.23 to $15/hour, depending on experience — the program targets teens who might not otherwise be able to participate in service learning programs because their families rely on them to earn supplemental income.
Groundwork Denver is one of a handful of organizations nationwide that are using urban agriculture as a vehicle for economic opportunity in disinvested communities. In struggling neighborhoods where high unemployment, food deserts, and a dearth of green space so often go hand in hand, these organizations are braiding together strategic interventions to foster healthier, more prosperous communities.
In Denver, where more than one in six youths of color ages 16 to 24 are neither working nor in school, this has meant offering youth a meaningful foothold in the job market, while improving local access to healthy produce and green spaces. For example, in 2015 alone, a team of 59 youths built or improved 2.2 miles of trail and harvested 32,189 pounds of produce, which was then used in local public school lunches.
"I learned organic farming at Groundwork, but I also learned how to be a professional, I became more aware of healthy eating and active living, and I got to experience what it's like to work as a team to make a positive impact on your community," said Emanuel, who recently graduated from the University of Northern Colorado. She currently interns and teaches a social entrepreneurship and web design class for African American girls. "Groundwork taught me more than I can ever explain."
For youth, by youth: Bushwick's community composting collaborative
In Brooklyn's Bushwick neighborhood, the forces of gentrification and displacement have pushed many of the area's longtime Black and Latino residents to the margins and exacerbated poverty and unemployment. Bushwick ranks second highest in unemployment in the entire borough — a statistic that is likely underestimated because it fails to account for the area's many residents who are undocumented immigrants.
It was into this setting that environmentalists and Bushwick residents Sandy Nurse and Renee Peperone developed BK Rot, a youth-driven composting service started in 2013 that serves 40 households in the area at a subscription cost of $15 a month. Operating out of a local community garden and Know Waste Lands — a new composting site built on two formerly vacant lots — this small business employs five local youths to do compost pick-ups on bikes, process the compost, and run operations. The finished compost is then sold at cost to local community organizations and school gardens. Subscription revenues and grant monies go toward paying employees $15 an hour.
"There aren't really entry-level environmental jobs like this in New York," Nurse said. "Though there are a lot of eco-jobs run by the city, they require advanced degrees or a driver's license," she added. "A lot of kids in the neighborhood can't afford to go to school or they are undocumented and can't get a driver's license or work permit — we wanted to create job opportunities for them."
Nurse and Peperone also hope to train local youth to take over the business and run it for themselves. Though the business is relatively small, the founders are looking to acquire more land and to attract commercial clients, such as local restaurants, which would allow BK Rot to process a higher volume of compost and employ more teens. This transition to serving local businesses will also help BK Rot weather the city's ongoing efforts to pilot and implement citywide composting services through the Department of Sanitation.
Leveraging urban agriculture for lifelong careers
Where BK Rot and Groundwork Denver have worked to set low-income youth on a path toward future employment, Growing Home has focused on building a pipeline of training and work experience that places low-income and chronically unemployed adults in Chicago into careers in the food and agriculture industry.
Growing Home operates Chicago's first and only USDA-certified organic farms out of Englewood, a South Side neighborhood where nearly half of households live under the poverty line. Working with cohorts of 20 people at a time, Growing Home runs a 14-week program that not only provides comprehensive job training but also pays workers $10.50 an hour to participate. In 2015, 40 were enrolled in the program, harvesting a total of 30,000 pounds of organic produce.
"Our approach is both holistic and customized to each individual," said Tonika Johnson, employment training program manager at Growing Home. "Because we get to observe participants working on the farm, we can tailor their job training to the soft or hard skills they need."
Additionally, the program has a case manager who helps participants address the indirect factors that can make it difficult for them from finding and keeping employment. For example, Growing Home helps participants seal or expunge their criminal records, obtain a driver's license, learn conflict management, and coordinate housing, transportation, and childcare, among other things.
For those reentering society after incarceration, like Antwann Green, 45, this comprehensive set of skills is crucial for career readiness.
"I was incarcerated for 20 years, so I had basically no employment experience when I was released," he said. Thanks to job training and supportive services around obtaining a commercial driver's license, Green found employment as a receiving inventory clerk at Local Foods market as soon as he graduated from the program in June.
"Growing Home gave me the concrete tools, but also the confidence to present myself to employers, express myself clearly, and to take on a line of work I wouldn't have imagined a few months ago," Green said. "I had a lot of fear around being able to enter the workforce after prison, because of the stigma I'd face among employers, but that fear has been wiped away," he added.
Green's comments speak to recurring themes expressed by employees in all three of the organizations featured above: the realization of untapped potential.
Emanuel described it as the breaking down of expectations around youth of color in her community.
"Groundwork gave me the opportunity to work with other African American youth to do something positive in the community and break out of the stereotypes that people have around us and we have around ourselves," Emanuel said. "We got to see that not all Black youth have to play sports to be successful in life — we can garden or teach nutrition or be a scientist or engineer or a journalist. We can do whatever we want."