Youth Take the Lead in Foodie Business Programs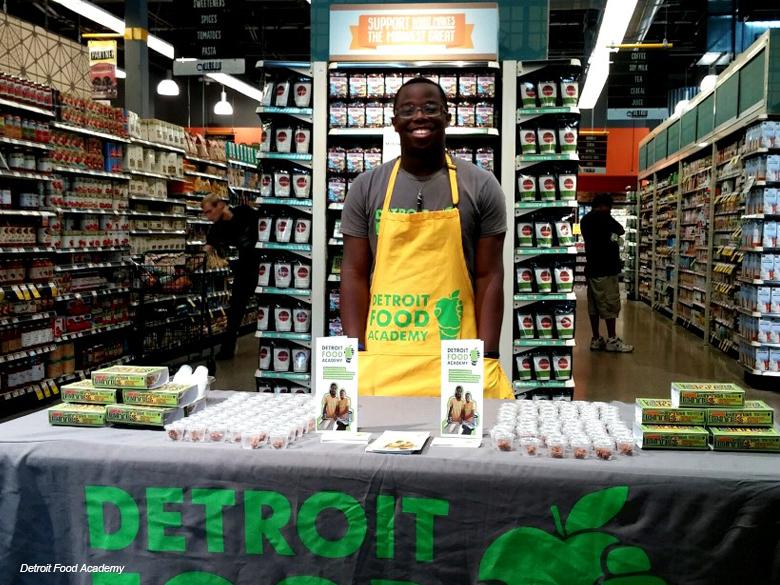 Caption: A Detroit Food Academy student
Alexis Stephens
At Whole Foods Markets and farmers' markets in the Detroit metropolitan area, you can purchase a box of Mitten Bites, the yummy no-bake granola treats dreamed up by Hassan Amaleki and a group of his former high school classmates. These all-natural snacks come in two delectable flavors — dark chocolate peanut butter and cranberry date — and are healthy and sustainable to boot.
Mitten Bites are the first youth-created product of Small Batch Detroit, a social enterprise subsidiary of the youth leadership organization Detroit Food Academy.
"We had the task of figuring out a snack that everyone would want, whether you are a mom at home that has kids and need something healthy, or a biker that needs an energy snack to go," said Amaleki, now 19, who first started attending Detroit Food Academy's afterschool programs when he was a freshman at Cody High School.
Launched in 2011 as a one-semester program at Cody High, the organization currently offers afterschool programming in culinary arts, business basics, and leadership in 10 high schools through the school year, as well as a citywide six-week summer program. The Academy works in public, private, and charter schools: anywhere students and educators have expressed interest, administration staff have shown support, and the budget allows. "We encourage young Detroiters to raise their voices, explore their communities, and to actualize their vision for what they want to see in our city—all through the medium of food," said Jen Rusciano, co-founder and executive director of the Academy. This year, 200 youth are participating (around two-thirds from their public and public charter school partners and the remaining in private schools). About 95 percent of the students are young people of color.
The focus of the fall semester is cooking basics: learning about knife skills, nutrition, grocery budgeting and shopping, and meal planning; this work culminates with a student-planned community dinner for friends and family. In the spring, students design their own healthy, local food products, with guidance on how they would turn their ideas into full-fledged food businesses. When summer rolls around, Academy graduates can apply for a paid internship within either a culinary arts or food entrepreneurship track.
Detroit Food Academy launched Small Batch Detroit last year as a way to help the organization grow toward financial self-sufficiency. Profits from products like Mitten Bites have so far helped to cover production expenses and some of the wages for graduates, like Amaleki, to work part-time for the enterprise. "It's an alternative for someone who doesn't want to go to college right away, like I didn't," he said. Wages for students who work for the Small Batch program year-round start at $12.50 an hour and can go as high as $15 an hour.
Rusciano said that it's been challenging to scale the business up to fund more youth staff positions and programming, but with support and knowledge-sharing from local groups like FoodLab Detroit and the Product Center at Michigan State University, they are making their way through early-stage hurdles, like mastering the legal requirements for packaging products sold in grocery stores.
Rusciano mentioned that the goal of the enterprise — and what they instill in their students for their own businesses — is that entrepreneurship is more than profit. "We talk about going into business as a tool not just for making money, though it can be used that way," she said, "but rather that it's a powerful tool that can be wielded either for good or for dehumanization. You can make a lot of change if there are values built into how you run a business."
Even if students choose not to pursue food entrepreneurship or employment in the future, Rusciano said experiences like staffing Detroit Food Academy's table at a farmers' market or receiving mentorship from local chefs in the afterschool program, helps to weave them more into the social fabric of the city. Often they are cut off from fair wage jobs, career pathways, and the opportunities for innovation that are helping Detroit to rebound from insolvency.
"[Students learn] there are communities out there that are willing and excited to embrace them," she said. "They learn they are needed and wanted in the city, not just tomorrow when they get their degree, but right now, today, as young people."
A new leadership model in culinary training programs
In other cities, youth-oriented organizations are combining the social enterprise model with leadership and culinary skills training. At Old Skool Café, a youth-run, jazz-themed supper club in San Francisco, teens are behind decisions related to everything from the restaurant's entrées to uniform design.
Teresa Goines, a former corrections officer, envisioned a violence prevention program taking the form of a dinner theater in 2004. Finally opening four years ago in the Bayview-Hunter's Point neighborhood, Old Skool Café is staffed by youth who have either been incarcerated, gone through the foster care system, or are otherwise disconnected from traditional work opportunities.
The cuisine is international comfort food, specifically designed to reflect the cultures of the youth in the program. "We always encourage them to submit family recipes," said Goines. "If their mom or dad or grandmother wants to come in and teach us how to make something, we'll have them come in and there'll be a tasting." If restaurant staff like the dish, it will be produced as a special and get the chance to become a regular menu item. That's how "Abu's Peanut Butter Stew" got on the menu; the chicken dish is named after a staff member who created a take on his grandmother's recipe from Sierra Leone.
In one case, two program participants were more interested in fashion design than food. Through a collaboration with retired NFL player Dhani Jones's BowTie Cause initiative, they were able to design a bow tie worn by restaurant staff.
"We really want to encourage them to find what they love," added Goines. "But also they're getting to make money and have access to mentorship and life coaching." As of 2014, the recidivism rate for graduates of the program is 10 percent (compared to the national rate of 76 percent). Ninety-four percent have either found outside employment or are enrolled in school. One alumnus has recently completed the University of Southern California's master's degree program in screenwriting. Goines said the student found her career passion outside of the food industry, but was able to pay for some of her tuition through waitressing after having gained work experience at the café.
Back in Detroit, other young people are flexing their training skills in interesting and innovative ways after graduating from Detroit Food Academy. Hassan Amaleki has been doing food demonstrations for Mitten Bites at local grocery stores, earning money for when he attends college in the fall. He is now enrolled to attend Schoolcraft College on a culinary arts track. "Right after I found out the right way to do business from scratch, it didn't seem so hard," he said. He added that his current hope is to work his way up to running Small Batch Detroit full-time.
Art Is an Asset in Every Community: An Interview with ArtPlace America's Jamie Bennett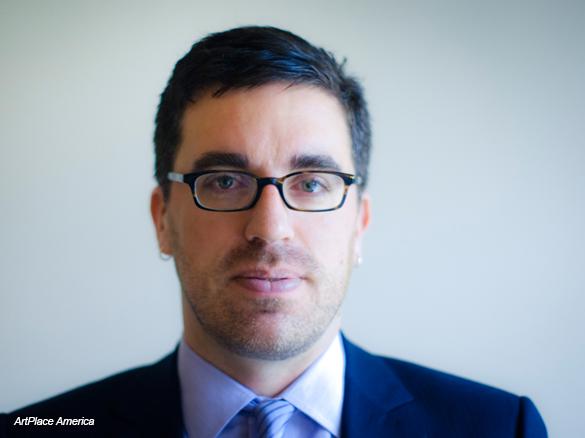 By Alexis Stephens
Just outside of Minnesota's Twin Cities, a winter arts festival takes place in a pop-up village of ice fishing shanties. In Louisville, Kentucky, an artists' collective is leading public workshops that blend traditional West African and Appalachian arts with contemporary urban performance. In Detroit, artists and local youth are designing a plaza and green space to boost entrepreneurial activity. These projects and 35 others are recipients of the ArtPlace America 2015 National Grants program, which aims to support artists and arts organizations to strengthen and transform the physical, social, and/or economic fabric of communities.
Jamie Bennett is the executive director of ArtPlace America, a 10-year collaboration of foundations, banks, and federal agencies launched in 2011. (PolicyLink is working with ArtPlace on its Community Development Investments Initiative, which is investing $3 million in each of six place-based organizations to investigate what it means to sustainably incorporate arts and culture into community development work.) Bennett sees creative placemaking as a way for arts and culture to act as a core sector of comprehensive community planning and economic development. America's Tomorrow spoke to Bennett about the philanthropic world's embrace of place-based strategies and the equitable economic impacts of ArtPlace America's work.
Q: How are you trying to promote equity within the world of philanthropy and the arts?
A: The general definition [of arts and culture] we use is one that we borrowed from National Endowment for the Arts, which is "any generative act that's intended to communicate richly to others." And when you use that definition, yes, you're talking about symphonies, operas, and ballets, but you're also talking about my grandmother's lacemaking; you're also talking about a Lakota dance. We tend to plot it out on a matrix, just by way of understanding it. And when you have that kind of bingo card, you can begin checking yourself and asking, "Am I working with all parts of this landscape or am I only connecting with certain parts?" So I think having that understanding of how the arts and culture ecology is organized really is a necessary first step towards making sure that you are engaging with all of it — and all of it equitably.
Q: How is ArtPlace trying to bring equity into the language, traditions, and rituals of the philanthropic world?
A: I think it is important to understand philanthropy as a sector that does require a certain level of cultural competency in order to intersect with it. And exactly as you said, there is a language, there is a series of rituals, and there is a semi-hidden, opaque power structure in place. Navigating all of that can be tricky. I think it's really incumbent upon those of us in philanthropy to make sure that we offer an on-ramp that is as easy as possible and that is as accommodating as possible to the broadest range of people.
An example is that those of us who have been working in philanthropy for 25 years know what an LOI [Letter of Interest] is. Right? It's a shorthand. To the other 98 percent of America, LOI are three letters that might as well be PDF or STD or whatever other three-letter abbreviation you use. So instead of saying we're releasing an LOI, we're simply saying, "Would you like to ask us for money?" We've [also avoided certain language] around outcomes assessment, outputs, and project evaluation. And instead we simply say, "What is it you're trying to do?" and, "How are you going to know if you've done it?"
Q: What do you see as the role of arts and culture in community development and neighborhood change?
A: Arts and culture are assets that are present in every community. Not every community is on a waterfront, not every community has strong public transportation, and not every community has a hospital or university to anchor it. But every community has people who sing and dance and tell stories.
We have to understand that every artist is somebody's neighbor and almost everyone has an artist as a neighbor. Issues of displacement are hugely important and need to be addressed, but I don't know that arts-driven displacement issues are any different than any other kind of displacement issues driven by community development. I think we need to solve them together.
Q: Should place-based interventions be tailored to a neighborhood's income level?
A: The mayor of New York City has just upzoned East New York, a neighborhood in Brooklyn. Change is going to come to that neighborhood and we know what the change is going to be and when the change is coming.
At the moment, there are many people focusing on affordability. How do we keep it so that if you are low-income you can continue to live there? Another thing that can help solve involuntary displacement is you can also make residents richer. I think we need to think about a strategy, for instance, that comes in and says to the barbershop that's been in the community for 30 years, "Change is coming; You need to negotiate a lease now that will be 20 years, or you need to try and buy your site; and maybe you want to put in three manicure stations and take advantage of the change in the market that's coming." And so if we came in with a market investment, if we came in with an equity investment for that, I think that is going to do so much more to keep that small business in that neighborhood than just giving a local group a $50,000 dollar grant for organizing around preserving affordability. So I think in general my question is, "How do we bring in the market as a tool to work alongside philanthropic investment and/or community organizing investments?"
Q: Why are place-based strategies in philanthropy more than a trend du jour?
A: If you build really high-quality fabulous housing, but it's two hours away from any job, that's not going to work in terms of helping someone to build wealth and have an extraordinary life. So, the current movement I've seen with a lot of philanthropy is to really look at all of the systems that are at play in a community. So if a foundation cares about children, they realize that a child can't be healthy, happy, and achieve his or her full potential unless that child's family is also healthy and happy. So if you care about children, you also care about their parents and caregivers having jobs. And you care about all of them being educated. And you care about there being a safe environment. So whatever your point of entry, you really have to care about how all of these systems work together, which, I think in many ways, is Angela [Glover Blackwell]'s point about the series of systems that together add up to equity or inequity. It is about how housing intersects with transportation, which intersects with the economy, which intersects with the education system. So for ArtPlace and for philanthropy and government to say, "Okay, let's understand all these systems and how they intersect in their totality," I think is a good move.