Driving Equitable Growth in Minnesota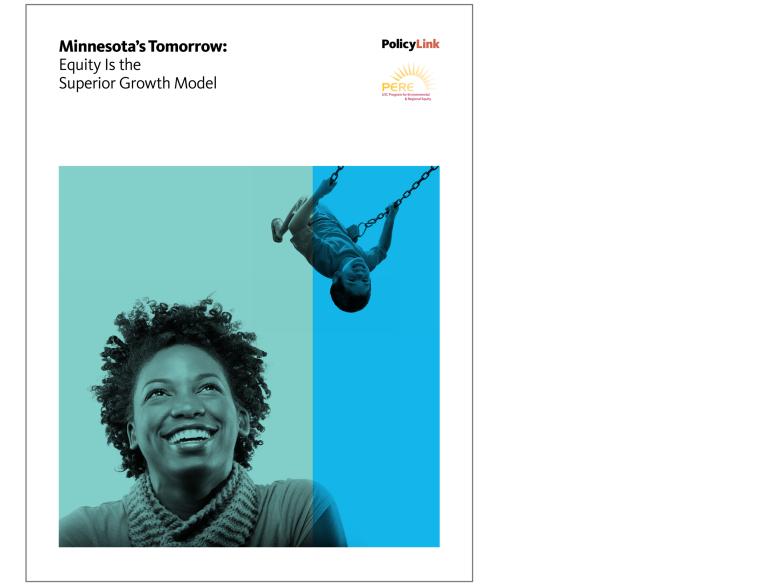 A bus company operated by a nonprofit serving the Hmong community has become a vehicle for equitable economic development in St. Paul, and an inspiring model for harnessing the energies of immigrants and refugees to build all-in cities across Minnesota and the country.
HAP Transportation generates nearly $1 million a year in revenues, enabling its owner, the Hmong American Partnership, to expand services and business ventures to lead Minnesotans from Southeast Asia, who are often poor, into prosperity. And it is exactly the type of win-win approach that Minnesota needs to secure a strong future as the state grows more diverse, according to a new report by PolicyLink and the Program for Environmental and Regional Equity (PERE).
"This is not just about their own economic prosperity, although that's very important," said Mai Moua, acting chief operating officer of the Hmong American Partnership. "When our clients have equitable access to jobs and to building assets, they contribute to neighborhood revitalization and strengthen the greater economy."
Strategies like this are urgently needed in a state where both diversity and inequality are on the rise. In 1980, only 4 percent of Minnesotans were people of color; today the figure is 17 percent and climbing, according to the report. An array of racial, ethnic, and immigrant communities are driving the change. Minnesota is home to the nation's largest Somali community and second-largest Hmong community — 60,000 strong.
Growth in populations of color has largely offset population loss throughout the state and can be an economic asset, but only if policies and investments close wide, persistent racial gaps in income, employment, education, wealth, and health. The PolicyLink/PERE analysis found that eliminating racial gaps in income would have added $16 billion to the state's GDP in 2011. The gaps are particularly acute for the Hmong, who have one of the lowest rates of educational attainment of any group in the state, and the highest poverty rate at 26 percent.
The four-year-old transportation venture is one of a long list of initiatives by the Hmong American Partnership to create opportunities and deliver equity dividends. It capitalizes on the cultural roots of the Hmong, an oppressed ethnic group in Asia with a history of mobility and migration.
With a fleet of 67 buses and vans, HAP Transportation has more than 70 full-time and part-time employees, drawn mostly from the Hmong, Bhutanese, and Karen (Myanmar) communities. Pay is competitive — drivers earn $10 to $14 an hour plus benefits, and managers can earn up to $60,000 a year, Moua said.
"We're working on being the employer of choice for our community," she said. "We want to create a culture that drives toward innovation, high performance, and high impact."
At the same time, drivers are encouraged to consider starting their own bus and taxi companies, and several have done so. "It's competition for us," Moua said. "But that's OK, because our biggest role is moving people to prosperity."
The impact of the bus venture extends well beyond employees, addressing what the community itself had identified as a major barrier to self-sufficiency and success: lack of transportation. The company transports more than 5,000 children to school, doubling its reach this year by adding 20 St. Paul public school routes. Children now have access to after-school programs they could not otherwise attend, in the hands of drivers who speak their language, and the agency reports a sharp increase in parent engagement in the schools. The vans and buses also transport agency clients to English language classes, job-training programs, and other essential resources. The point is to ensure that transportation is readily available to all who need it.
And thanks to the venture, the Hmong American Partnership's budget has increased by 50 percent during a tough economy. The company brings in unrestricted funds to develop innovative programming to serve a diverse group of 10,000 people annually.
Once a small resettlement agency, the Partnership has evolved to meet the changing needs of its immigrant and refugee constituency by launching programs aimed at creating pathways to economic opportunity. The Partnership offers classes in homeownership and asset building. As it moves toward certification as a community development financial institution, it provides loans to small businesses, from home-based child care operators to hairstylists to restaurateurs.
The Partnership also connects immigrants with agricultural training opportunities, for eventual work in farming, the state's second-largest industry, or in nurseries.
Propelled by the success of the bus company, the Partnership is opening an early education center — another venture to create jobs and professional development opportunities while closing the gap in academic achievement. The first class will open in the fall of 2014 with 20 students, two teachers, and an aide drawn from the community. The long-term goal is to expand the program through sixth grade, with jobs for teachers, aides, a cook, an administrator and, of course, bus drivers.
Six Reasons to Close the Racial Wealth Gap Now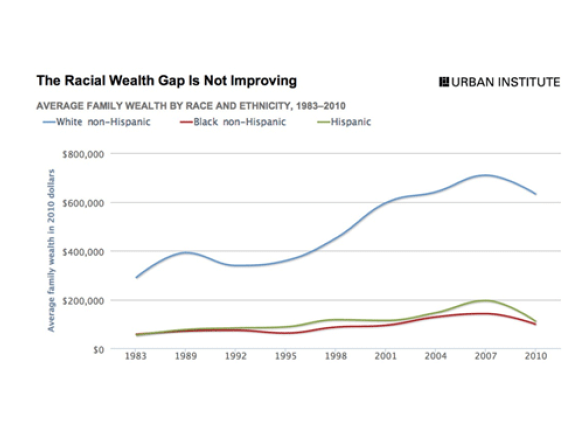 The Great Recession magnified and accelerated America's racial wealth gap. The average difference in net worth between a white household and a black or Latino household has nearly tripled over the past three decades, reaching $500,000 in 2010, and it is still growing. When our nation's fastest-growing populations lack assets to buy homes, open businesses, send their children to college, or tide over their families in an emergency, the whole economy suffers.
Economists, political leaders, and a growing network of equity advocates are recognizing that closing the racial wealth gap is essential for ending generational poverty and building an equitable economy. Strategies that help low-income people of color save and build assets lead to family financial security, neighborhood stability, and long-term economic growth. Wealth building works. Here are six reasons why:
The racial wealth gap did not emerge by chance — it is the result of discriminatory policies and investment disparities stretching back decades. As the nation's population moves toward becoming majority people of color, it is imperative to create policies that close the racial wealth gap in order to ensure prosperity for all. Over the coming months, America's Tomorrow will publish articles highlighting the right policies for asset building in underserved communities and will profile successful local initiatives. And just in time for Tax Day, our next issue will explain how smart tax reform can help low-income families build wealth. Look for the ACCESS logo at the top for future stories on building wealth to close the racial wealth gap. Meanwhile, take a look at the PolicyLink Access to Financial Security website for more information and to send us your story ideas.