Incubating Good-Food Businesses in Detroit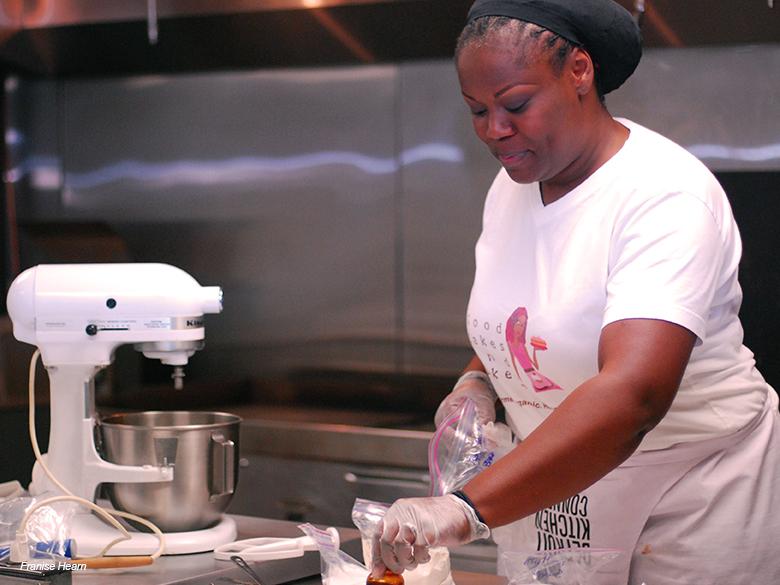 April Anderson starts baking at three o'clock in the morning, 5 days a week — and at one o'clock on Saturdays. At seven o'clock, she loads breakfast loaves, organic cookies, and vegan cupcakes into her van and delivers them to her new shop, Good Cakes and Bakes, in the historic Detroit business district. Just one year after completing a community college program in pastry arts, she has revenues of $6,700 a month, she has hired an assistant baker at nearly double current minimum wage, and she plans to open two more shops, employing 25 to 30 people.
What made it all possible is Detroit Kitchen Connect (DKC). The initiative helps local residents — most of them women of color— transform their ideas and passions into scalable businesses by providing commercial kitchen rentals at sliding-scale rates, and guidance in the nuts and bolts of launching and growing a company.
"No way I would have been able to do this without Detroit Kitchen Connect," Anderson said. "It's definitely been a lifesaver and such an opportunity."
By tapping into local licensed kitchens that are largely unused, DKC is creating pathways to business ownership for entrepreneurs with little wealth or access to capital — people likely to hire other Detroiters and buy supplies from small local firms. It's an example of how to repurpose neighborhood assets to spur small business development, job creation, community renewal, and equitable growth.
"We're helping Detroit re-image what should be done with underutilized kitchen spaces and finding new ways to connect low-income people to economic opportunities wherever they exist," said Devita Davison, a Detroit native and the driving force behind DKC. "While our entrepreneurs are hard at work bringing Detroiters delicious and diverse food and beverage options, our relevancy goes beyond just food. It has to do with building a more inclusive food economy."
Nourishing the city and regional economy
Buying more local foods would bring huge economic benefits to the city and region. Shifting just 20 percent of food spending in Detroit to local producers would create more than 4,700 jobs, raise earnings by $125 million, and bring the city nearly $20 million more in business taxes, according to a recent analysis. Expand this spending shift to the five counties surrounding Detroit, and those numbers soar: nearly 36,000 jobs, $900 million more in earnings, and $155 million in additional business taxes.
That's good news in a city with a vibrant emerging culinary scene and a groundswell of interest in healthier, locally produced, and ethically sourced food. Over the past five years, pop-up cafes, small restaurants, and bake shops like Anderson's have sprouted in previously vacant spaces, increasing foot traffic, improving quality of life, and raising hopes for more homegrown economic development.
But niche food businesses also raise concerns. All too often they turn out to be an early sign of gentrification in a vulnerable neighborhood, the first wave of investment that benefits privileged newcomers and displaces long-time residents. DKC is part of a broader effort to rewrite that story.
Jobs, health, sustainability for all
DKC was created through a partnership between two key players in the Detroit good-food movement that together represent the city's prosperous past and an optimistic vision for its future. One partner is Detroit Eastern Market, a historic public market. The other is FoodLab Detroit, a young, rapidly growing community of food entrepreneurs who have come together around a vision of a food system that delivers triple bottom-line benefits — prosperity for all, equitable healthy food access, and environmental sustainability.
One strategy to achieve that is Operation Above Ground, which works to get the city's many underground food businesses licensed by helping owners navigate the formidable regulatory maze and advocating for a transparent, streamlined, and affordable process that facilitates, rather than thwarts, the community entrepreneurship that the city economy sorely needs.
Another strategy is DKC, launched a year ago. It has lined up two kitchens, in a church and a community services agency, where 11 bakers, gourmet candy makers, and beverage makers rent space for $15 to $30 an hour. The arrangement eliminates one of the greatest barriers to entering the food business: the high cost of building, licensing, and insuring a commercial kitchen. Participants receive technical assistance to get licensed and training in operations, marketing, and sales.
All this enabled April Anderson to achieve her goal of opening a bakery within a year of graduating from a program in pastry arts.
She has baked since childhood, and ran a small pastry business from her home for several years. She longed to branch into retailing, but did not have $65,000 to $70,000 to invest in a suitable kitchen. When DKC invited applications, she jumped at the opportunity. The first time she baked in the unfamiliar ovens in a church, she charred her brownies. Now she turns out 16 products a day.
Drawing on family savings and a grant from Revolve Detroit — a collaborative program that's reinvigorating Detroit by supporting art installations and emerging businesses in vacant storefronts — Anderson opened her shop last September. She recently entered talks with a 16-store grocery chain to sell her products.
Her five-year business plan calls for opening two more stores and employing a staff of up to 30. She's committed to hiring people who face employment barriers, particularly the formerly incarcerated. "And we definitely want to pay a living wage," she said.
People like Anderson, creating jobs like this, are key to Detroit's recovery. Gone is the era when a manufacturing giant would boost the city's fortunes by opening a big plant and creating thousands of jobs, Davison noted. "I believe that if Detroit is ever going to renew itself, it will be because of hardworking entrepreneurs and small business owners."
My Brother's Keeper: A Strategy for Equitable Growth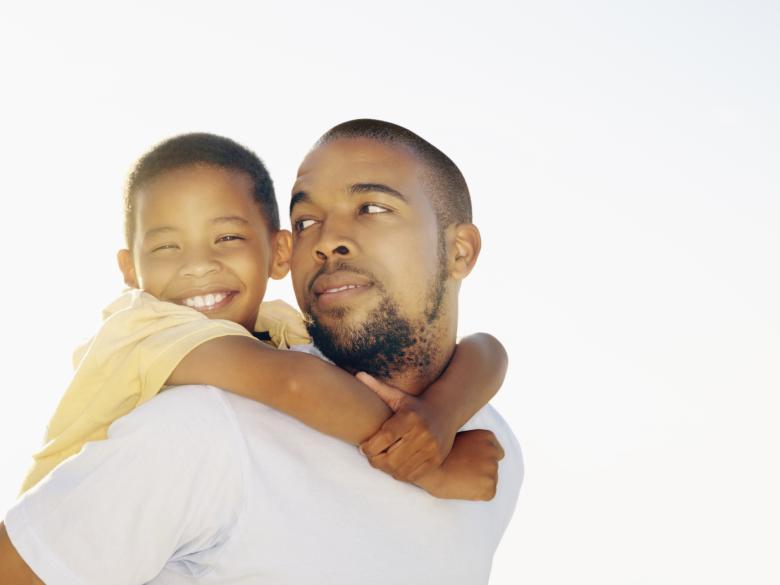 The groundbreaking report of the My Brother's Keeper Task Force gives long-overdue recognition to the needs of boys and men of color and makes plain that their success is critical to America's prosperity.
Lifting up innovations from successful programs in communities, the report offers clear-eyed recommendations to strengthen the economy by putting the nation on a path towards full economic inclusion.
"Improving the life prospects and outcomes for young people, including young men of color, is the right thing to do not just for those individuals, but for our economy as a whole," the report states. It explains that as the baby boom generation reaches retirement age, increasing the size of the labor force is essential. And that is only possible if all young people, including young men of color, have the skills, training, and opportunities to participate as workers, entrepreneurs, innovators, and business leaders.
The report exhaustively documents the inequities that block opportunity for males of color from before they're even born and throughout their lives. These inequities result in poorer outcomes for them, their families, and their communities on just about every measure — unemployment, higher rates of disease and injury, lower educational achievement, and poverty rates that are more than double the rates for white Americans.
Investing in communities of color, and youth in particular, more than pays for itself. To cite just one example, a long-term study followed black children who were provided with high-quality preschool. By the time they turned 40, each dollar invested in their early education returned more than $16 to society, in higher employment and earnings, increased tax receipts, and public savings from reduced crime and other factors.
How can the country ensure that all boys and men of color have opportunities to reach their full potential? Linking people to good jobs is a must. The report's work-related recommendations are supported by an acknowledgment that the best way to boost employment is by:
Increasing the awareness and use of pre-apprenticeships as good entry-level jobs;
Increasing the availability of holistic employment programs that help overcome barriers to employment, including those that affect boys and young men of color;
Strengthening the case for summer youth employment opportunities; and
Increasing efforts to provide youth with the information and guidance to overcome barriers to work.

Investing in infrastructure and advanced manufacturing, enhancing job training and raising the minimum wage, and expanding entry-level employment and on-the-job training opportunities that allow people to move up and increase their earnings are just a few of the ways to implement these recommendations.
Making sure that young people have the skills to compete for the jobs of today and tomorrow is also essential. The report encourages common-sense solutions like increasing enrollment and completion rates for all students, including young men of color, in higher education and training. It also focuses on postsecondary education, recognizing that at a minimum, today's jobs require two years of training beyond a high school diploma. It emphasizes reconnecting low-income youth who are out of school and work. Research has proven that if these young people, between ages 14 and 24, are not exposed to work, their prospects for long-term employment and labor force participation become significantly diminished.
The report seeks to address the multifaceted needs of boys and men of color. The Task Force recommends holistic employment programs that help overcome barriers to employment and ensure the development of critical career skills. It also acknowledges that many low-income boys and men of color in high-poverty neighborhoods face disproportionate incarceration rates, family instability, and trauma, all of which contribute to high unemployment. The fact that these realities are disproportionately true for boys and men of color requires special action to get them on the pathway to work early on. Building the soft skills and social capital of youth and extending their relationships and social networks early on by providing exposure to work, before the teen years, will help them be ready to work once they are of age.
As Angela Glover Blackwell described in a blog post last week, My Brother's Keeper Task Force Report to the President lays out an agenda for equitable economic growth combining a moral imperative for equity combined with an economic rationale for how full inclusion benefits the nation. Here's how you can get involved in the movement to improve outcomes for boys and men of color: