Six Tax Reforms to Increase Economic Security for All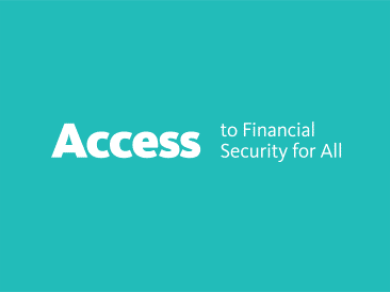 Ivan and Sandra Silva of South San Francisco paid off debts and bought government bonds with a $6,000 federal tax refund they received last year thanks to a tax credit for low- and moderate-wage workers. The Silvas, who have four grown children, serve to illustrate how progressive tax code reforms can help all people, including low-income people of color, save and build the assets that are essential for upward mobility.
"We saved because you never know what can happen," said Ivan Silva, an airline baggage handler who immigrated to the United States from Nicaragua. His wife is a home caregiver and an immigrant from El Salvador. Together they earn less than $50,000 a year. "Our savings is not for ourselves but for whichever one of our children needs anything," he said.
A new national initiative is calling for a more inclusive and equitable tax code — one that provides fair benefits for all. Led by a network of grantmakers, the Tax Policy Project is pulling together asset-building and equity advocates, researchers and tax experts, and organizations with deep roots in communities of color, including PolicyLink, to push for changes in a tax code that has become a driving force behind the nation's soaring inequality.
Last year, more than half of the nearly $1 trillion that the federal government spent on tax benefits for households went to the wealthiest fifth of the country. The benefits — written into the tax code as deductions, exclusions, credits, and preferential rates — subsidize higher-income households to build wealth, while offering few opportunities for lower-income households, which are disproportionately of color.
Most of these benefits are designed to advance worthy goals such as buying a home, encouraging college education, or supporting secure retirement. In other words, these benefits should build the long-term financial security of all American families and contribute to economic stability and growth.
But as structured, many tax benefits are out of reach for the people who need them most. If families do not own homes — and fewer than half of all households of color do — they are cut off from the benefits of home mortgage and property tax deductions. If workers do not have access to an employer-sponsored retirement savings plan — and only 40 percent to 50 percent of employees of color do — they cannot take advantage of tax benefits to encourage retirement savings.
And if low-wage workers lack access to high-quality tax assistance, they often cannot take advantage of the few benefits designed specifically to help them, including the Earned Income Tax Credit (EITC).
That's what happened to Ivan and Sandra Silva. For years they paid a commercial tax preparer who never told them about the credit. They learned about it only after they turned to the Mission Economic Development Agency (MEDA) in San Francisco, a community-based organization that offers free tax assistance and financial services as part of a comprehensive approach to economic justice and neighborhood economic development in the Mission district and other low-wealth neighborhoods.
Federal policies and investments can create an equitable tax code that helps all taxpayers to invest in themselves, their children, and their communities. Here are six policy changes prioritized by the Tax Policy Project to make taxes work for low-income families:
In addition to these tax reforms, Congress should pass the Voluntary Income Tax Assistance (VITA) Act, which would extend a program that supports organizations like MEDA to provide reliable, timely tax preparation services at no cost to low-income households, enabling millions to claim the benefits to which they are entitled.
To keep abreast of these initiatives and other policy developments, check out the Tax Policy Project website and read about how closing the racial wealth gap will help grow the economy in the previous issue of the America's Tomorrow newsletter.
This story is adapted from an article written by Heather McCulloch, Manager of the Tax Policy Project of the Asset Funders Network. Read more about the organization's work.
Infographic: How the EITC Can Help the Economy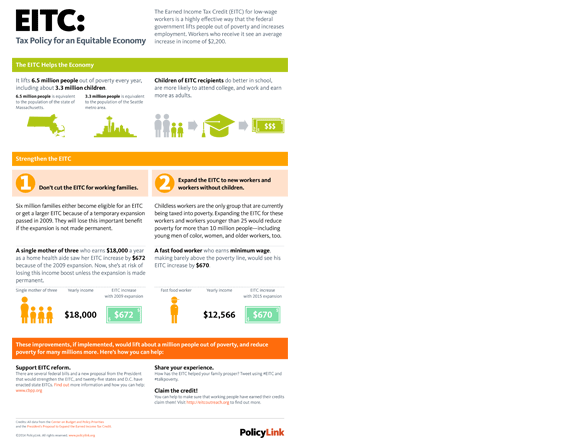 Small changes in tax policy can have huge benefits for low-income people, struggling communities, and the nation's economy — and the Earned Income Tax Credit (EITC) proves it. The credit has lifted 6.5 million people out of poverty while increasing employment in communities with the greatest need, particularly communities of color. President Obama's budget and proposals circulating in Congress would expand and strengthen the credit. These efforts need your support — take a look at our infographic to see why and take action.