America's Tomorrow: Promoting College Readiness: Smart Investments in Our Future
< Back to All Newsletters
June 27, 2014
Features
Promoting College Readiness: Smart Investments in Our Future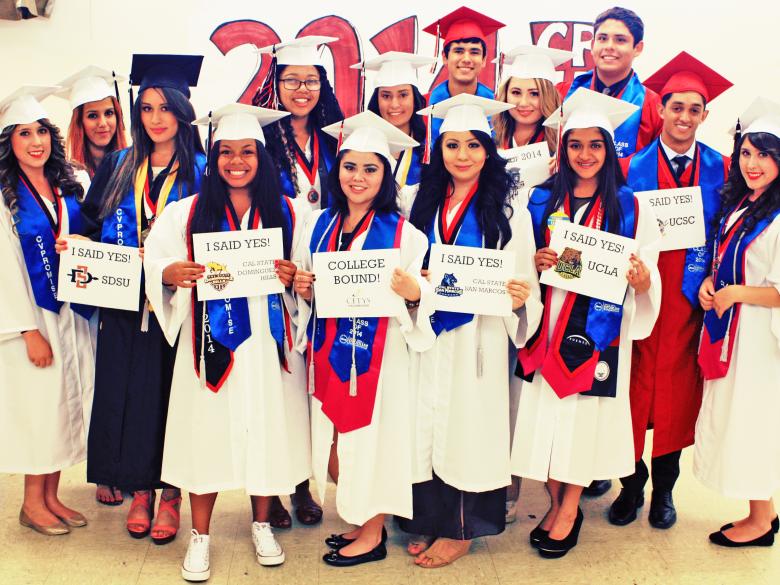 Education has long been the most common route to economic success, and it's more important than ever. Sixty percent of jobs require post-secondary education and training, up from 28 percent 40 years ago. Youth of color, the fastest-growing segment of our young population, must be prepared and supported to graduate from high school, make a smooth transition to post-secondary education, and earn a certificate or degree if America is to have the workforce we need to prosper.
In today's newsletter, we profile three young people who demonstrate what the nation's future looks like if we invest in youth, their schools, their families, and their communities. These youth, and so many of their peers, are overcoming barriers of poverty and racial inequity to succeed in school — and they're doing it with the support of mentors, visionary programs, and innovative policy initiatives. This graduation season, let's celebrate the achievements of youth in low-income communities and communities of color. And let's honor the educators, change agents, and local leaders who inspire these young people to aim high, and who labor tirelessly to provide them with resources to achieve their goals. Our collective future depends on this work.
Antoinette Gabriel, Chicago, Illinois
This fall, Antoinette Gabriel will head to the University of Illinois at Urbana-Champaign to study neuroscience and foreign languages. It's a dream made possible through her persistence, the commitment and resourcefulness of her high school leadership, and a federal investment in turning around a low-performing school.
The $6.4 million turnaround effort began in 2009, a year before Antoinette entered Fenger, a South Side Chicago high school where almost all students are poor and African American. At the time, less than half of freshmen were projected to graduate from the school and even fewer were college-bound. The killing of a student walking home from Fenger, just two weeks after the turnaround initiative began, focused national attention on the school.
Now the dropout rate is less than 3 percent, and more than 90 percent of freshmen are on a college track. Anger management classes, trauma therapy, and a restorative justice program have dramatically reduced violence and arrests. Intensive support services and the guidance of school administrators have helped students redefine their ambitions and strive to achieve them.
"They have so many resources here, I wouldn't say it's impossible to fail, but if you want to succeed you will," Antoinette said.
Two programs were especially important for her. She had wanted to be a doctor since she was a child and an uncle died of a mysterious brain disease. OneGoal, a nonprofit that works to make college graduation a reality for all students, guided her through the overwhelming process of college and financial aid applications. "I must have applied for 100 scholarships," she said.
Embarc, a teacher-driven organization that supports academic success through immersion in Chicago's arts and culture, "opened our horizons," Antoinette said. "It changes your attitude. It helps you build confidence. It made me realize that everyone's their own leader of their own life, and it made me a better leader in mine."
The care and steady support of Fenger's principal, Elizabeth Dozier, were also pivotal for Antoinette. "Half the things I got to do would never have been possible without her," Antoinette said. "She helped me find my path."
When the four-year federal turnaround grant expired in 2013, Fenger lost 20 staff members and several community partners. But Dozier is drawing on community resources to provide the counseling, anti-violence interventions, and other supports that have proven to be transformative. She's determined to sustain the positive changes and help more young people find their path.
Zachary Rasmussen, Chula Vista, California
In his application to the University of California, Zachary Rasmussen describes struggling with a learning disability. "My whole life I have been told that something is wrong with me, that I'm not as capable as other kids my age. I don't have to accept this as my definition," he wrote. "What sets me apart from others can't limit what I can become."
This sense of possibility was inspired through the Castle Park High School Academic Advocate Program. It's a centerpiece of the Chula Vista Promise Neighborhood, part of the Obama Administration's Promise Neighborhoods initiative. In Chula Vista, 28 community agencies and institutions are collaborating to provide comprehensive approaches to change the odds for children in the diverse, low-income Castle Park neighborhood.
Before Zachary started working with his advocate, Rea Concepcion, the University of California wasn't on his radar. Nobody in his family had graduated from college. "I couldn't imagine going to a university. That didn't seem like an option."
Concepcion encouraged him to apply and helped him every step of the way. And she did the same for dozens of other students, most of them first-generation college-bound.
"I'm a GPS for students and families, helping them navigate the whole process," she said.
The advocate program is based on the belief that everybody has the potential to graduate from high school and college. Advocates work with students to assess their strengths, identify goals, and develop plans for success. The idea is to work with students throughout high school, but the program started just last fall, so this year's seniors had the benefit of only one year. Thirty-four were admitted to four-year colleges and universities.
Zachary, who identifies as white and Asian Indian, will attend the University of California at Santa Cruz. He plans to study human biology and hopes to become a professional sports trainer and physical therapist.
Concepcion will remain the advocate for all her students through their first two years on campus. She'll Skype with each one monthly, connect them to mentors and advisors, visit them at school, and make sure they have the resources they need to succeed.
"Getting students who are underserved into college is one thing," she said. "Getting them to stay in college is another."
Lia Abeita-Sanchez, Albuquerque, New Mexico
Lia Abeita-Sanchez, a member of the tribal community of Pueblo of Isleta, will graduate in May 2015 from the University of New Mexico with a degree in political science. She attributes her educational success to her family and community, and the programs that helped facilitate her pathway into higher education.
According to the National Center for Education Statistics, American Indian and Alaska Native students account for less than 1 percent of those who have earned a bachelor's degree or higher from a university. Closing the wide and persistent racial gap in educational attainment is key to building the skills and knowledge necessary to succeed in a global economy. Programs dedicated to serving historically underrepresented students ensure that our increasingly diverse population has access to the educational opportunities to develop into the leaders that will strengthen communities and our nation's economy.
As a student at Sandia Preparatory School, a private school in Albuquerque, New Mexico, Lia participated in programs aimed at promoting college readiness among Native American high school students. College Horizons aims to fill the access gap by increasing the number of Native American students eligible for admission to four-year universities by providing individualized support throughout the process of applying to college and information about financial aid. This program reinforced Lia's commitment to pursue higher education. Lia also participated in the Summer Policy Academy (SPA) Program, an intensive four-week program focused on indigenous issues. Learning about the impact of state and federal policy on tribal communities, through both classroom learning and service-oriented projects in the community, Lia came to recognize education as a tool to advocate for social change.
Lia was enrolled at Stanford University for two years before making the difficult decision to return home and enroll at the University of New Mexico. Lia struggled finding a sense of place and belonging while at Stanford, explaining, "No one looked like me. No one talked like me." Many services were available for Native American students. However, at the University of New Mexico, Lia felt she could more readily focus on school, saying, "Home was down the road, there wasn't a need to recreate it." She hopes that more students embrace their own personal experiences of resilience and that schools can build upon these assets.
Lia now advocates for policy and culturally appropriate health interventions for tribal communities as a research assistant with the Center for Native American Health Policy. When asked about her future aspirations, Lia responded, "To continue to serve my community in whatever way possible and whichever way necessary."
How Diverse Neighborhoods Spur Economic Mobility: An Interview with Patrick Sharkey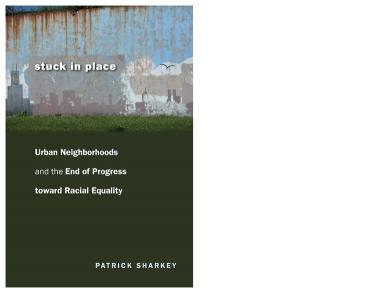 Even for the generation of African Americans that came of age after the civil rights era, there has been little progress on economic equality, sociologist Patrick Sharkey writes in his new book, Stuck in Place. Drawing on national data, he shows that inequality persists because disadvantage is concentrated in neighborhoods and passed from generation to generation. Sharkey spoke with America's Tomorrow about strategies to change this legacy and build prosperous cities for all.
Years of research show that neighborhood environments are key to understanding racial inequity. What's new in your argument?
We have to think about where black and white children have lived, and where their families have lived, over long periods of time. Not just where families live at a given point in time but where families have lived over multiple generations. When we do that, we see that differences in the types of neighborhoods occupied by black and white Americans look much more severe. These differences in the types of environments in which families have lived over time go a long way towards explaining the persistence of racial inequality.
Why is this long view important?
The vast majority of African American families who are currently in poor neighborhoods — about 80 percent — have lived in similarly poor neighborhoods for at least two generations, even if they've moved from one place to another. That's true for about half of the small percentage of white families currently in poor neighborhoods. For black Americans, neighborhood poverty is a continuation of neighborhood disadvantage that has been experienced for long periods of time. That's important because the impact of growing up in a poor neighborhood is cumulative. It doesn't exist at a single point in time and then disappear.
What are the cumulative impacts?
When children are raised in a poor neighborhood, it affects their schooling environment and the social networks they form. There's very good evidence that it affects their mental health. It affects their economic opportunities as they move from childhood to young adulthood. Through all these pathways, growing up in a poor neighborhood affects multiple dimensions of people's lives and then, in turn, it affects the next generation.
To what extent can neighborhood change break the cycle?
When neighborhoods become more diverse, absorb new immigrant populations, and become less economically disadvantaged, meaning more jobs come in, the children in those neighborhoods benefit substantially. I found large improvements in economic outcomes much later in life among kids who lived in neighborhoods where poverty became less concentrated. Reducing the concentration of disadvantage is important for economic mobility.
What two or three policies would significantly reduce the concentration of disadvantage?
I'd start with large-scale mandatory inclusionary zoning policies, to break down economic segregation. And I'd focus on integrating the formerly incarcerated population back into the communities by providing economic opportunities to people as they return from prison. We need to find ways to make sure that the poor and non-white segments of the urban population are not living in separate communities from wealthy, predominantly white segments of the population. The separation of populations across the city allows for political abandonment. It allows for more and more unequal distribution of resources across communities.
How do we simultaneously improve neighborhood environments and protect against displacement?
We need to require that every locality build its fair share of affordable housing. And at a political level, we have to make sure that low-income representatives of low-income communities play a bigger role in all decisions about how land is used. Not just those that affect their own communities but decisions about zoning and housing across the city.
What investments would you like to see to improve life chances for youth of color?
Investments have to be made to create stable institutions in their communities. The most notable institution is the schools but I'm also talking about childcare centers, after-school programs, religious institutions, police departments working with the community, and anti-violence groups.
You argue for "durable" urban policy. What does that mean?
First, it's policies that have the capacity to disrupt multigenerational patterns of neighborhood inequality — not just to affect children but also to reach their parents. Second, it's policies that generate transformative changes in places and in family's lives. We can't have short-term investments in communities that are abandoned after a few years of implementation. Third, it's policies that have the capacity to withstand fluctuations in the political mood and the business cycle.
These criteria may sound overly optimistic but the truth is we have made these commitments to communities across the country. It's only low-income communities of color that have been excluded from these types of major and sustained investments. I'm really arguing that the commitments that have been made to communities across the country be extended to these communities.