Why Equity Advocates Should Care About the Fed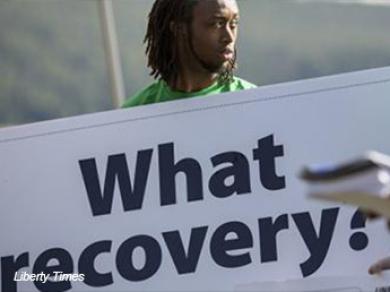 Kendra Brooks from Philadelphia joined a determined band of grassroots advocates who traveled to a secluded mountain resort in Wyoming in late August to deliver two messages to the nation's chief banking officials.
First, include the voices of workers and low-income communities in policy discussions. And second, keep interest rates low to stimulate job creation and higher wages for the people hit first and worst by the recession and still struggling to recover — disproportionately communities of color.
It was the first protest ever at the annual Jackson Hole Economic Policy Summit, an invitation-only event where officials of the Federal Reserve System, the nation's central bank, join academic economists to contemplate the future of the economy. Brooks and nine other activists came as emissaries of a dynamic new national coalition of community organizations, unions, and consumer groups pushing the Federal Reserve to prioritize full employment and rising wages.
"I had the American dream but it crumbled," Brooks said. "That's what brought me to Jackson Hole. We need to do something to make sure there are more jobs."
Brooks, who has an MBA, spent 18 months searching for work after she was laid off from a longtime job directing programs for a large nonprofit organization. She went through her savings and 401K, had her car repossessed twice, and almost lost her home before she landed a position as a field manager for Action United, an organization of low-and moderate-income Pennsylvanians working to build power through organizing. She loves the job, but it pays less than half of what she used to earn.
"People think, wow, if you don't speak economics, you can't talk to the Fed or even understand what they do. I don't speak economics but I can break it down, connect the dots, and see how the Fed's actions would put me further in the hole or help me climb out. And not just me — I know so many people in the same situation."
We asked three people to break it down and connect the dots for America's Tomorrow: Brooks, Valerie Wilson, the director of the Program on Race, Ethnicity, and the Economy at the Economic Policy Institute, and Ady Barkan, attorney with the Center for Popular Democracy, which is coordinating the campaign to reform the Fed. Here's what we learned.
Why should advocates for an equitable economy care about the Fed's policies?
Tasked with maintaining the health of the U.S. economy, the Federal Reserve is the most powerful force in determining the pace of growth. Although its work may seem arcane, Fed policies affect workers and families in countless ways, from how much we pay for mortgages or student loans to our prospects for finding and keeping a good job.
The Fed's six-year policy of rock-bottom interest rates has fueled hiring and job creation since the financial collapse. But the recovery has eluded the communities in greatest need. While overall unemployment was 6.1 percent in August, the rates for African Americans and Latinos were 11.4 percent and 7.5 percent, respectively, compared with 5.3 percent for whites. Nearly 20 percent of teens ages 16-19 are unemployed.
When the economy is growing quickly, workers have increased job opportunities and more bargaining power to demand better jobs. When the United States had robust economic growth in the late 1990s, for instance, unemployment in the African American community fell to a historic low and median incomes rose. As the most influential institution in determining how quickly or slowly the economy grows, the Federal Reserve should be on the radar of everyone who cares about equitable job creation and livable wages.
How does the Fed accelerate or slow down growth?
The number one monetary tool the Fed has is setting interest rates. When the Fed keeps interest rates low, businesses take out more loans to invest, expand, and hire more workers. And consumers borrow more to spend on goods and services, which stimulates business activity and creates more jobs. Basically, by keeping interest rates low, the Fed is stepping on the gas pedal of the economy. High interest rates slow down activity all along this chain, like pressing on the brakes.
Why is this an urgent concern for communities now?
Within the Federal Reserve System there is talk about raising interest rates in the near term, now that overall unemployment has declined. Some economists warn that if unemployment drops below a certain point, it will cause inflation by driving up wages and prices. But there is little evidence that the United States is entering an inflationary period. Meanwhile, although the overall unemployment rate suggests that America has recovered from the Great Recession, things look different for communities of color and others. Black unemployment is more than double the rate for whites. Unemployment among high school graduates is almost double the rate among college graduates. "If the Fed decides now to pursue a more restrictive kind of policy that slows economic growth for the sake of containing inflation, that really puts the brakes on the ability of these communities to then benefit from any ongoing job creation," Wilson said.
How can worker and community representatives penetrate what has been a fortress of monetary policymaking?
The Center for Popular Democracy and dozens of partners are amplifying worker voices and concerns to the Fed. The recent protest at Jackson Hole was covered in national media, including Forbes, Wall Street Journal, and the New York Times, and several protestors met with Vice Chairman Stanley Fischer and Esther George, president of the Federal Reserve Bank of Kansas City and a proponent of raising interest rates in the short term. The campaign is seeking conversations with the national board as well as the district banks that are more focused on local communities.
What's next for the campaign?
In the coming months, the campaign will be setting up conversations with Fed district presidents to invite them to visit communities in dire need of economic renewal. The campaign also will continue pushing for workers and communities to be included in decisions that affect their economic prospects. "It's important that decision makers in positions of power in the Fed have an understanding of what life is like in our communities," Barkan said.
Learn more about the campaign to reform the fed, read the open letter signed by PolicyLink and 70 other organizations, and sign the petition.
The Opportunity Broker: Connecting Urban Youth to Corporate Careers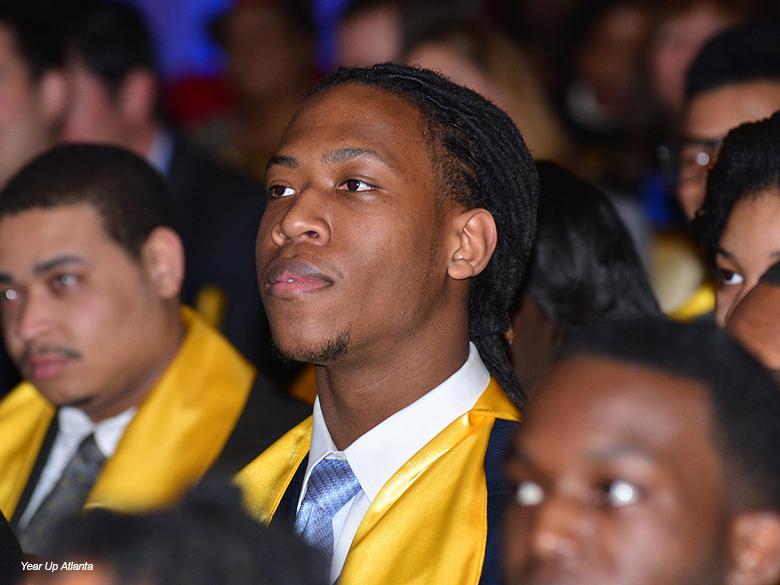 Gerald Chertavian, a Wall Street veteran and former tech entrepreneur, is proving that the goals of corporate America can align with the needs of the most vulnerable young people. His nonprofit training program, Year Up, has connected thousands of low-income young adults to good jobs in Fortune 1000 companies.
Year Up operates in a dozen cities as an "opportunity broker" between young people in need and employers hungry for talent. Bolstered by strong results and robust corporate partnerships, the program plans to accelerate growth through further urban expansion, a community college-based model, and customized training in large corporations — all in hopes of launching 100,000 young people into careers in high-growth sectors, notably financial services and information technology.
The intensive yearlong program combines strong social supports and rigorous skills training designed in collaboration with companies committed to hosting Year Up interns. More than one-third of those internships turned straight into jobs in 2013. About 85 percent of last year's graduates went on to college or full-time employment at an average starting wage of $15.86 an hour.
"The people I was able to meet, the networking I was able to do, the chance to meet CEOs of companies — the opportunities are just amazing," said Mia Calvo, 21, a Year Up Atlanta graduate.
Companies benefit too, which is why big names like JP Morgan Chase, Goldman Sachs, and Coca Cola have signed on — and why companies invest nearly $24,000 per intern. "Companies are looking for cost-effective pipelines of talent with the right skills," Chertavian said. "We're helping them to acquire the talent they need to fuel their businesses and be globally competitive."
Matching job supply and demand
Efforts like this are urgent, both for youth and employers. About six million teens and young adults, disproportionately people of color, are considered "disconnected" from the economic mainstream — out of school and out of work. Nearly one-quarter of young Latinos and almost one-third of young African Americans are unemployed.
Meanwhile, more than half of employers nationwide have an open job they cannot fill with a qualified employee. Companies lose $14,000 on average, and as much as $25,000 or more, for every job that stays vacant for three months or longer.
Chertavian has understood the challenge through both perspectives. As a Big Brother for several years, he realized that young people from vulnerable communities have the potential and motivation to succeed. "What they lack is access and opportunity," he said. As a corporate executive, he has experienced how time consuming and costly it can be to hire skilled workers.
After selling his company, he invested his own money to seed a program "to solve both challenges, of supply and demand."
Since Year Up started in Boston in 2000 with 22 students, it has expanded to a new city almost every year. Now it serves more than 2,100 young people a year and works with more than 250 corporate partners from New York, Atlanta, Miami, Chicago, Seattle, and San Francisco. The program chooses expansion sites based on the needs of companies and of local youth. Essentially, the program follows corporate partners to cities where they're making entry-level hires with livable wages and prospects to advance, as long as those cities have a large youth population that could benefit and good public transportation to link to jobs.
To scale up further — and to work to change not only lives but also systems — Year Up recently began piloting programs in three community colleges in Baltimore, Miami, and Philadelphia. "Year Up recognizes that we sit among systems, and working around those systems is unlikely to produce a systemic solution to the opportunity gap," Chertavian said. He views community colleges as "the most critical element in producing a skilled workforce in this country."
High expectations, high support
A high school diploma or GED is required for Year Up admission. A rigorous application and interview process looks for people who have strong motivation and interest in the program's focus areas of financial services and IT. About three-quarters of students are African American or Latino. Slightly more than half are men. Many students have experienced lifelong struggles with poverty, homelessness, foster care, and other barriers. About 15 percent have had encounters with the criminal justice system.
Students earn a stipend and spend half the year in the classroom and the rest in internships. Counselors and social workers provide emotional support and assistance with day-to-day challenges.
Calvo, who participated in the program in Atlanta and is mixed race African American and Latina, grew up in foster care, moving from home to home and school to school. Living on her own since age 17, she was struggling to make ends meet on a $10-an-hour government administrative support job when a mentor told her about Year Up.
"I wasn't going anywhere," she said. "This opened up another path."
The year proved transformative — she gained skills, a professional network, and confidence. Her internship led to a contract job for $17.50 an hour. Before long she was earning $25 an hour. After her employer was acquired, she lost her job but she is confident that she will land a good position soon, in no small part because of the support and resources she has found at Year Up.
Success stories like hers have earned Year Up accolades and attention — a feature on 60 Minutes, several stories in the New York Times, even a visit from President Obama. But Chertavian says his effort is like a pebble tossed into the sea. It's making ripples, but something much larger is needed to turn the tide both for young people and employers.
"Think about the magnitude of the challenge," he said. "If you're not tackling the problem in the hundreds of thousands," he said, "you're not making a dent."
To find a Year Up in your city, visit: http://www.yearup.org/.