Presenting commentary, new perspectives, the latest research, stories from the field, and multifaceted advocacy that advances economic and social equity by Lifting Up What Works.
Check out the following featured posts: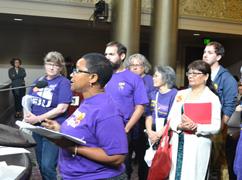 In the face of massive displacement pressures—the byproduct of the Bay Area's white-hot tech economy—a powerful community-labor coalition secured a significant victory for Oakland renters this month.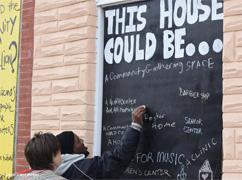 The Development Without Displacement art show will highlight works focusing on neighborhood revitalization efforts that aim to protect the city's vulnerable low-income residents from displacement, eviction, and alienation.
Angela Glover Blackwell, president and CEO of PolicyLink, recently spoke at the 6th Annual Shared Value Leadership Summit in New York – where over 400 in-person attendees and 1,500 online viewers took part in idea-generating labs on innovative business solutions and shared value approaches, and heard inspiring stories from business leaders. Blackwell outlined the growing business imperative to consider equity and inclusion into products and services (forward to the 5 minute mark).
Delivering the promise of equity requires attention to people and places, which are integrally connected. PolicyLink focus areas underscore this commitment to people and place, recognizing that a full range of opportunities are essential for all to succeed, thrive, and prosper.