Join Us in Welcoming Rasheedah Phillips
Dear Community Member,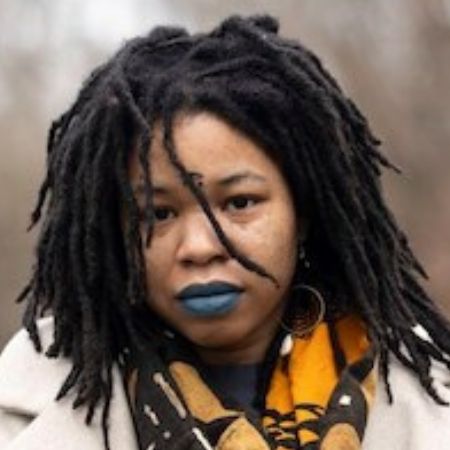 We would like to warmly welcome you into this new year with exciting news of our growing team! We are thrilled to announce our new Director of Housing, Rasheedah Phillips. Rasheedah brings a unique combination of skills and experiences — Afrofuturist, attorney, tenant organizer, policy advocate, and interdisciplinary artist, just to name a few — that will support her in leading our housing justice work into the future envisioned by and with our communities. A future Rasheedah beautifully describes as, "Non-linear — it is both forward-reaching and backward-reaching simultaneously — correcting the past and reshaping futures where justice and equity are fundamental and inalienable aspects of our shared reality."
We know that you will enjoy getting to know Rasheedah as much as we have, so below you'll find a transcript of our Q&A with her where you'll glean some insight into why she is such an amazing addition to our team. 
As you get started as the Director of Housing, what are you most excited for in your new role?
Rasheedah: I am most excited for the opportunity to partner with communities working directly on the ground, supporting people with lived experiences of housing insecurity in their efforts to access housing justice and equitable, long-term futures. While more and more organizations are striving to involve community voices as they address urgent problems and respond to crises, PolicyLink is uniquely poised to support communities in having the space and time to think more creatively, expansively, and positively about the future of their neighborhoods and what a thriving community would look like to them. New solutions for tackling housing insecurity and creating equitable housing futures lie outside of the crisis-response model and the sense of time urgency that leaves little opportunity for communities and individuals to plan for their futures. 
What work do you feel PolicyLink is uniquely positioned to do in the world that will make it possible for us to win on equity? 
Rasheedah: Housing exclusion and instability are racial in nature, sewn into the very fabric of our institutions, policies, and value systems. Today, more than 50 years after the passage of the Fair Housing Act of 1968′s prohibition against housing discrimination, exploitative real estate practices, and the deep inequities flowing from them are not historical artifacts. The timeline from 1968 to the present reflects a society designed to systematically leave Black and Indigenous families and other marginalized communities and people behind. In this chapter of history, these communities have been effectively locked out of the future. Under constant threat of displacement from their homes, and often occupied with planning how to financially survive the next day, week, or month, they are often left unable to dream about and plan for the future.  
The future calls for reprioritizing our values to emphasize intergenerational housing stability and health over intergenerational wealth and eliminate the debt that keeps marginalized families forever running to catch up on the timeline of progress. Families can build wealth, access education, and avoid poverty when they aren't being pushed out of their communities through eviction, redevelopment, rising rents, and property taxes — when their communities are invested in before they get pushed out and the neighborhood gentrified.
PolicyLink provides an opportunity to advance national housing policy with an expansive equity lens centering the lived experiences of individuals and communities who have faced housing instability, and with a broad group of stakeholders — impacted tenants, neighbors, government officials, landlords, advocates, and the private sector working together to envision and build housing models that allow everyone the stability to dream about and pursue bold futures. By leading with equity, PolicyLink is poised to help transform the value systems that are required to shift before we see any material shifts in the systems and structures that keep communities locked out of housing opportunities, and by extension healthy futures. 
What is something from your past, a lesson or experience, you'll be bringing to your work at PolicyLink that you imagine will have a positive impact on your work and the results you deliver for the 100 million?
Rasheedah: In our culture we often say that time is scarce, running low, or running out. As an Afrofuturist, I believe that time can be created, reclaimed, resourced, and redeemed and that we will need to operate from a place of temporal abundance versus temporal scarcity in our collective futures. Achieving equity for the 100 million calls for dismantling systems that deprive people of temporal and spatial equity and that raise irreparable conflicts in timelines. Achieving equity requires actively addressing the ways in which healthy, happy, creative, and safe futures are by and large made inaccessible to Black, Brown, and Indigenous communities, and opening up access to those futures. Using Afrofuturism as a way to access alternative perspectives on what the future will look like is not only encouraging to people who have been given the message that they likely won't survive to make it into "the future," but it also comes with a whole visual and cultural language that posits joy and hope as technologies that allow Black people to shift the means of access to the future.
When you imagine a just, equitable future — one worthy of our people — what do you see?
Rasheedah: When I imagine a just and equitable future, I see the end of housing as a matter of private contract, where housing and land are no longer considered commodities, where time is no longer money and money is no longer a measure of value. This future unapologetically prioritizes housing policies that include everyone, unapologetically prioritizing youth, Black people and other people of color, the formerly incarcerated, survivors of violence, women, seniors, LGBTQ, nonbinary, and trans people, disabled people, immigrants, and others who are disproportionately evicted or impacted by housing instability. This future is non-linear — it is both forward-reaching and backward-reaching simultaneously — correcting the past and reshaping futures where justice and equity are fundamental and inalienable aspects of our shared reality.
Please join us in welcoming Rasheedah to the PolicyLink community!
Warmly,
Michael McAfee, President and CEO
Ashleigh Gardere, Executive Vice President