Presenting commentary, new perspectives, the latest research, stories from the field, and multifaceted advocacy that advances economic and social equity by Lifting Up What Works.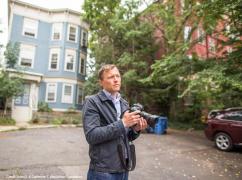 In his eye-opening new book, Evicted: Poverty and Profit in the American City, Matthew Desmond documents the devastating consequences that evictions cause families, communities, and the nation.
Dorsey Nunn, long-time advocate for the human and civil rights of formerly incarcerated Americans, was awarded the White House Champion of Change award last week in recognition of his "ban the box" campaign.
"A movement is not a flash of light — it is a flame, a torch passed from one generation to the next and every so often we are blessed with moments where the smolder transforms to blaze again and we're forced to race down the path of progress." 
It was with these inspiring words by poet Mayda del Valle — set to motion, photography, and song — that PolicyLink opened
Equity Summit 2015.
 As we build on its energy and momentum, Policylink is committed to doing our part to ignite, expand, and advance the conversation on equity. 
Delivering the promise of equity requires attention to people and places, which are integrally connected. PolicyLink focus areas underscore this commitment to people and place, recognizing that a full range of opportunities are essential for all to succeed, thrive, and prosper.