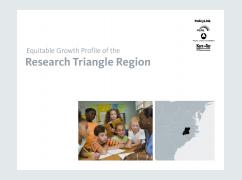 An Equity Profile of the Research Triangle Region
The Research Triangle Region has a long tradition of growth and change, as its research universities and technologically sophisticated businesses have served markets and attracted people from across the United States and around the world. From the city cores of Raleigh and Durham to small towns and rural areas throughout the region, the communities that make up the Research Triangle have a common goal of seeing that all its people have pathways to success. Download the summary.
Find other equity profiles here.