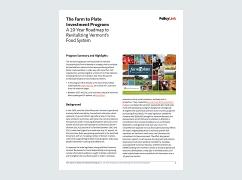 The Farm to Plate Investment Program: A 10-Year Roadmap to Revitalizing Vermont's Food System
This profile highlights the Farm to Plate (F2P) Investment Program, which was designed to strategically strengthen the state's food and farm sector and encourage the purchasing of local foods.
The Vermont Legislature commissioned the Vermont Sustainable Jobs Fund to develop a strategic plan to revitalize its food and farm sectors and increase purchasing of local foods. Implementation is under way with more than 350 organizations working together as the Farm to Plate Network, including the Farm to Institution Task Force focused on increasing institutional local food procurement.