"Saving the Cultural Legacy of the Mission": Preventing Cultural Displacement in San Francisco's Mission District
By Francis Yu and Jeremy Liu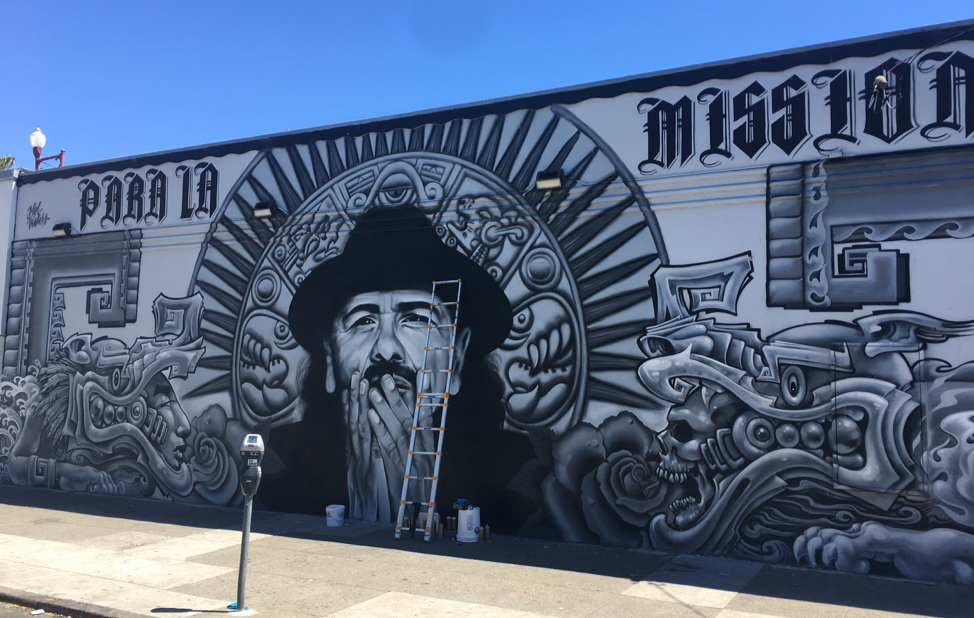 The Para la Mission mural located on 19th Street and Mission Street, shortly after artist Mel Waters repaired damages from vandalism. (Francis Yu 2018)
A jarring splash of white paint defaced an iconic community mural after it was vandalized by an unknown suspect late in mid-July 2018. The mural, named Para la Mission, displays guitarist Carlos Santana, a native of the Mission District, centered within a backdrop of Latinx iconography. The Mission District of San Francisco — a historically Latinx neighborhood where, for decades, murals have served as a representation of a rich cultural legacy — has contended with the pressures of gentrification for almost two decades now. This vandalism is just one reflection of a dynamic, but sometimes contested, relationship between arts and cultural identity in a changing neighborhood.
Through arts and culture, communities can explore shared understandings of identity, values, beliefs and heritage. As cities all over the nation grapple with rapid change and development pressures, arts and culture can also provide an equitable approach to guiding growth. In other words, a cultural lens helps to answer the question, "How can cultural equity contribute to planning and development in a just, fair, and inclusive way?"'
Increasingly, community development organizations (in sectors such as affordable housing, economic and workforce development, health, etc) are collaborating with arts and cultural institutions and individual artists to more comprehensively address community issues, like displacement and health inequities. The field of creative placemaking — and the reframing of the field towards the values of "placekeeping" — amplifies how arts and culture help to preserving community identity and belonging as physical spaces are transformed. In San Francisco, Mission Economic Development Agency (MEDA), a long-standing economic development organization focusing on the needs of the Mission's residents, and Galería de la Raza, a major cultural and arts anchor in the Mission, have been working as strategic partners to comprehensively address issues of cultural and physical displacement. Through a grant from The Kresge Foundation and with assistance from PolicyLink, they have identified a shared understanding that belonging is not just about physically living in a neighborhood, but is also about the cultural identity of a place. They have been working together to understand how arts and culture contribute to the work of equitable housing and economic development, have identified anti-displacement strategies around this understanding, and are in the process of shaping broader policy goals for their partnership.
Often considered ground zero for gentrification in San Francisco, rents in the Mission continue to rise and restaurants and services catering to more affluent populations have taken over local 'mom and pops' establishments servicing the neighborhood's Latinx communities. These communities include Mexicans, Guatemalans, Nicaraguans, El Salvadorians, and more — all foundational to the Mission's cultural identity. Murals, such as the recently-defaced Para la Mission, adorn many of their walls, sometimes filling entire alleys with pieces from local arts organizations and artists. Yet, many of these community murals are disappearing, and in one case, painted over with a different mural reflecting the tastes of new ownership.
Near the end of 2016, MEDA started exploring strategies on how to protect the Mission's culture and culture bearers, with initial conversations centering on creative placemaking. Ani Rivera, director of Galería de la Raza, offered a critical voice to that conversation and pointed to the framing of "placekeeping" as "respecting the legacy of the community."
"We have the culture and we have the artists. How do we preserve that?" Rivera recalls asking in her initial discussions with MEDA. MEDA has preserved or created 1,173 affordable units through their Community Real Estate program, with a laudable goal of creating 2,000 units by 2020. These units have been vital to ensuring the sustained presence of long-time Mission residents and families in the neighborhood. But the relationship with Galería de la Raza has opened them up to other opportunities. The two partners decided to relocate Galería de la Raza into a new space in one of MEDA's new affordable housing developments. Together, they have crafted a real estate strategy that takes advantage of the City of San Francisco's Small Sites Program to prevent the displacement of the local artistic community. The program offers loans for nonprofits seeking to acquire four- to 25-unit buildings in order to keep them permanently affordable. By intentionally seeking out spaces where local artists reside, this secures that they will continue to have an influence on the culture and cultural expression of the neighborhood.
"Saving the buildings was more than just saving the units or creating below market rate opportunities, it was saving the cultural legacy of the Mission," says Rivera.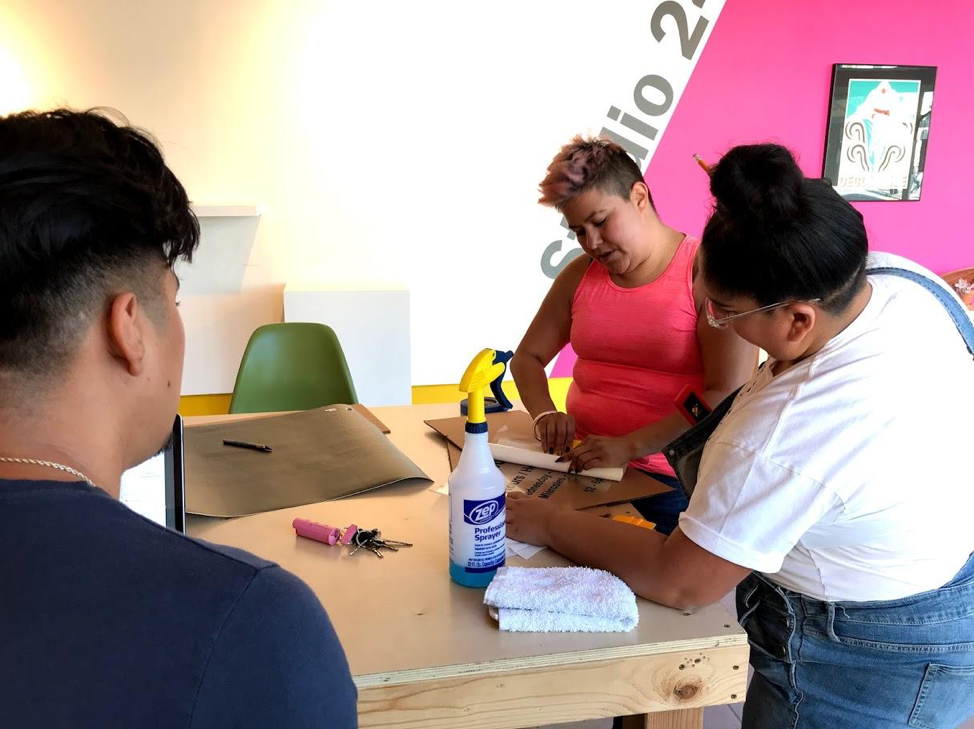 Ani Rivera and the team at Galería de la Raza prepare for the opening of the Comida Es Medicina show at Studio 24 located on 24th Street and Bryant Street. (Francis Yu 2018)
"PolicyLink served as a provocateur — a point of inspiration to challenge the work that was going on, to look beyond arts as a space issue," says Feliciano Vera of MEDA. Both organizations also benefited from being connected to other cohort members from the Arts, Culture, and Equitable Development initiative. Throughout the grant period, which ends this month, they connected with other cohort members experiencing similar issues within their communities, such as gentrification, cultural erasure, or a drastically changing economic landscape. Events like cohort convenings and the 2018 PolicyLink Equity Summit helped the cohort form a support network of organizations addressing various community development challenges through the lens of arts and culture.
The full integration of an arts and culture lens to these strategies, or a "Culture-in-All-Policies" approach, akin to the "Health-in-All-Policies" movement, can provide a comprehensive approach recognizing the Mission's cultural legacy in areas such as housing, education, immigration, and others. "When we think of the Mission and community development [we need to] understand the critical role that arts and culture play in facilitating and sustaining community for seven generations forward and seven generations back," said Rivera referring to the importance of a holistic approach to community development. Work to bring "Culture-in-All-Policies" into the San Francisco Latino Parity and Equity Coalition's policy agenda is ongoing and permeating the collaboration between the two organizations in other ways as well.
Earlier this year, working with PolicyLink, Galería de la Raza and MEDA hosted an informal meeting with a coalition of Mission activists to explore the way arts and culture approaches or considerations could support their fight against planned bus-only lanes on a major thoroughfare in the neighborhood. Equity issues raised by the activists included how private shuttles, i.e. "Google buses", would be allowed to use the lanes, prioritizing the transport of newer, wealthier residents through the Mission over benefiting Mission residents themselves.
In the meeting, participants were led through a visioning exercise where they were asked to recall or envision the most positive way transit was a part of the life of the neighborhood. Later, as discussions of strategy where being debated, a MEDA policy staffer realized that they, as a community, had overlooked the cultural arguments for reversing the bus-only lane decision. She shared how meaningful bus stops had been to her to meet and connect with neighbors, and that the elimination of bus stops in the Mission to streamline service on the bus-only lanes would disrupt a vital cultural function. The coalition realized once more that one of their most important assets — their cultural identity — could be used in advocacy and organizing. The campaign to change the bus-only lanes continues, but the collaborative work of Galería de la Raza and MEDA to integrate arts and culture into equitable development continues.