Mobilizing a New Deal-style workforce for equitable recovery, activists work to remake the food system, and balancing speed and equity in the race to vaccinate America, in this week's Covid, Race, and the Revolution.
Issue No 41. February 24, 2021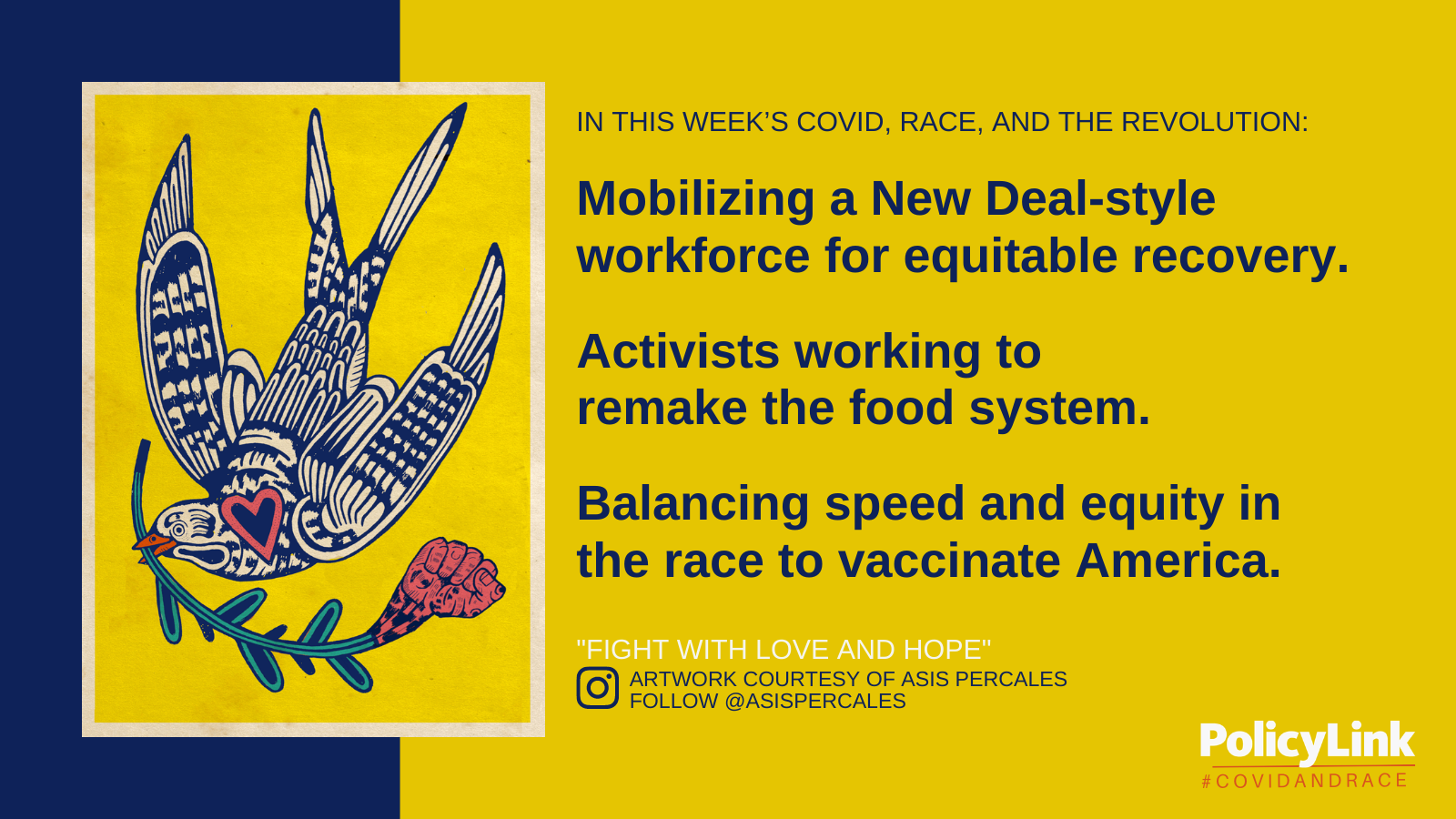 Each week, PolicyLink draws from articles, videos, interviews, and our network of equity leaders to provide the latest information about Covid-19, race, and this transformative moment in America.
News, Analysis, and Commentary, Curated from Around the Web
A New Deal-style workforce for equitable recovery
Congresswoman Ayanna Pressley (D-MA) introduced a bold resolution that calls for a Federal Job Guarantee to address the compounding effects of climate change, systemic racism, and extreme economic inequality. PolicyLink has championed this transformative solution for the past three years. Go to JobGuaranteeNow.org to add your organization as a supporter and to contact your representative to become a cosponsor.
There's also growing support for mobilizing a New Deal-style workforce dedicated to pandemic response and community resilience, Fast Company reports. Democratic senators have introduced legislation to provide federal funding for a health and resilience corps that would do contact tracing, wellness checks, food delivery to people in quarantine, and more. The nonprofit New Orleans Resilience Corps is piloting the concept, creating economic opportunity for local residents who have lost jobs during the pandemic while bolstering the city's response to Covid-19.
And the Biden administration is creating two new national youth service programs, for public health and for climate change, Next 100 reports. Polls show the idea is popular across party lines and many young people, youth of color especially, express interest in participating. The current structure of AmeriCorps, particularly the low living allowance, shuts out many low-income youth and youth of color, so Congress must increase payments to make sure the corps is diverse and represents the communities it serves. See more recommendations on how to grow and strengthen AmeriCorps for equitable Covid recovery and career development. 
Reimagining the food system
Covid outbreaks among meat packers and farmworkers, grocery shortages at the supermarket, and hours-long lines at food banks have awakened Americans to the inequities and dysfunction of our food system. "Covid has illuminated for a broader public that we have a food system," Navina Khanna, the executive director of HEAL (Health, Environment, Agriculture and Labor) Food Alliance), tells the New York Times. The paper profiles activists around the country who are working to dismantle structures that exploit and harm both workers and consumers, and to redesign a healthy, sustainable, accessible food system for all.
Meanwhile, with supermarkets serving as vaccination sites, grocery clerks and baggers are increasingly called on to help with distribution and patient monitoring.  Not only do many of these workers lack training and protective equipment — they can't even get vaccinated, the Washington Post reports. Grocery workers are eligible for shots in only 13 states, including  California, New York, Pennsylvania, Maryland, and Virginia.
Balancing speed and equity in the vaccine race
The urgency to speed up vaccinations as more contagious virus variants spread is colliding with the Biden administration's commitment to target hard-hit communities of color, Politico writes. Shereef Elnahal, a former New Jersey health commissioner, describes the tension between holding officials accountable for getting vaccines into as many arms as possible and for making sure that vulnerable populations are not left behind. "We could see the inequities get worse before they get better," Elnahal tells the news site.
Building trust and getting vaccines to accessible community-run locations are key. In Washington, DC, Black pastors are taking the lead in answering questions and debunking misinformation, and some host mobile vaccination units on church property, AP reports. The district has prioritized predominantly Black zip codes for vaccination appointments, and though vaccination rates still lag in some neighborhoods, the racial gap is narrowing.
In Philadelphia, a consortium of Black doctors held a 24-hour "vaxathon" last weekend — first come, first served for residents from a zip code with high rates of coronavirus infection and deaths, WHYY reports. People waited on icy streets for hours. The goal was to inoculate 2,000 people; by the end, 4,000 had received shots.
PBS NewsHour showcases the Native American Community Clinic in south Minneapolis, which has incorporated cultural practices into a concerted effort to vaccinate tribal elders and other high-risk Indigenous people.
The two million people in this country who are homebound and many of the five million who have difficulty leaving their homes need vaccines brought to them. Doctors and nurses who specialize in home care are leading a push to do that, with belated help from government, AP reports. 
Issues of vaccine equity must be considered in a global context. Affluent countries are stockpiling supplies, while African nations struggle to obtain vaccines even as a contagious new variant marches across the continent. As of February 3, only four African nations — Morocco, Egypt, Algeria, and Seychelles — had begun mass vaccination programs, according to CNN. Recognizing that the pandemic will end only if it's controlled everywhere, President Biden last week pledged $4 billion in contributions to COVAX, the alliance trying to distribute vaccines to dozens of low- and middle-income countries.
When public schools are abandoned
A new study by Brookings finds that public school prekindergarten enrollment declined by a startling 32 percent among low-income children from the pre-pandemic fall of 2019 to fall 2020. Enrollment among their more affluent peers dropped by 7 percent. The trend could further widen racial gaps in education, given the importance of early learning for school readiness and long-term academic performance. 
Almost half the teachers who left the profession since last March blame it on health concerns and their own childcare pressures, according to a new RAND Corp. survey reported by The 74. Only a third said they were "definitely willing" to return to the job once teachers and students are vaccinated. In a survey last fall, more than a quarter of teachers said they were considering walking away. The podcast The Daily takes up the question: When will children get the vaccine?
Nearly a year into school shutdown and remote learning, children — especially from low-income Black and Latinx families — are not only losing ground academically, but are also hungrier, more depressed and anxious, and struggling to cope without the counseling and support that schools provide. The Nation explores how public schools became the social safety net for the nation's most vulnerable children.
A milestone of loss
The United States reached a once-unfathomable milestone Monday, surpassing a half-million confirmed coronavirus-related deaths — more than any other country and higher than even the most dire federal predictions last year. US life expectancy saw its biggest drop since World War II, with widening racial disparities. Life expectancy for Black men declined by three years, Bloomberg reports. 
Defying pandemic guidelines, not to mention humane consideration, cities across the country are continuing to raze encampments set up by people who are unhoused, Truthout writes. Municipalities including Denver, Minneapolis, Portland, Seattle, Salt Lake City, Sacramento, New Orleans, Dallas, and San Jose have driven people out of makeshift shelters, despite record-cold temperatures and the risk of coronavirus exposure.
Truthout also reports on conditions inside the nation's only federal medical prison for women, in Texas, as it was battered by the ice storms that ravaged the state. Some 1,066 women, most of them ill and weakened, were confined without heat or hot water during a weekend of sub-freezing temperature.
Liz Oyer, a public defender, writes about her frustration as she has tried to represent poor people charged with crimes during a pandemic that cut off jail visits and sickened so many inside. "The pandemic created a sort of Catch-22," she writes on Buzzfeed. "Clients at institutions still Covid-free were deemed ineligible for release because the danger to their health was not sufficiently imminent. And clients at institutions with active outbreaks were deemed unsafe to release because of the risk they might carry Covid into the community." Compassionate release, home confinement, clemency, and vaccination can protect incarcerated people. "We must use these tools unsparingly — or history will judge us harshly for it."
Continuing to educate the public
Stay Covered Together, a national public education campaign created by the Harlem Children's Zone, aims to drive awareness about the importance of wearing masks to stay safe from Covid and protect one another. The NAACP, StriveTogether, and PolicyLink, along with respected community organizations across the country, are partners in the effort to protect communities most impacted by the devastating effects of the virus — communities challenged by poverty and economic insecurity — by enlisting everyone to play a part. 
Please share with your networks and send your ideas and feedback. And follow us on Twitter, LinkedIn, Facebook and Instagram. #COVIDandRace
We hope you find this series an important tool for keeping up with news about the virus and its impact on communities we serve. As a non-profit organization, PolicyLink is honored to provide resources to support the needs of our nation's 100 million economically insecure individuals. Generous partners like you make our work possible. 
Michael McAfee and Angela Glover Blackwell are grateful for the contributions of Fran Smith, Milly Hawk Daniel, Rachel Gichinga, Glenda Johnson, Jennifer Pinto, Heather Tamir, Ana Louie, Janet Dickerson, and Mark Jones to produce the COVID-19 & Race commentary.