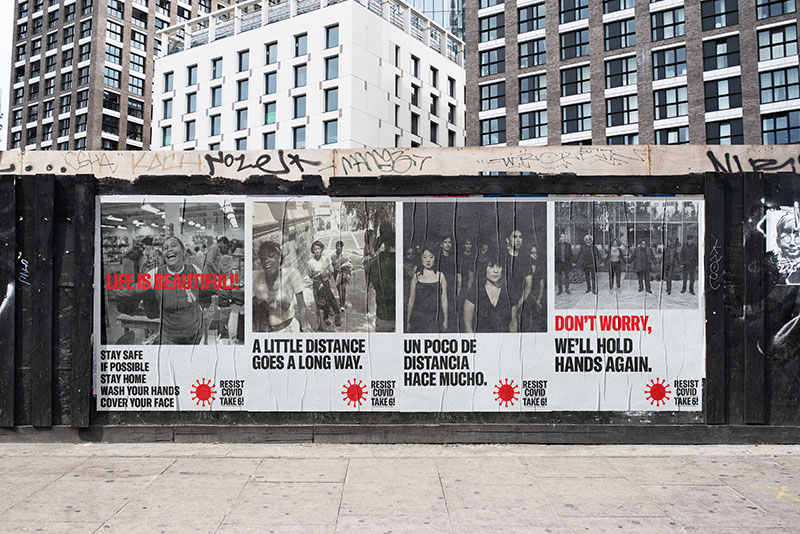 Art and resistance, solidarity to achieve liberation, hospitals on the brink, and more, in this week's Covid, Race, and the Revolution.

Issue No 36. January 13, 2021
Art, Resistance, and Activism
By Milly Hawk Daniel
"Denial does not solve a problem," the artist Carrie Mae Weems has written.
 
The celebrated artist and MacArthur Foundation award winner is known throughout the world for her striking visual portraits that capture the essence of Black life. In 2014, she was the first African American woman to have a retrospective at the Guggenheim Museum in New York City, an event that New York Times art critic Holland Cotter said demonstrated Weems's "abiding interest in black culture and her gifts as a born storyteller."
 
But Weems, who last year was named as Syracuse University's first University Artist in Residence, is committed to do more than tell stories.
 
"Photography can be used as a powerful weapon toward instituting political and cultural change," she has said. "I for one will continue to work toward this end." 
 
As Covid-19 engulfed the world, Weems began thinking about how to use her art to change the trajectory of the pandemic. Recognizing how the virus has wreaked havoc in African American, Latinx, and Native American communities, she returned to her enormous portfolio of photographs to create a strong response.
 
She focused on three essential themes: Stay six feet apart.  Wear a mask. Wash hands frequently. 
 
The result is Resist Covid: Take 6!, a multifaceted art project that, Weems told Harper's Bazaar, "…aims to get information and resources to combat the spread of the deadly coronavirus into the hands of BIPOC communities." Into their hands literally: in addition to powerful billboards, posters, and lawn signs, Weems has designed tote bags, buttons, and other materials featuring her images and Covid messages.
 
Weems and her project producers, THE OFFICE performing arts + film, have rolled out the campaign in over 15 cities: New York City and Syracuse, NY; Chicago, IL; Detroit, MI; Dallas/ Fort Worth, TX; Atlanta, GA;  Sarasota, FL; Durham, NC; Nashville, TN; North Adams, MA; Portland and Eugene, OR;  Philadelphia, PA; Los Angeles, CA; and London, UK — distributing the work and amplifying both what must be done to stop the virus and to support these communities.  
 
"The death tolls in these communities are staggering," writes Weems. "This fact affords the nation an unprecedented opportunity to address the impact of social and economic inequality in real time." 
 
Milly Hawk Daniel is the former Vice President of Communications at PolicyLink.
News, Analysis, and Commentary, Curated from Around the Web
Solidarity to achieve liberation
Across mainstream and social media, many people noted the difference between the tepid police response to the white supremacist mob that charged the Capitol last week, and the violent police crackdown on Black Lives Matter protesters last spring and summer. While the difference was glaring, the critique implied a false equivalency and illustrates what the media and many people get wrong about the anti-racist struggle. That's the subject of an essay in Truthout published 12 days before the assault on Congress. It observes that while Trump and his supporters called the Black protesters "thugs," looters, and treasonous, and liberals pushed for White people to step forward as "allies," the rhetoric from both camps wrongly implied that the anti-racist movement is a zero-sum game — that Black people and people of color gain at the expense of White people. From abolitionists to civil rights leaders to movement organizers today, Black leaders have always understood that dismantling racism would benefit all of society — by boosting wages, improving public schools, reducing poverty and inequality, and in many other ways. "White people must appreciate all that they have to gain from the success of the Black movement. Altruism is rarely enough to produce committed activists when people must incur physical, material, and social risks to join a movement. Solidarity, not altruism, is the only viable foundation for the struggle to achieve collective liberation."
Hospitals on the brink
The nation began the new year with more Covid cases than at any other time in the pandemic, and 3,200 to 4,000 deaths a day. And that's before we know the holiday toll. Black Americans are dying at the highest rate of any group and at 1.6 times the rate of White Americans, according to the Covid Racial Data Tracker.
In San Francisco, disproportionate Covid deaths among Asian Americans have gone largely unnoticed until recently, researchers from UC San Francisco write in Health Affairs. Asian Americans consistently account for half of the city's Covid deaths, though they represent only one-third of the population.
Overwhelmed by the nation's worst Covid surge, Los Angeles County's four public hospitals are preparing to ration care, the Los Angeles Times reports. There is no generally accepted medical or ethical methodology for prioritizing patients and deciding who should be left to die because they probably can't be saved. Experts disagree on whether age should be a factor, and county officials note it is unethical and illegal to deny care to people based on race, religion, ethnicity, sex, gender identity, sexual orientation, immigration status, or disability.
As Covid continues to hit Latinx communities hard, Illinois has become the first state to extend public health insurance to undocumented low-income seniors, Kaiser Health News reports. Democratic legislators in California also are pushing to expand coverage to low-income undocumented immigrants but have yet to win support from Gov. Gavin Newsom, California Healthline writes. 
Vaccines for the most vulnerable
Researchers at some of the nation's leading medical schools are calling on health officials to prioritize free Covid vaccine distribution to undocumented immigrants and detained immigrants. "The same day Pfizer CEO Albert Bourla pledged free distribution of the COVID-19 vaccine to US citizens, 5.5 million undocumented people went to their jobs as essential workers," the researchers write in Health Affairs. Inoculating this group is not only an ethical matter but also essential for ending the pandemic: "herd immunity" is not based on the proportion of immune citizens, but immune people regardless of legal status.
With roughly half the farming industry made up of people who are not legally authorized to work in this country, the US cannot afford to delay vaccinating these workers, who literally feed the nation, Keisha Williams writes in Truthout.
At medical centers affiliated with Harvard, Columbia, and other elite universities, graduate students, administrators, and others who don't see patients or fall into priority groups have been vaccinated ahead of the elderly and other high-risk groups, Apoorva Mandavilli of the New York Times reports. "The massive socioeconomic inequities of #COVID19 vaccines on full display in our academic medical centers — the very places that should be displaying ethical/science based approaches," Harvard immunologist Michael Mina tweeted.
Tenant protections amid a jobs crisis for women
Renters, housing justice organizations, and equity activists are taking action today in 19 cities, supporting the  #HousingIsTheCure policy platform to prevent evictions and ensure that all families are safe, healthy, and secure now and into the future. With the CDC moratorium on evictions set to expire at the end of this month, the nation is braced for an unprecedented eviction crisis that will devastate millions of families and the economy. Housing must be a central component of the government's Covid response. Here are three action steps to take now: 1) National Stop Evictions, Save Lives Petition; 2) Grassroots Executive Action Policy Platform; 3) Organizational Executive Action Sign-On Letter.
The looming eviction crisis has brought public scrutiny to the powerful tenant-screening industry, which until now operated below the radar, The Markup writes. Inaccurate background reports, other mistakes, and abuses have cost people housing, and Black and Latinx renters are disproportionately hurt. Some states automatically seal eviction records and a few cities limit background checks on prospective tenants. Protections are gaining traction as millions of people fall behind in rent and face the threat of losing their homes.
Meanwhile, women lost 156,000 jobs nationwide in December, while men gained 16,000 jobs, according to Bureau of Labor Statistics data reported by CNN. A separate survey found that Black women and Latinas shouldered the losses, and White women picked up employment. 
C Nicole Mason, chief executive of the Institute for Women's Policy Research, has called this downturn a "shecession" — the first time in US history that women are bearing the brunt of job and income losses. She tells The Guardian that she expects Congress and the Biden administration to deliver a robust recovery plan but hopes it focuses not only on big infrastructure such as bridges and broadband, but also on the care infrastructure that women need in order to work. "We only have one big shot in the beginning to make sure that we can get on the road to an equitable, even recovery. And if we leave women out or don't center them in the discussion, we're going to be back in six months trying to figure out how to do that."
Continuing to educate the public
Stay Covered Together, a national public education campaign created by the Harlem Children's Zone, aims to drive awareness about the importance of wearing masks to stay safe from Covid and protect one another. The NAACP, StriveTogether, and PolicyLink, along with respected community organizations across the country, are partners in the effort to protect communities most impacted by the devastating effects of the virus — communities challenged by poverty and economic insecurity — by enlisting everyone to play a part. 
Please share with your networks and send your ideas and feedback. And follow us on Twitter, LinkedIn, Facebook and Instagram. #COVIDandRace
We hope you find this series an important tool for keeping up with news about the virus and its impact on communities we serve. As a non-profit organization, PolicyLink is honored to provide resources to support the needs of our nation's 100 million economically insecure individuals. Generous partners like you make our work possible. 
Michael McAfee and Angela Glover Blackwell are grateful for the contributions of Fran Smith, Milly Hawk Daniel, Rachel Gichinga, Glenda Johnson, Jennifer Pinto, Heather Tamir, Ana Louie, Janet Dickerson, and Mark Jones to produce the COVID-19 & Race commentary.