Black executives fight voting restrictions, youth organize to get communities vaccinated, how new technologies threaten tenants, and more, in this week's Covid, Race, and the Revolution.
Issue No 46. April 7, 2021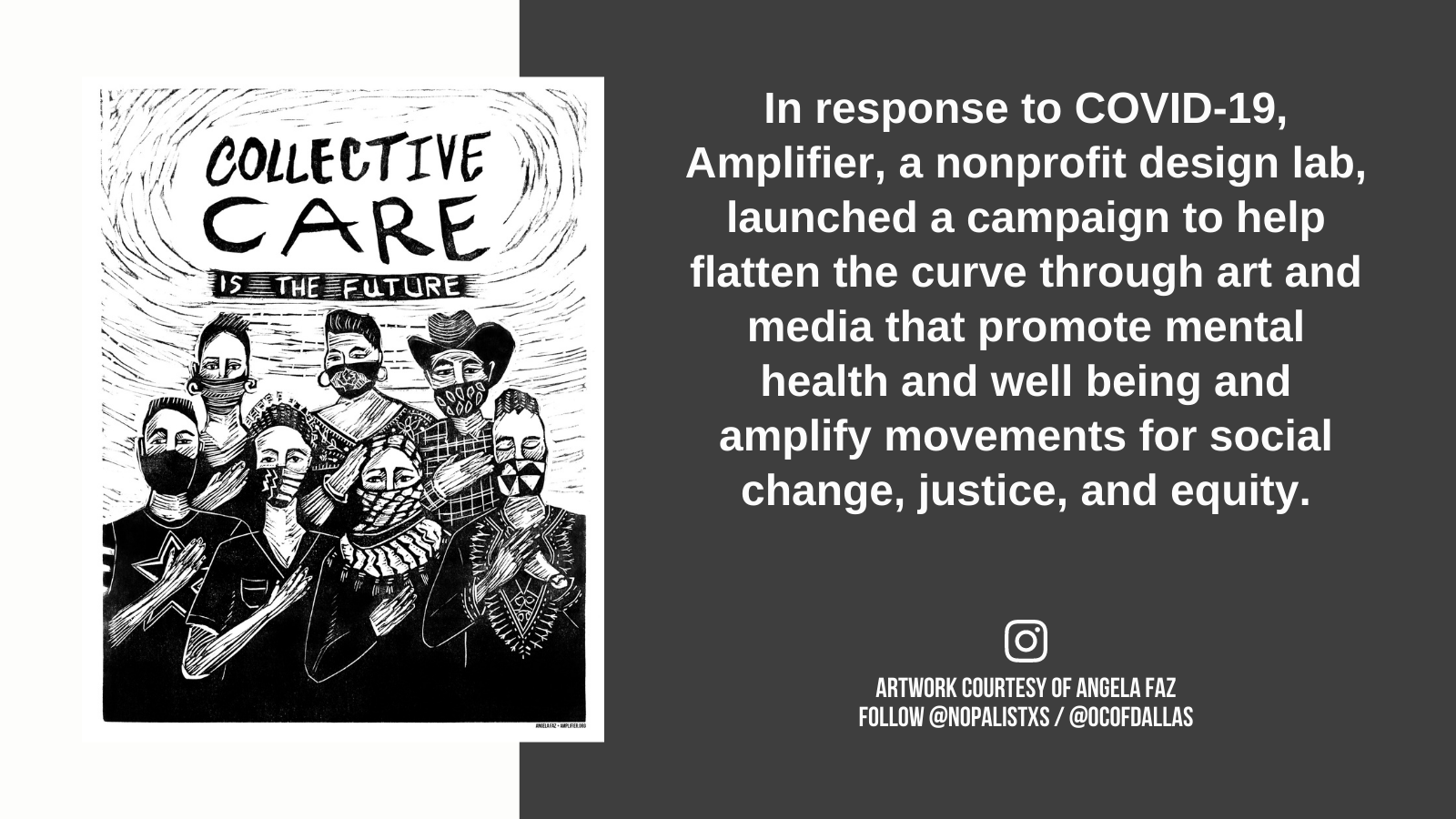 Check out Amplifier to download art and learn more about the organization's campaigns.

News, Analysis, and Commentary, Curated from Around the Web
Black executives organize to fight voting restrictions 
In the wake of Georgia's new, egregious voting restrictions, dozens of the nation's most powerful Black executives have called on corporations to fight voter-suppression bills being pushed in more than 40 other states, the New York Times reports. "There is no middle ground here," Kenneth Chenault, former chief executive of American Express, told the newspaper. "You either are for more people voting, or you want to suppress the vote." It is the first time so many influential Black business leaders have collectively called on their peers to stand up for racial justice.
It's also a reminder that Fred Hampton, the Chicago Black Panther leader who was assassinated by law enforcement, was right, as Truthout reflects: We must fight racism with solidarity. "The FBI and Chicago Police Department viewed the 21-year-old as a threat to be eliminated not just because of his leadership of the Black community, but because of his skill in forming bonds across race with other oppressed people, forming what has been referred to as the first Rainbow Coalition," Lauren Araiza writes. Judas and the Black Messiah, a movie about his life and death that has been nominated for six Academy Awards, has introduced Hampton to a new generation.
Youth mobilize to get communities vaccinated
Young people of color are channeling their energy, creativity, and tech know-how toward getting their elders and neighbors vaccinated. An initiative on Chicago's South Side has put unemployed young adults to work at tables outside grocery stores, taquerias, and other busy locations, where they leverage their tech savvy to help folks navigate the vaccine maze, Block Club Chicago reports. The young people have helped more than 1,000 people get appointments. 
A streaming audio program, Radio B'alam, is reaching thousands of Mayan Guatemalans in the San Francisco Bay Area in their language, Mam, NPR reports. The program's 27-year-old founder,  Henry Sales, broadcasts from a booth inside a bustling food pantry run by the nonprofit Homies Empowerment.  In addition to running segments on COVID-19 vaccines and testing, remote schooling, and unemployment benefits, the program helped sign up audience members for the first in a series of vaccination events for the local Mam community.
Vax'n 8, a group of doctors from Vacaville, California, perform a rewritten, remixed version of "My Shot," from Lin-Manuel Miranda's Hamilton in a widely viewed video that addresses the fraught social and political issues around Covid vaccination with a humorous touch.
Vermont has become the first state to give Black residents over age 16 priority to receive the Covid vaccine, Kaiser Health News reports. The state also extended eligibility to all adults of color who are permanent residents, though the advantage will be short-lived: everyone over age 16 will become eligible on April 16. Montana was the first state to make race an explicit factor in vaccine eligibility, prioritizing Native Americans and other people of color for the shots in January.
Latinx people continue to be vaccinated at disproportionately low rates, a New York Times analysis finds. Alongside the structural barriers that get in the way of vaccinating people of color generally, special obstacles face Latinx communities, including limited English, little or no time off from work, and concerns about undocumented status. 
Coronavirus vaccines are supposed to be free and available to all regardless of insurance or immigration status. But a ProPublica investigation  finds that at sites around the country, people have been turned away after being asked for Social Security numbers, insurance information, and other documentation they should not be compelled to provide.
Reimagining public spaces
In Somerville, Massachusetts, 18 percent of households have only limited internet access or none at all, and when Covid shut things down, the community lost a vital source of free online connections: the public library. Now, an urban design nonprofit, CultureHouse, has transformed an empty courtyard in front of the main branch into an all-weather 24/7 workspace for the community, restoring free Wi-Fi access for the first time since the pandemic began, according to Project for Public Spaces. The organization is now working with other local institutions to configure public spaces to serve the community in a consistent, comfortable, and Covid-safe manner.
How new technologies widen housing inequities
The pandemic has catapulted racial housing inequities into the national spotlight, galvanizing a potent housing justice movement and spurring the government to act with once-unimaginable measures such as eviction moratoriums. At the same time — and with little public notice — start-ups are ramping up the development of technologies to help landlords carry out evictions, shut out lower income tenants, and accumulate wealth,  Erin McElroy, Wonyoung So, and Nicole Weber write in Shelterforce. The researchers explore this brave new world of screening, surveillance, and speculation technologies and their power to weaken tenant protections and harm people and communities of color. 
Evictions have been widespread in recent years, disproportionately throwing out Black renters from their homes, and extensive research demonstrates that health suffers as a result, Matthew Desmond and Gracie Himmelstein of the Eviction Lab at Princeton write in Health Affairs. Evictions are associated with premature births; low birth weight; infant mortality; and childhood hunger, anxiety, and depression — and the health consequences can persist into young adulthood and widen racial health gaps. Eviction is also linked to HIV progression, drug- and alcohol-related deaths, mental health hospitalization, suicides, and now, Covid-19 transmission. The researchers call for stronger moratoriums that block earlier stages in the eviction process and cover all evictions, not only those for nonpayment of rent. But moratoriums are stopgaps at best, and rent accruals could prove disastrous without immediate, generous rental assistance. "Over the longer term, federal, state, and local governments must implement policies to make safe and affordable housing available to lower-income Americans."
Many low-income homeowners also are struggling. The Urban Institute examines the challenges in Newark, New Jersey, where the high concentration of Black and Latinx residents offers a case study in the impact of the pandemic economy on homeowners of color. As job losses mounted, roughly 15 percent of the city's households fell behind on mortgage payments by 90 days or more as of August 2020, compared with 6.2 percent just six months earlier. Loan forbearance and foreclosure moratoriums have kept most distressed homeowners from losing their homes — for now. 
When these measures lapse, the nation's long-standing racial gap in homeownership may widen and strip a major source of intergenerational wealth from millions of families of color. As 2020 closed, the Black-White gap in homeownership had barely budged since the 1970s — 44.1 percent of Black households and 74.5 percent of White ones owned homes, reports the Bloomberg Pay Check Podcast. The disparities don't end there. A home in a Black neighborhood is undervalued by $48,000, on average, compared to a home in a White neighborhood. As a result, Black households cumulatively lose $156 billion a year. In 90 percent of US counties, unfair property-value calculations stick Black homeowners with higher tax bills.
When the best hospitals turn away the sickest Covid patients
Many Covid patients have died unnecessarily because they wound up in hospitals too overwhelmed and ill-equipped to treat them. Meanwhile, intensive care beds remained empty in nearby state-of-the-art academic medical centers, three University of Chicago researchers write in Health Affairs. They documented the deadly disparities in Chicago, and journalists have uncovered similar patterns in Los Angeles and New York. Big, rich hospitals have financial incentives to turn away Covid transfers, who are often uninsured or covered by Medicare, and keep staff and facilities open for affluent patients who need profitable procedures. "This disparity—and the lack of urgency in addressing it—are prototypical examples of how structural racism becomes embedded within our institutional systems and daily protocols."
The pandemic pushed US deaths to a record high last year —beyond 3.3 million, according to new federal data reported in Indian Country Today. Covid accounted for 375,000 deaths but likely contributed to some deaths attributed to other causes such as diabetes. (As of Tuesday, total Covid deaths stood at 554,420.) Black people and American Indian and Alaska Native people had the highest death rates overall. Latinx people had the highest rate of Covid deaths.
Continuing to educate the public
Stay Covered Together, a national public education campaign created by the Harlem Children's Zone, aims to drive awareness about the importance of wearing masks to stay safe from Covid and protect one another. The NAACP, StriveTogether, and PolicyLink, along with respected community organizations across the country, are partners in the effort to protect communities most impacted by the devastating effects of the virus — communities challenged by poverty and economic insecurity — by enlisting everyone to play a part. 
Please share with your networks and send your ideas and feedback. And follow us on Twitter, LinkedIn, Facebook and Instagram. #COVIDandRace
We hope you find this series an important tool for keeping up with news about the virus and its impact on communities we serve. As a non-profit organization, PolicyLink is honored to provide resources to support the needs of our nation's 100 million economically insecure individuals. Generous partners like you make our work possible. 
Michael McAfee and Angela Glover Blackwell are grateful for the contributions of Fran Smith, Milly Hawk Daniel, Rachel Gichinga, Glenda Johnson, Jennifer Pinto, Heather Tamir, Ana Louie, Janet Dickerson, and Mark Jones to produce the COVID-19 & Race commentary.