Defining Equity for Corporate America: Equity Blueprint (August 2021)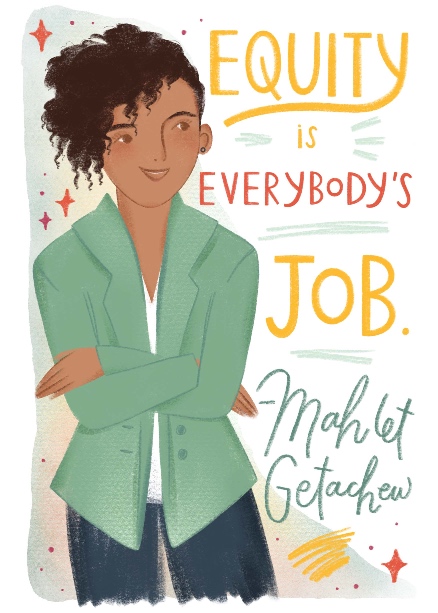 Now more than ever, the nation needs business leaders to be champions of racial equity. Now is also the time to work together across sectors and collectively take action to advance racial equity commensurate with the scale of the challenges before us. Our Winning on Equity campaign — a massive, cross-sector campaign, linking movement leaders, government agencies, and corporations to redesign the legal and regulatory structures of our nation — is an invitation to business leaders to join us on the journey to achieve racial equity.
I know first-hand the opportunity and challenges ahead for business leaders. I started and built my career in the private sector. As a corporate lawyer, I was trained to mitigate risk, maximize business opportunity, and find a mutually beneficial solution for the parties at the table. Over the years, I started to think differently about business risk, how to maximize opportunity, and what it means to benefit all parties, not just the ones our society positions to be at the table. After 13 years advising corporations large and small, I'm now advocating for a new kind of business leadership in corporate America: I believe equity is everybody's job and it should be the ethos of business, infused in every step business leaders take and in every business decision they make.
Under our Winning on Equity campaign, I'm working alongside my colleagues to change the rules for how corporate America engages in all its spheres of influence — within their four walls and across our communities, economy, and democracy — by developing robust corporate performance standards for racial equity, partnering with business leaders advancing equity, and working to embed equity into our corporate legal and regulatory structures. For equity advocates, we cannot overlook the opportunity to lead business leaders in the right direction as they wade into this work. For business leaders, they must know that it's not radical, partisan, or naive to believe that corporations can meaningfully contribute to achieving racial and economic equity in our nation. In fact, it's naive to believe anything less is necessary from the business and investor communities for the health and stability of our nation. If equity is at the center of every business, many business and economic risks would dissipate, new growth opportunities would proliferate, and all of us — not just some of us — would benefit.
As a first-generation Ethiopian immigrant, I was raised to take advantage of every educational and professional opportunity life in a democratic country could provide. I carried the weight of assimilation growing up in an all-White community in the Pacific Northwest and bore the usual entrée of microaggressions to climb the corporate ladder in Silicon Valley and reach the pinnacle role for a business lawyer: being the General Counsel of a corporation. My work and experience along the way helped me understand how power is utilized in the private sector to shape our economy and democracy. Corporations directly and indirectly write the rules that define and limit our collective social, political, and economic opportunities, all the way down to the freedoms we enjoy and those we are still fighting for. It didn't take long for me to realize that as a participant in the corporate sector, my work was much bigger than our bottom line. Whether we want to accept it or not, businesses are shaping our country's identity and what our individual and collective futures will look like.
A new era of corporate social responsibility
As we shared in The 2021 CEO Blueprint for Racial Equity, we've reached a new era of corporate social responsibility where business leaders must have an uncompromising focus on equity and justice enterprise-wide. Incremental, siloed, and inconsistent actions are no longer sustainable, nor are they acceptable by businesses' most influential stakeholders: their investors and workers. Investors, the most powerful stakeholders corporations listen to, are increasingly demanding results against stated diversity, equity, and inclusion commitments (see our Corporate Insights into the CEO Blueprint for Racial Equity). And every day, we see more workers at all levels voicing their discontent with inequity and fighting for more dignity, opportunity, and power commensurate with their daily contributions.
We are encouraged to see more and more business leaders now recognizing that racial equity and a thriving economy go hand in hand. We are also seeing more business leaders beginning to understand that equity is not a one-time program, limited to workforce diversity efforts, or just about charity and splashy marketing initiatives. Rather, it is a way of seeing the world and operating responsibly within it every day. For those that are ready, we lay out the pathway in the CEO Blueprint with concrete actions business leaders should take across 360 degrees of their influence and impact in society, including:
Paying living wages to all workers and increasing worker power;

Conducting a racial equity audit to understand the intended and unintended impacts of their products, services, operations, policies, and practices on people of color and low-income communities;

Proactively discontinuing harmful products, services, and investments; and

Assessing local and national lobbying and policy positions through the lens of "do no harm."
Introducing the Corporate Racial Equity Alliance
So far, we've received an overwhelmingly positive reception to the CEO Blueprint, but it is not enough for transformational change. What is needed now is a shared language and approach for building equitable corporations and advancing racial equity in the private sector. To achieve this, we have come together with a broad ecosystem of partners in the Corporate Racial Equity Alliance to develop robust corporate performance standards on racial equity. We will set the bar for what good looks like, embed accountability, and establish consistency for how corporations should approach, measure, disclose, and speak publicly about their equity journeys.
Our multiyear standards development effort kicks off now with an urgent call to action to all stakeholders to take this brief survey and share with us: How can our standards development work help you in your work, your day-to-day, and your community to advance racial equity?
We hope you dive in with us on this survey, which will be open through August 31, 2021, and we can't wait to share more soon about our standards development. Working together with a strong ecosystem of partners, we will anchor our work in data, metrics, and measurement. We will innovate from the ground up, informed by the expertise, wisdom, and resilience of people of color and low-income communities. Learn more here and stay tuned in the coming months for more opportunities to join us in developing an accountability framework for corporate America.
Of course, we will continue to advocate for robust public policy reforms that will embed equity in our legal and regulatory frameworks, including within corporate law such as the adoption of stakeholder governance. However, we also know that accountability must come from multiple angles and we cannot wait for the right public policy.
While some may believe the private sector's attention toward racial equity will wane, I believe it is growing. We have an opportunity to translate this historic moment into a long overdue age of accountability in partnership with business leaders and investors alike — unabashedly being true to ourselves and building a big tent at the same time. That means calling in business leaders to work with us in civil society and government to deeply transform how businesses operate and rewrite the very rules governing them. Our task now is to collaborate, stand side by side, and own our power to create a revolution that unlocks the true potential in us all. This is how we will win on equity.
​​​​

Mahlet Getachew
Managing Director, Corporate Racial Equity, PolicyLink