Advancing Equitable Transit-Oriented Development through Community Partnerships and Public Sector Leadership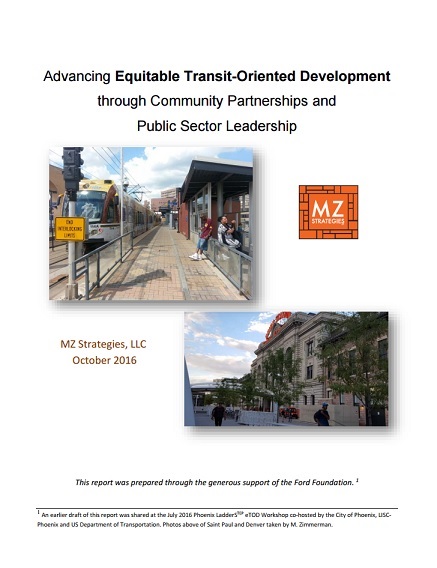 Overview
This report spotlights four regional eTOD case studies and different approaches to support more inclusive growth. In Denver, a multi-sector coalition pioneered a new funding tool to acquire land near transit for equitable development. In Los Angeles, the transit agency has adopted bold new policies that commit its resources to ensuring affordable housing is developed on agency-owned real estate assets. In Minneapolis – Saint Paul, philanthropy stepped forward to strategically invest resources in a set of comprehensive community building efforts while also serving as an intermediary between public, private and community stakeholders. And in Seattle, the City is working to address workforce development and commercial stabilization among some of its most ethnically diverse transit-served communities.
Each of the four case studies provide lessons learned for other communities, including: 
Transit agencies can set the bar for equitable TOD.

Publicly-held land assets create powerful leverage point.

Make racial equity an explicit goal.
Measure impact to tell your story.
History and Culture Matter
Collaboration and patience pay off.
Transit is about more than just a line.