The Coming Wave of Covid-19 Evictions: A Growing Crisis for Families in Contra Costa County
Our analysis finds that 14,000 renter households are at imminent risk of eviction if the county's eviction moratorium expires, with more waves of evictions close behind.
By Jamila Henderson, Sarah Treuhaft, Justin Scoggins, and Alex Werth (East Bay Housing Organizations)* 
In the Bay Area, as elsewhere, the coronavirus and its economic fallout have disproportionately impacted the very same people that were on the economic margins before the pandemic, including Black, Latinx, and immigrant communities (especially undocumented workers), and low-wage workers. And they are about to face an additional threat: the risk of being evicted when they can't pay rent because they've lost jobs and income because of the pandemic. 
Recognizing the immense harm posed by mass eviction amidst a global health and economic crisis, the Contra Costa County Board of Supervisors passed a moratorium on evictions and rent increases in April 2020, which it extended in May 2020. 
Since then, the pandemic has not abated. In fact, the county is now slowing down reopening plans amid escalating infection rates. Yet Contra Costa's county-wide eviction moratorium is set to expire July 15, placing scores of renters who've suffered economic losses during the pandemic at risk of losing their homes. 
This analysis, produced in partnership with the Raise the Roof Coalition,** sheds light on the magnitude of this risk by estimating the number of renter households that could face eviction if the moratorium is allowed to expire. See the accompanying fact sheet.
Tens of Thousands of Households at Risk from Coming Waves of Evictions
Our analysis shows that lifting the moratorium at this moment would be disastrous, potentially unleashing a wave of evictions that would devastate workers, families, and their communities. We estimate that 14,000 Contra Costa County households are at imminent risk of eviction if the moratorium is allowed to expire because they include one or more workers who've lost their jobs and have no replacement income. Approximately 12,100 children living in these households would also face eviction.
These imminently at-risk households include workers who were either not eligible for unemployment insurance, such as the county's undocumented immigrant workers and informal workers, or believed they weren't eligible or faced language and technology barriers and other challenges in filing for benefits. About 65,000 Contra Costa County residents are undocumented immigrants. This is a conservative estimate of those most at-risk: many other households could face eviction if unprotected by the moratorium.
And this will just be the beginning. A second wave of evictions will occur when the Federal Pandemic Unemployment Compensation – which provides a $600 weekly supplement to all workers receiving unemployment benefits – expires on July 31, 2020. Without these additional benefits, about half of workers on UI will have replacement incomes below the federal poverty level, according to the California Policy Lab. This would place an additional 8,700 Contra Costa households at potential risk of eviction due to substantial income loss.   
These waves of evictions would come at a time when Contra Costa County is struggling with rising Covid-19 infections and unprecedented job losses. Contra Costa has seen a 65 percent weekly increase in infections as of July 7, one of the worst surges among the six Bay Area counties coordinating to fight Covid-19 (Alameda, Contra Costa, Marin, San Francisco, San Mateo, and Santa Clara). The county was recently added to the California Department of Public Health's watch list of high-risk counties because of its high case rates and hospitalizations. Contra Costa County is also one of the hardest hit by the recession: 13.6 percent of workers (72,500) were officially unemployed as of May 2020. An additional 26,700 workers have dropped out of the labor force since January and aren't even included in the official unemployment numbers.
Contra Costa County also has weaker emergency tenant protections than the other counties, except Marin, which is considerably more affluent. After the moratorium ends, Contra Costa renters will have just four months to repay the backlog of rent – potentially thousands of dollars on top of their regular rent – leaving tenants who face eviction with little recourse. In contrast, Alameda, San Francisco, San Mateo, and Santa Clara counties have repayment terms ranging from six to 12 months, with evictions for non-payment of rent due to Covid-19 banned altogether in Alameda and San Francisco.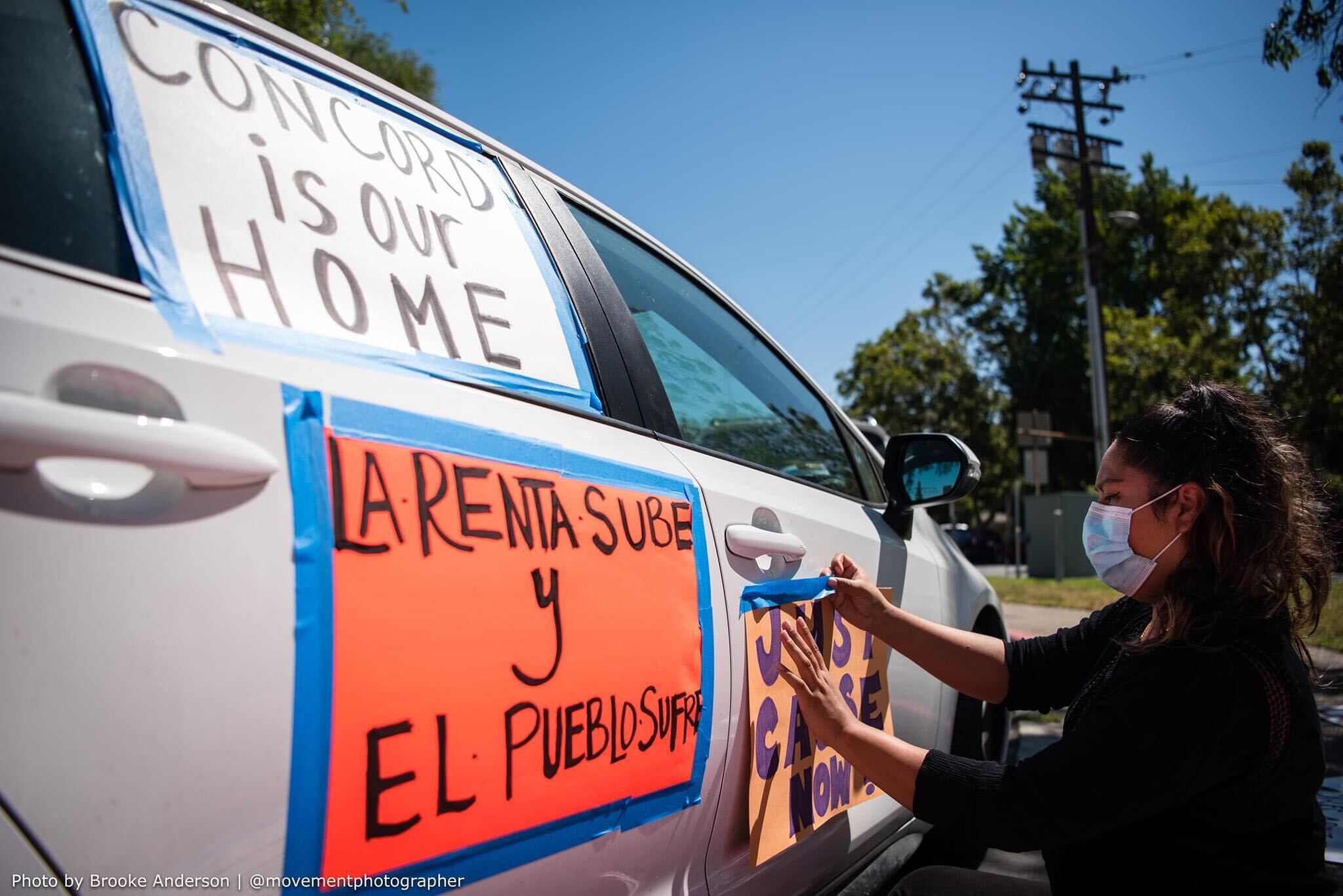 Mass Eviction Would Devastate Families and the Community, Contributing to Rising Homelessness
Eviction is financially and emotionally devastating to families. It can cause serious harm to mental and physical health, including depression, and negatively affect children's education. Given that the families imminently at risk of eviction have no income coming in, and most have little to no savings, many could become unhoused. Examining eviction risk in Los Angeles County, UCLA professor Gary Blasi estimated that 10 percent of those evicted due to Covid-19 would become homeless. In 2018, Contra Costa County provided services to 5,846 individuals and families experiencing homelessness; if 10 percent of the currently at-risk households became homeless, that would lead to a 21 percent increase in homelessness. This would cause immeasurable despair and disruption for families. And it would exacerbate the county's racial inequities: already, Black people represent 34 percent of the county's unhoused population though they comprise just 8 percent of county residents.
This steep rise in homelessness would also strain community resources, staff, and infrastructure. The county currently spends a minimum of $20,075 per year to shelter one individual. This expense would significantly increase with the potential rise in homeless individuals and families, and only represents a portion of the full costs of homelessness. Cities, nonprofits, housing agencies, and hospitals also provide many homeless services and would also need to allocate more resources to serve a larger number of people experiencing homelessness. Although not insignificant, monetary expenses understate the true costs and long-lasting repercussions of homelessness for individuals and families. 
Exacerbating the Housing Crisis for Black, Latinx, and Immigrant Renters
One in three Contra Costa households rent their homes, and this share has been on the rise. Even before the pandemic, the majority of renters in Contra Costa County were already being squeezed by stagnant wages and rising rents, with 53 percent of them rent-burdened, defined as spending more than 30 percent of their income on rent and utilities. 
Black, Latinx, and immigrant residents in Contra Costa County are not only more likely to rent versus own their homes, but also more likely to pay too much for their housing. Black and Latinx renters, especially women, face greater risks of eviction and homelessness, as they are more likely to be economically insecure and rent-burdened: 64 percent of renter households headed by Black women and 56 percent of those headed by Latina renters are economically insecure and rent-burdened. As a comparison, only 37 percent of renter households headed by White women and 38 percent of those headed by men of all races/ethnicities experience these conditions.
Renters in Contra Costa continue to face rising economic and housing insecurity, which this crisis has underscored and exacerbated. To make matters worse, nationwide, rent-burdened households have an average savings of just $10, which is grossly insufficient to cover emergency expenses and contributes to the imminent risk of mass eviction. 
A Preventable Crisis
Without an effective eviction moratorium and tenant protections, vulnerable renters are at risk of losing their homes. Contra Costa County can only thrive if its renters thrive, and community leaders and policymakers must take every step possible to prevent this potential humanitarian crisis from occurring. 
The county can protect renters with these key strategies:
Extend the eviction moratorium until 90 days after the state of emergency ends. 

Ban evictions for non-payment due to Covid-19, converting missed rent to consumer debt. 

Increase rental assistance, tenant counseling, and legal services for low-income renters. 

Pass just cause eviction protections and rent control to address gaps in state law. 

Enact rent and eviction registries to evaluate current policies and ensure equity.
For additional data, and to learn more about how to protect renters in this crisis, read the fact sheet. See the methodology for our data sources and methods of calculating these estimates.
Last updated October 2, 2020.
* Alex Werth, Policy Associate at East Bay Housing Organizations, serves on the Equity Campaign Leaders Advisory Committee of the Bay Area Equity Atlas. East Bay Housing Organizations is a member of the Raise the Roof coalition which produced this analysis in partnership with the Bay Area Equity Atlas. 
** Raise the Roof is a coalition of community, labor, and faith groups working to bring good jobs, immigrant protections, and affordable housing to the City of Concord and Contra Costa County. Members include ACCE, California Nurses Association, Central Labor Council Contra Costa County-AFL-CIO, East Bay Alliance for a Sustainable Economy, East Bay Housing Organizations, Ensuring Opportunity, First Five/Central County Regional Group, Lift Up Contra Costa, Monument Impact, and Tenants Together. www.facebook.com/raisetheroofconcord.