Possibility Beyond the First 100 Days [Issue 49]
What Biden's First 100 Days mean for equity, seeds of change amid crisis and racial reckoning, barriers to pandemic relief, and more, in this week's Covid, Race, and the Revolution.

Issue No 49. April 28, 2021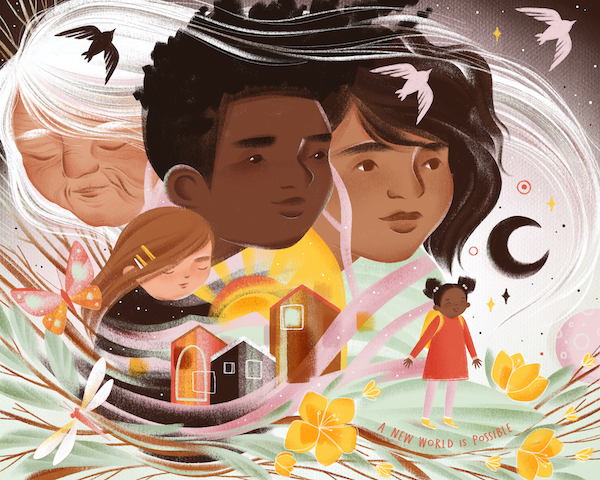 Jesse White Illustration

As we near the end of the First 100 Days of the Biden-Harris administration on Thursday, we at PolicyLink reflect on our charge to government leaders to advance a new vision for justice, housing as a basic need, guaranteed jobs, and water as a human right, and to begin transforming the nation's institutions to create a more equitable government. 
Seeing the core tenets of our Racial Equity Governing Agenda reflected in the administration's priorities from Day One has affirmed the opportunity of this moment, as have our direct conversations with equity leaders in the administration. We also know that this progress is just the beginning. 
As the administration moves beyond 100 days, it is critical to continue to accelerate the pace of change to drive America toward becoming a nation worthy of our people. 
This illustration, commissioned by PolicyLink, expresses our belief that a new world is possible — if people join together and realize the promise of equity!
News, Analysis, and Commentary, Curated from Around the Web
Seeds of change
In this time of crisis and racial reckoning, many ideas that once seemed too radical to fly are gaining ground. For example, a growing number of Black Americans who have ancestral ties to agriculture are fighting to return to the land after a century of dispossession, Mother Jones reports. The Justice for Black Farmers Act, introduced in the Senate, would invest $8 billion annually in buying land and granting it to Black farmers, as a step toward repairing the harms of racist policies and practices that destroyed Black farming and wealth-building opportunities for generations. The bill, along with a broader movement to reclaim Black agrarianism, has spurred a deep, important conversation about how that legacy intersects with Native land sovereignty and the ugly history of homesteading.
In another sign of change, communities across the Midwest are renaming landmarks bearing racist slurs and colonial references to reflect Indigenous values, languages, and histories, scholar Sarah Dees writes in The Conversation. After a yearlong process involving local residents, tribal historians, and local and federal officials, Ames, Iowa, dropped the name Squaw Creek from the water running through the city, and renamed it Ioway Creek. "Ultimately, the goal of this process is not to erase history. Rather, it's to include a fuller representation of stakeholders in deliberations about the significance of sites with shared – and sometimes conflicting – cultural significance."
Support for guaranteed income programs has grown during the pandemic, which has taken a huge economic toll on millions of people, disproportionately Black and Latinx. Cambridge, Massachusetts, joins a growing list of cities trying a pilot. It will provide $500 a month, for 18 months, to 120 residents — single caretakers with children under 18, Mass Live reports. 
Data meets poetry
PolicyLink recently premiered Many Fires This Time: We, the 100 Million, a docudrama that combines data, policy, performance, and poetry to paint a picture of the 100 million people in the United States who are economically insecure. From Oakland to Chicago to Kentucky to New Orleans, the film portrays the worlds of people fighting for equity and justice in community safety; housing and gentrification; water and the environment; job security and health; migration and globalization; education; and LGBTQIA rights. The film will be widely distributed in the fall. Meanwhile, learn more about the project and check out powerful spoken word excerpts by the poets.
Barriers to pandemic relief
Congress has approved $46.5 billion in emergency rental aid — a sum almost as big as the annual budget of the Department of Housing and Urban Development — but very little of the money has reached the people it's supposed to help, writes Jason DeParle in the New York Times. The program requires hundreds of state and local governments to set up programs to distribute the aid — and that process is so slow and complex that in many communities, it's impossible even to apply for funds. "With 1 in 7 renters reporting that they are behind on payments, the longer it takes to distribute the money, the more landlords suffer destabilizing losses, and tenants risk eviction."
Women, especially women of color, are driving small-business growth during the pandemic but they are running into barriers in obtaining federal loan aid, Mariel Padilla writes in The 19th.  Women of color have historically been turned down for loans at double the rate of White men. They have come up short on pandemic relief for businesses, which relies on relationships with banks and has gone disproportionately to larger companies — including some Fortune 500s.
Many home-based childcare providers are struggling to get a share of $39 billion in federal aid for the childcare industry allocated by President Biden's American Rescue Plan, The Lily reports. These providers — many of them low-income women of color — were also largely shut out of the $3.5 billion fund for the industry in last year's Coronavirus Aid, Relief, and Economic Security (CARES) Act. The pandemic has devastated home-based childcare, an anchor in low-income and rural communities, and a critical support for working Black and Latinx  parents. 
NPR profiles Janelle Jones, the first Black woman to serve as chief economist at the federal Labor Department. She's a key administration official tasked with fixing economic inequities that were bad before the pandemic, and have only grown worse. Jones has long assessed the health of the economy by measuring how Black women and other marginalized groups are faring: if they're prospering, it means the economy is strong. "I'm a Black woman. I center Black women in a lot of my thinking. But I think you can really apply this to all types of groups that we usually don't center. We can think about indigenous women, Latinx women, workers with disabilities, non-native speakers, LGBTQ individuals," Jones told reporter Ayesha Rascoe.
Will vaccine efforts stall?
The number of Covid-19 vaccinations administered daily is beginning to fall. The country is approaching the point where supply outstrips demand — and we're getting there before enough people are immunized to end the pandemic, The Verge reports.
Although more men than women have been hospitalized for Covid and died from it, more women are getting vaccinated, and in the Washington, DC area, the gender gap is especially large among Black residents, the Washington Post reports.  Early eligibility rules prioritized people over 65 and health-care workers, who are disproportionately female, but community advocates say outreach efforts are failing to reach men of color, especially those who are poor or unemployed.
California is trying to overcome vaccine hesitancy among immigrant populations, Capital and Main reports. Some people are worried about the safety of the vaccine, some fear that side effects may force them to take unpaid time off work, and some people fear they will be exposed as undocumented, though the state has instructed sites not to ask about immigration status. In Florida, strict ID requirements are a deterrent to vaccination for a population of undocumented and seasonal workers that's roughly one million strong.
So how do we get enough people vaccinated to reach herd immunity? Some companies are paying hourly workers for the time they must take off to get vaccinated or offering small stipends as an incentive. AARP recently updated its list of businesses taking such steps. Many more employers should follow their lead.
Doctors of color around the country are stepping forward as outreach leaders, and often bringing vaccines to communities instead of making residents travel to get the shots. Smithsonian magazine profiles the Black Doctors Covid-19 Consortium in Philadelphia, which has set up round-the-clock vaccination clinics in the city's hardest-hit zip codes, no appointment needed. "We take great pride in caring for our communities," Uché Blackstock, a Black doctor who is founder and CEO of Advancing Health Equity, told the magazine. "But we need the resources and funding and infrastructure to do so." Without city funds for its vaccination work, the consortium is relying on philanthropy, donors, and a GoFundMe page.
Many state and county health departments were slow to target vaccine outreach and distribution to Black, Latinx, homebound, and unhoused populations, but that has changed in many regions in recent weeks. Meanwhile, health officials have done little to deal with the biggest pocket of vaccine refusal: the three in 10 Republicans who say they won't get the shots, Pew Research Center reports. Efforts by health officials to overcome this resistance is particularly challenging because much of it comes from people in government leadership.
End "vaccine apartheid"
Horrific scenes from India have captured the world's attention and forced the US to confront the global dimensions of inequity. As India records more than 300,000 new coronavirus infections daily, and runs low on hospital beds, oxygen, and medication, our country has come under pressure to stop "vaccine apartheid," according to Equality Labs. The drug industry is fighting moves to waive patent protections and allow low-cost generic Covid vaccines to be made globally. "This is a public health emergency, not a private profit opportunity," said Oxfam Health Policy Manager Anna Marriott. "We should not be letting corporations decide who lives and who dies while boosting their profits. We need a people's vaccine, not a profit vaccine." 
Patent rules have long enriched drug developers at the expense of patients, especially low-income people of color in the US and abroad. On the Radical Imagination podcast, host Angela Glover Blackwell takes a deep dive into the issue and advocacy aimed at changing a system that restricts access to pharmaceuticals by the people in greatest need.
Ending global vaccine inequity isn't just a moral issue. As Derek Thompson writes in The Atlantic, creating a pandemic-proof America requires creating a pandemic-proof planet. The single best way to do that is to vaccinate the world much faster. 
Back to school?
President Biden is on track to meet his 100-day pledge to get most US schools reopened for full-time in-class instruction. But most children returning to classrooms are White, Politico reports. Four out of five public schools were open at least part-time by late February, but an estimated 78 percent of Asian eighth graders and nearly 60 percent of Black and Latinx eighth graders continued to learn fully by remote. Most fourth graders of color also remained at home.
The Department of Agriculture plans to feed as many as 30 million children this summer, a season when only a small fraction of low-income kids typically have access to free food, NPR reports. The government is expanding a pandemic program that takes the value of meals that children aren't getting at school because of shutdowns — about $6.82 per child per weekday — and rolls it into a debit card that families can use at the grocery store. 
Please share with your networks and send your ideas and feedback. And follow us on Twitter, LinkedIn, Facebook and Instagram. #COVIDandRace
We hope you find this series an important tool for keeping up with news about the virus and its impact on communities we serve. As a non-profit organization, PolicyLink is honored to provide resources to support the needs of our nation's 100 million economically insecure individuals. Generous partners like you make our work possible. 
Michael McAfee and Angela Glover Blackwell are grateful for the contributions of Fran Smith, Milly Hawk Daniel, Rachel Gichinga, Glenda Johnson, Jennifer Pinto, Heather Tamir, Ana Louie, Janet Dickerson, and Mark Jones to produce the COVID-19 & Race commentary.