Building a Movement, Transforming Institutions: A Guide for Public Health Professionals
Introduction 
Despite a landscape of limited resources and unprecedented inequality, a movement has been growing within the walls of public health and academic institutions across the country. Innovative public health departments and universities are engaging in strategies to transform the structure, organization, and function of their institutions to more deeply embed equity — just and fair inclusion so that all can prosper — into everyday practice. Given public health departments and universities' positions at the intersection of research, policy, and practice, they are uniquely positioned to advance the movement to advance equity — and many are already doing so by establishing centers, initiatives, or programs to advance health equity. These institutions are adopting a broader definition of health beyond just the mere absence of disease by acknowledging economic and social well-being as core drivers of health. They are reimagining their institutional role as one that not only promotes and protects the health and well-being of communities, but also addresses the root causes of disease through multisector partnerships as well as environmental and systems change.
By 2044, people of color will become this nation's majority, and yet these communities continue to disproportionately experience poor health, chronic disease, lower wages, disinvested neighborhoods, and limited access to educational and employment opportunities. In the face of increasing diversity and worsening health in communities of color, the field of public health is examining its role and responsibility to advance racial equity as a primary strategy for addressing racial and ethnic disparities in health. Innovative departments of public health are leading locally by applying a social justice framework to their institutional missions and boldly endeavoring to operationalize their "just and fair" principles through programming and policy change that target the root causes of disease and illness. The leadership demonstrated by these departments is redefining public health practice by modeling how a commitment to tackling the social and economic causes of disease can guide practice and policy.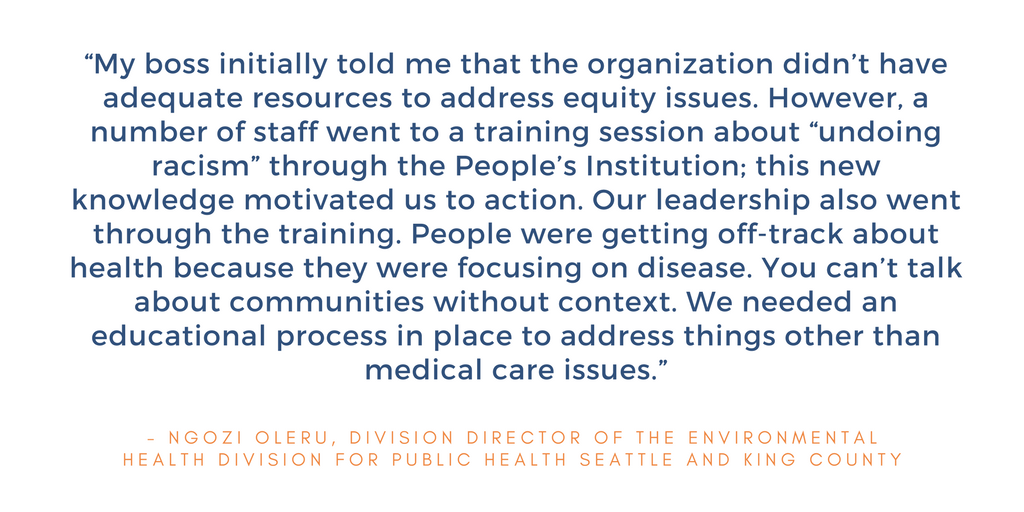 As the health equity movement continues to build momentum, there is now a timely window of opportunity to unite leaders in the public health field to learn, connect, and strategize with one another about how health equity can be The leaders of these centers that advance health equity have become an informal network of leaders over the past several years. PolicyLink has convened them on several occasions, interviewed them, and documented their evolution and activities, seeing in them the emergence of a movement for positive change in the field. Their ideas and actions have informed this document, which is intended to advance this work. The opening section is an account of why it will be important to institutionalize equity in public health practice and what its early advocates have learned about how to bring that about. The second part of the document is a guide to the growing array of resources in the field, designed for easy access to materials on the Internet. 
Background
Within the field of public health, it is now widely accepted that the health of individuals is driven more by social and environmental factors — including education, employment, housing, and transportation access — than by medical care. These factors create the conditions that determine whether a place — a neighborhood, city, or town — will hinder or promote health and well-being. The influence of place operates not only through the physical environment, but also through the ways in which income and race shape health outcomes.
The inequity and racism embedded within underlying social and economic systems creates unjust environments that ultimately lead to poorer health outcomes, with the greatest burden experienced by low-income people and communities of color. The recognition of this structural problem has inspired many public health practitioners to rethink their efforts and approaches to achieving better health. Moving further upstream and pushing for more equitable systems, such as food, education, transportation, and criminal justice, shapes the social and economic conditions that can create good health and well-being. This shift in frame and practice has come to be known as the movement for "health equity".
In order to better understand successes, challenges, lessons learned, needs, and opportunities for growth, PolicyLink conducted in-depth interviews with leaders from institutions (public health institutes, local and state health departments, and regional collaboratives) that adopted a health equity framework early on and are driving this emerging field. After reaching out to partners and conducting a web-based scan of over 100 institutes across the nation, we selected leaders within public health that defined "health" more broadly than "health care," are engaged in place-based strategies to improve health outcomes, explicitly target their efforts to marginalized communities, and understand that equity refers to the correction of systemic injustice. And while the sample of those interviewed represents a diversity of roles, activities, areas of focus, and organizational structures, they are all positioned within public health departments at the intersection of research, policy, and practice.