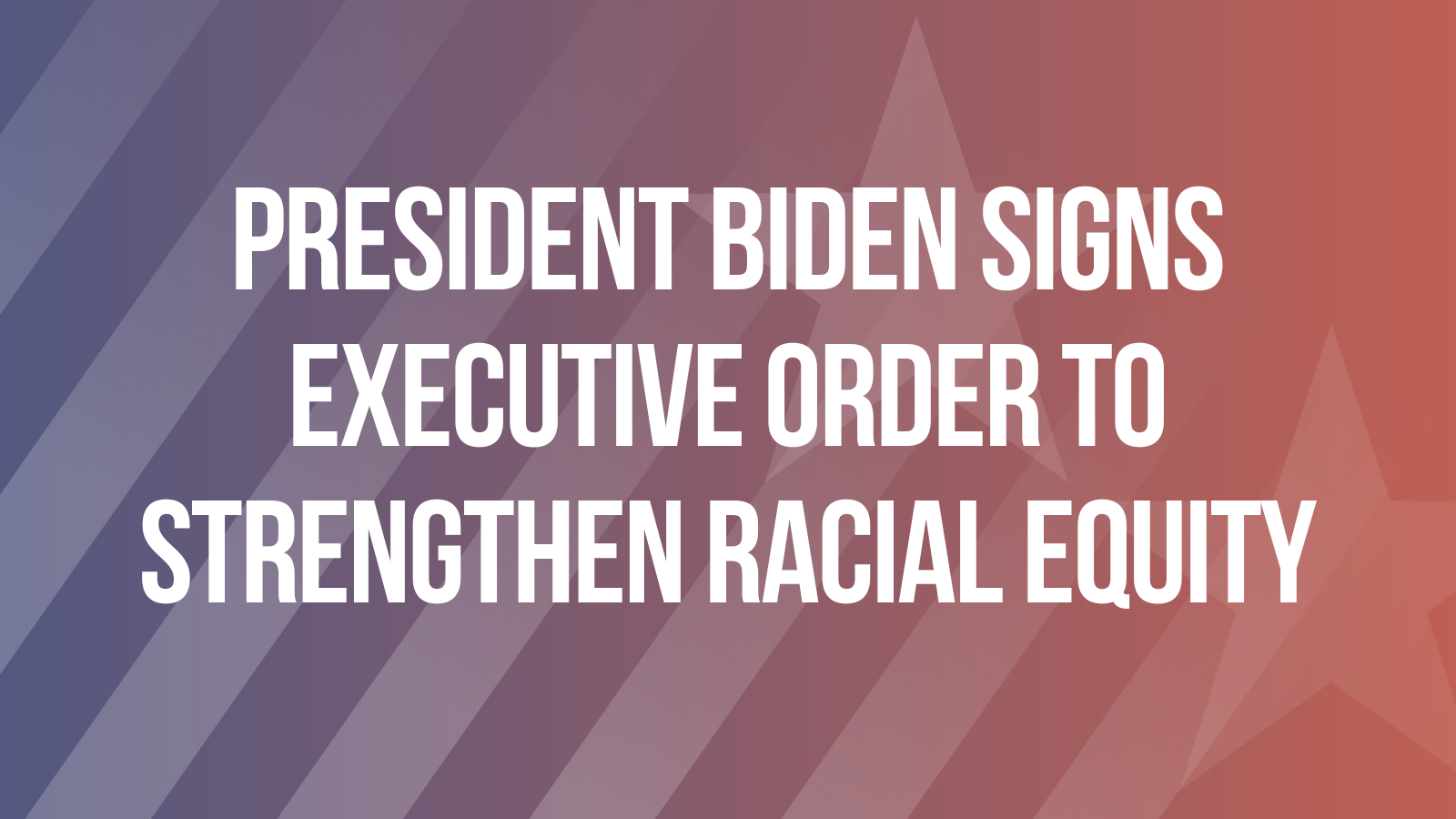 Our movement to design a just and fair society where all can participate, prosper, and reach their full potential made history today as President Biden announced a second executive order for racial equity –– doubling down on the Biden-Harris Administration's commitment to unlocking the promise of the Nation by unleashing the promise in us all.
PolicyLink applauds the Administration's bold action as evidenced by this compelling mandate to govern for ALL, as the Nation becomes a thriving multiracial democracy:
"These transformative achievements have advanced the work of building a more equitable Nation. Yet, members of underserved communities — many of whom have endured generations of discrimination and disinvestment –– still confront significant barriers to realizing the full promise of our great Nation, and the Federal Government has a responsibility to remove these barriers. It is imperative to reject the narrow, cramped view of American opportunity as a zero-sum game. When any person or community is denied freedom, dignity, and prosperity, our entire Nation is held back. But when we lift each other up, we are all lifted up. Therefore, my Administration must take additional action across the Federal Government –– in collaboration with civil society, the private sector, and State and local government –– to continue the work begun with Executive Order 13985 to combat discrimination and advance equal opportunity, including by redressing unfair disparities and removing barriers to Government programs and services. Achieving racial equity and support for underserved communities is not a one-time project. It must be a multi-generational commitment, and it must remain the responsibility of agencies across the Federal Government. It therefore continues to be the policy of my Administration to advance an ambitious, whole-of-government approach to racial equity and support for underserved communities and to continuously embed equity into all aspects of Federal decision-making." - Executive Order on Further Advancing Racial Equity and Support for Underserved Communities Through the Federal Government
This announcement furthers the Administration's day-one executive order (Executive Order 13985) issued in 2021, which directed federal agencies to embed equity across federal policymaking by doing the historic work of assessing how their policies and programs perpetuate barriers for low-income communities and communities of color –– many of whom have experienced persistent disinvestment and discrimination, and developing strategies for removing those barriers. Today's Executive Order on Further Advancing Racial Equity and Support for Underserved Communities Through The Federal Government codifies and deepens the work of federal agencies begun under Executive Order 13985 by:
Launching new processes by which agencies will develop annual, public Equity Action Plans to ensure that federal policies, programs, and activities benefit all communities, and especially those that have been marginalized –– and to advance those priorities through the federal budget and procurement practices;

Strengthening the quality and frequency of engagement with low-income communities and communities of color to make certain that agencies' strategies better reflect and are more responsive to the priorities of those communities;

Ensuring federal funds benefit communities that have experienced disinvestment in order to build wealth through locally-led development; and

Bolstering agencies' civil rights capacities to not only respond to emergent threats but also enforce their authority to proactively defend the civil rights of all individuals interacting with federal agencies.
At its core, this executive order demonstrates what governing for every person in the United States looks like: not merely committing to serve them, but actively building enduring governing practices to see that commitment come to life. The directives in this order bring us closer to becoming a Nation in which all people — particularly those who face the burdens of structural racism — can participate in a flourishing multiracial democracy, prosper in an equitable economy, and live in thriving communities of opportunity. This active, ongoing commitment by the Biden-Harris Administration is all the more vital and courageous as our movement pushes back on those who seek to impose their exclusionary vision for this Nation –– from denying fair and dignified housing to families, to stripping environmental protections in frontline communities, to banning the teaching of Black history in schools. Amid this contestation, we remain steadfast in our vision for a multiracial democracy –– one that affirms the dignity of every person who calls the United States home.
We know that democracy in this country has only ever been made real by the people –– families, neighbors, and communities –– working together for change. As we celebrate the Administration's unwavering commitment to dismantling systemic inequities and transforming the federal government, we also celebrate our growing movement that made this progress possible. We congratulate the Administration for living into the invitation that we can all be Founders of this great Nation as we continue to design it so that it can work for everyone.
We have the power to realize a Nation rooted in racial, economic, and gender equity –– deserving of the generations to come. It is ours to build together.
In solidarity,
Michael McAfee
President and CEO, PolicyLink