Michael McAfee
President and CEO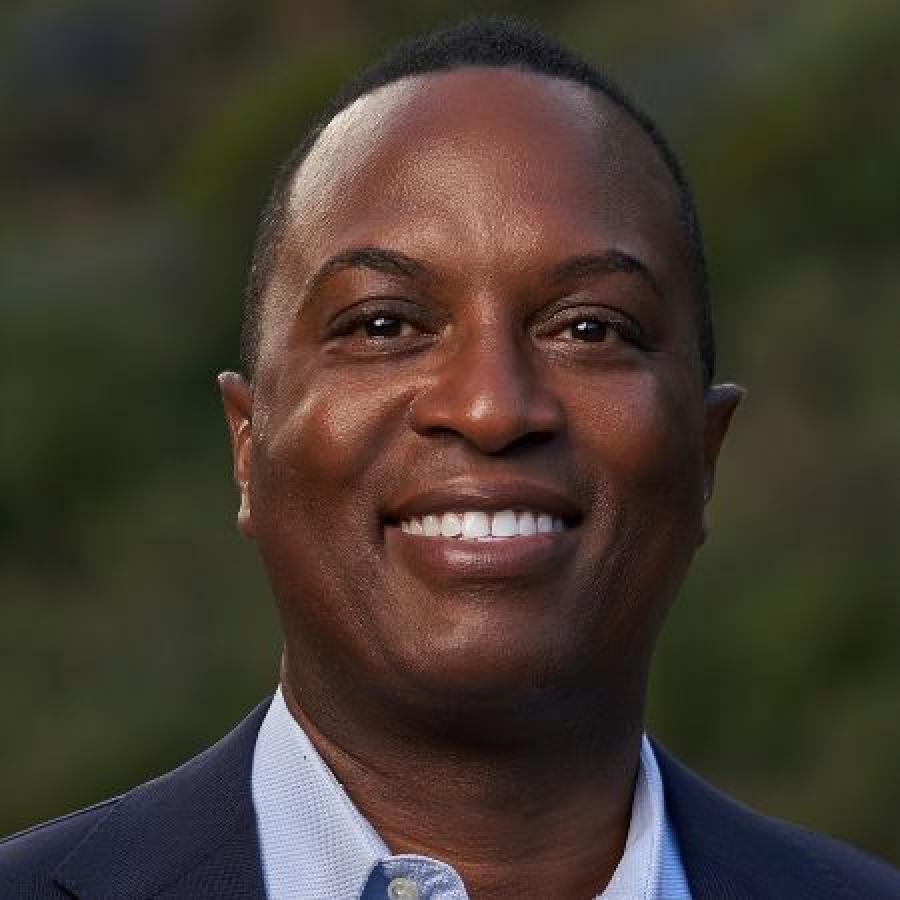 Biography
Dr. Michael McAfee became President and CEO of PolicyLink in 2018, seven years after becoming the inaugural director of the Promise Neighborhoods Institute at PolicyLink. His results-driven leadership, depth of knowledge about building and sustaining an organization, and devotion to serving the nation's most underserved populations made him the obvious choice to lead the 20-year-old PolicyLink as Angela Glover Blackwell transitioned to founder in residence.
During his time at PolicyLink, Michael has played a leadership role in securing Promise Neighborhoods as a permanent federal program, led efforts to improve outcomes for more than 300,000 children, and facilitated the investment of billions of dollars in neighborhoods of concentrated poverty. He is the catalyst for a new and growing body of work — corporate racial equity — which includes the first comprehensive tool to guide private-sector companies in assessing and actively promoting equity in every aspect of their company's value chain. Michael carries forward the legacy to realize the promise of equity — just and fair inclusion into a society in which all can participate, prosper, and reach their full potential.
Michael also understands the urgency of now. The nation is rapidly becoming a majority people of color. In cities and towns across the country many people are embracing the concept of equity and intent on achieving racial and economic equity for all. At the same time, as the word is used more, the concept of equity is in danger of becoming diluted, just another catchphrase of civil society, leaving the true promise of racial and economic inclusion unrealized. Michael is determined that this will not happen.
Michael is ensuring equity does not become watered down. He is turning movement leaders' eyes toward redesigning the "rules of the game" so that all people in America — particularly those who face the burdens of structural racism — participate in a just society, live in a healthy community of opportunity, and prosper in an equitable economy. He is achieving this by enacting liberating public policies targeted to the 100 million people living in or near poverty, the majority of whom are people of color.
His legacy will lie in his efforts to stand in transformative solidarity with others, collectively charting a course to Win on Equity. He is building a well-planned, well-coordinated, well-executed, and sustained campaign that frees America's democracy from the oppressive blend of patriarchy, capitalism, and racism.
Before joining PolicyLink, Michael served as senior community planning and development representative in the Chicago Regional Office of the U.S. Department of Housing and Urban Development (HUD). While at HUD, he managed a $450 million housing, community, and economic development portfolio where he partnered with local leaders to create more than 3,000 units of affordable housing and 5,000 jobs and to ensure access to social services for more than 200,000 families. Before his public service, Michael served as the director of community leadership for The Greater Kansas City Community Foundation and Affiliated Trusts. He was instrumental in positioning the organization to raise $121 million from individual donors, an accomplishment recognized by the Chronicle of Philanthropy for receiving more contributions than any community foundation in America. Michael's commitment to the needs of people of color and those living in poverty extends to his work on the boards of Independent Sector, North Lawndale Employment Network, REI, Strive Together, and Sweet Beginnings, LLC, each of which is committed to creating opportunity for those among the 100 million economically insecure people in America.
Previously, Michael served in the United States Army and as Dean's Distinguished Visiting Fellow at the Harvard Graduate School of Education. He earned his Doctor of Education in human and organizational learning from George Washington University and completed Harvard University's Executive Program in Public Management.
He is a sought-after speaker on community and economic development, leadership, organizational development, racial equity, and youth development. His articles have appeared in Academic Pediatrics, Cascade, published by the Federal Reserve Bank of Philadelphia; Community Development Innovation Review, published by the Federal Reserve Bank of San Francisco; Harvard Education Press, New York Times, Stanford Social Innovation Review, and Voices in Urban Education, published by the Annenberg Institute for School Reform at Brown University.
Michael lives in the Oakland Hills with his wife, Maja, and their two Brussels Griffons (Gigi and Griff). He is an avid off-road hiker and practitioner of yoga.
To reach Michael, please use the PolicyLink Contact form and state the reason for your inquiry. Thank you!