The push for vaccine equity, the best things to emerge in this year of pandemic and protest, and more, in this week's Covid, Race, and the Revolution.
Issue No 34. December 16, 2020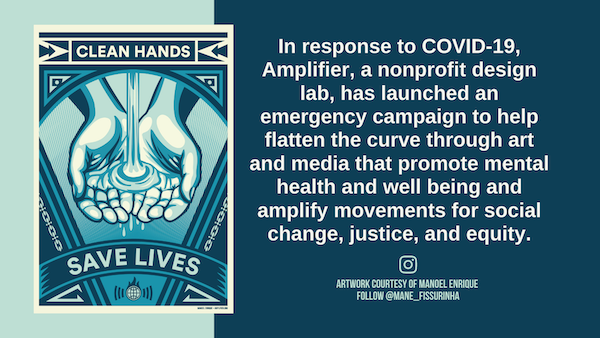 Check out Amplifier to download art and learn more about the organization's campaigns.
This is our final issue of Covid, Race, and the Revolution for 2020. Thank you for reading. We'll be back in January with the latest information about the pandemic, its impact on communities of color, and the movement for racial equity in America.
News, Analysis, and Commentary, Curated from Around the Web
The push for vaccine equity
Boston Medical Center staff danced outdoors to Lizzo's Good as Hell to celebrate the arrival of one of the first shipments of the coronavirus vaccine. A  video posted on TikTok went viral. With virtually the entire country now considered a Covid hot spot, and as many as 74 million essential workers at risk of contracting the coronavirus, according to a recent government study, vaccine demand far exceeds the supply.
That raises an urgent question: How can the vaccine be distributed equitably? Dr. Uché Blackstock, CEO of Advancing Health Equity, and New York City Councilmember Mark D. Levine address this issue in Gotham Gazette. 
There's broad agreement that health-care workers will get top priority, followed by people in nursing homes and essential workers,  but how those groups are defined will have enormous equity implications. Will the health-care group be limited to physicians and nurses or also include translators, custodial staff, and others who have contact with Covid patients? Will vaccines be distributed only to hospitals and pharmacies or more accessible locations such as churches and community centers? Will immigration status be a barrier? Blackstock and Levine note that communities of color did not have the same access to coronavirus testing and treatment that affluent communities had. "We need to ensure that every aspect of the [vaccine] program is structured to avoid short-changing these same marginalized communities yet again."
Dr. Anthony Iton, senior vice president of The California Endowment, also calls for equity and transparency in the vaccine rollout, in an essay in CalMatters. "To reach the most marginalized, we must fund and support trusted community organizations to work closely with people who have been made vulnerable by our callous and predatory social policies." 
Addressing vaccine skepticism
While surveys this fall found a sizable minority of health-care workers around the country expressing hesitancy to take a vaccine that was developed so quickly, now that one is here they are overwhelmingly excited and eager to get the shot, Stat reports. 
The administration of the first injections were stage-managed events designed to counter public skepticism, especially among people of color. The vaccination of Sandra Lindsay, a Black critical care nurse and hospital administrator in Queens, New York, was broadcast nationally. She told the New York Times she volunteered "not to be the first one to take the vaccine, but to inspire people who look like me."
Toward the same end, Black participants in vaccine trials have been publicizing their involvement on social media and in the press. Dr. Chris Pernell, a New Jersey public health physician, tells the public radio program Here and Now that she signed up after her father died from Covid in April, at age 78. CNN reporter Stephanie Elam describes her own experience receiving one of the experimental vaccines here. 
At a National Urban League event, Dr. Anthony Fauci, the nation's top infectious disease expert, talked about Dr.  Kizzmekia Corbett, a Black woman who was instrumental in developing the Moderna coronavirus vaccine, The Root reports. It is expected to be authorized this week or next. Corbett, the lead scientist for coronavirus vaccine research at the National Institutes of Health, has spoken out about the history behind African American distrust of vaccines and recently told a podcaster that Black people have "earned the right to ask questions" about the safety of the new coronavirus vaccines.
Simple steps build trust
About 70 percent of the population must get vaccinated for the US to reach the level of immunity necessary to control the virus, but only about half of Latinx Californians say they would probably take a vaccine, the Los Angeles Times reports. 
As in the Black community, vaccine hesitancy among Latinx people predates Covid. In The Conversation, two Purdue University public health researchers explain how the Family Health Clinic, in rural Indiana, has built trust and overcome skepticism about flu shots by taking relatively simple steps, including hiring bilingual staff, including Latinx participation on the board, and supporting community events. "Perhaps of most importance was generating a reputation for providing a secure, affordable and respectful place for excellent health care in a setting where staff listened to and responded to questions about vaccines."
With their commitment to culturally competent care, community health centers nationwide can play a critical role in gaining trust and vaccine acceptance in underserved neighborhoods, WGBH reports.
The best things about 2020
America stopped excusing racist symbols, questioned the purpose of police, and reimagined cities — these are some of the "best things about the worst year," in GQ's look at new ideas shaping the future. The year also gave rise to a historic movement against anti-Black racism and amplified the voices demanding basic human rights to housing, clean water, health care, and good jobs. 
With the CDC eviction moratorium set to expire this month, Right to the City Alliance and Human Impact Partners have called on the incoming administration to immediately address the housing crisis.  It's the launch of a series of actions in the lead-up to the inauguration. At least nine cities have signed up for a Day of Action Against Mass Evictions, January 7. For more info, check out #HousingIsTheCure, a grassroots platform to end evictions, stop utility shutoffs, and stabilize families. 
Six months after Minneapolis city council members vowed to defund the police, the council voted to cut the department budget by nearly $28 million, reallocate nearly $8 million to alternative police responses and mental health interventions, and increase oversight, Bloomberg CityLab reports.  Although the plan maintains police staffing at the current level, Oluchi Omeoga, an organizer with Black Visions Collective, notes the divestment is the biggest in the department's history. "It's a great win."
What new Covid data tells us
For the first time, the federal government has released hospital-level data on Covid-19, providing the most detailed picture of the unprecedented strain on facilities and flagging the worst community surges. Kentucky, Georgia, Minnesota, Texas, and Oklahoma have the most counties with hospitals running at more than 90 percent of capacity, according to NPR's Morning Edition. The Covid Tracking Project breaks down the dataset and how it can be used to track what's happening in your community.
Hospitals in San Joaquin Valley reported that the availability of ICU beds fell to zero last weekend, for the first time, KTLA reports. Health officials told the Los Angeles Times that this expansive agricultural region has not yet seen the worst of the deluge.
A new CDC analysis of death data disaggregated by age, race, and ethnicity, shows that Latinx and Black people in the US are dying at much younger ages and at a rate of almost three times that of White people in the US, Texas Public Radio reports. "This is robbing the Hispanic community of a generation of mothers and fathers and brothers and sisters," Dr. Peter Hotez, a Baylor vaccine scientist, said. Salud America! at UT Health breaks down the disparities. The organization has launched a bilingual education outreach campaign, Juntos, We Can Stop Covid-19. 
There's no national data on the pandemic's impact on LGBTQ people, but doctors say they may turn out to be one of the most devastated and neglected communities in this crisis, CNBC reports. It's a diverse group, with people of all races and ethnicities and higher rates of chronic illnesses, homelessness, isolation, anxiety, and depression — all of which increase vulnerability to Covid's worst complications. LGBTQ people also face significant barriers to health care. "All the issues that existed prior to the pandemic still exist but are even worse," said Dr. Scott Nass, president of the US Gay and Lesbian Medical Association.
Bringing Arts and Culture to Bear on Social Issues
Arts and culture strategies are transforming the practice of community development and the ways by which residents organize to build power. Creativity is playing a central role in public health, youth development, transportation, housing, economic development, food justice, and parks organizations, and provides energy and guidance for movements to achieve racial justice and protect communities from displacement. Artists and culture bearers have been key leaders in social responses to the pandemic. Everywhere one looks, the intersection of arts and community building is becoming a more established and effective component of the equity movement. Check out our relaunched CommunityDevelopment.art for briefs, videos, and resources that examine the intersection of arts, culture, and equitable development!
Please share with your networks and send your ideas and feedback. And follow us on Twitter, LinkedIn, Facebook and Instagram. #COVIDandRace
We hope you find this series an important tool for keeping up with news about the virus and its impact on communities we serve. As a non-profit organization, PolicyLink is honored to provide resources to support the needs of our nation's 100 million economically insecure individuals. Generous partners like you make our work possible. 
Michael McAfee and Angela Glover Blackwell are grateful for the contributions of Fran Smith, Milly Hawk Daniel, Rachel Gichinga, Glenda Johnson, Jennifer Pinto, Heather Tamir, Ana Louie, Janet Dickerson, and Mark Jones to produce the COVID-19 & Race commentary.
Covid, Race, and the Revolution Commentaries