Inclusive Processes to Advance Racial Equity in Housing Recovery: A Guide for Cities during the Covid-19 Pandemic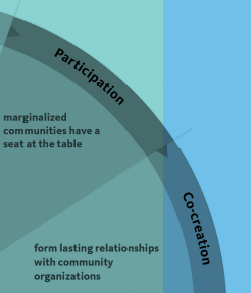 Overview
The Covid-19 pandemic has created a set of dire public health and economic challenges for communities across the country. The crisis strikes our most vulnerable communities and communities of color even harder, magnifying existing racial disparities in health, housing, and economic security. This brief is designed to help local government leadership and staff design public processes that use this crisis as an opportunity to further racial equity and build community capacity.
This process guide:
Outlines the reasons for pursuing an inclusive process (even in times of crisis)
Describes a developmental path that moves from simple, but ineffective, public engagement to authentic and meaningful community partnership
Provides real-world examples of steps that communities are taking to ensure that traditionally excluded communities have a real seat at the table when it comes to planning Covid-19 recovery efforts
Illustrates specific strategies and tools (both online and off) that local government agencies are using to effectively facilitate public input in the absence of face-to-face public meetings
Our companion guide, Strategies to Advance Racial Equity in Housing Response and Recovery: A Guide for Cities during the Covid-19 Pandemic, outlines policy and program design actions that communities can take to support an equitable recovery and advance racial equity in housing during and after the coronavirus pandemic.