A New Hub for Racial Equity Data; Guaranteeing Good Jobs for All
Dear Atlas Users,
As we close out the eleventh month of the pandemic, an equity lens remains crucial to understanding the public health and economic impacts of Covid-19 — and the path forward. The Atlas team is proud to partner with advocates, local leaders, and policymakers at all levels of government to advance an equitable recovery and build an inclusive economy for all. Here are a few highlights from our recent work:
Racial Equity Data Hub Democratizes Local Equity Data
Last week, the Tableau Foundation launched its Racial Equity Data Hub, in partnership with the National Equity Atlas. The Hub is designed to provide data and tools needed to understand racism in all of its forms and to enable movement leaders to effectively use data to advocate for change. The Atlas team worked with Tableau expert Chantilly Jaggernauth of Lovelytics to produce two visualizations to include on the Hub. Our Black Prosperity in America visualization provides information about the Black-White wage gap in cities, metros, and states — and shows how educational attainment or upskilling alone won't solve it. The other visualization presents indicators of economic and political inclusion, education, and justice for the Black population in the Bay Area. Tableau invites community members to participate in shaping the Hub's future growth through this forum.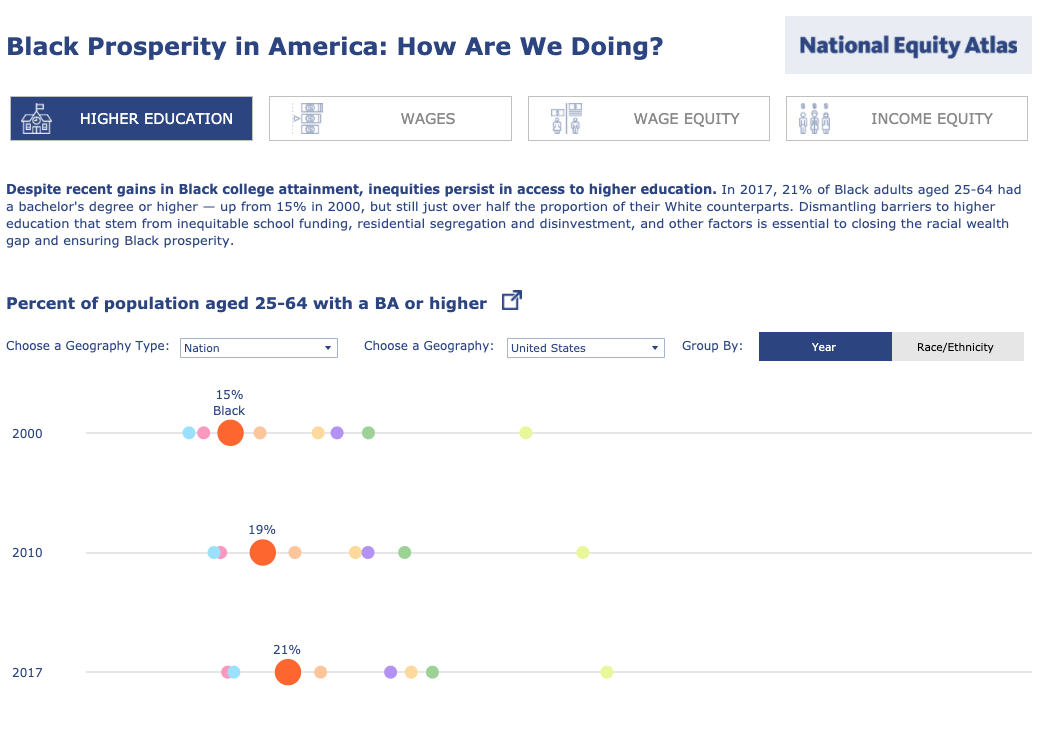 How Local Leaders Are Activating the Recommendations in our Advancing Workforce Equity Reports
This month, National Fund for Workforce Solutions President and CEO Amanda Cage hosted a series of conversations with local leaders who are using our recent Advancing Workforce Equity reports to support equity-driven workforce strategies in their communities. Watch to learn more about how this work is moving forward in Boston, Chicago, Dallas, and Seattle.
Atlas Data Cited in Congresswoman Pressley's Federal Job Guarantee Resolution
On February 18, Congresswoman Ayanna Pressley introduced a resolution on the federal government's obligation to create a Federal Job Guarantee to address the compounding effects of systemic racism, economic inequality, and climate change. The resolution cites National Equity Atlas data, noting that at least 100 million Americans live in or near poverty, and 28 percent of full-time workers earn less than $15 an hour. A Federal Jobs Guarantee would directly address these inequities by eliminating involuntary unemployment, decreasing poverty, and raising the floor for all low-wage workers while building stronger and greener communities.
- The National Equity Atlas team at PolicyLink and the USC Equity Research Institute (ERI)